I haven't taken many sick days in my working life, but whenever I have I return to my desk to find a 'sickness absence form' asking for some basic administrative information including the line:
"Details of Sickness/Injury: I was unfit to attend for work for the following reason(e.g. Influenza, diarrhoea, rheumatism, etc.):"
When I see that form, I often think to myself: Do you really want to know?
The truth is that while some of those days featured garden variety ailments, others featured 'details' of an altogether different kind. There are days where you are physically intact, but just can't quite face the world, and occasionally you sense that if you don't stop pretending all is well, you might completely fall apart.
But I always put something else on the form.
I know I am not alone in not always giving full disclosure when it comes to mental health, and there seems to be a growing awareness that we need to norm-alise, in the literal sense of making an accepted social norm – mental health challenges. Our sadly departed colleague, Dr Emma Lindley, wrote with great passion and clarity about stigma relating to mental illness, but we still have some way to go to win that battle, and fresh ammunition is timely and welcome.
It is therefore a great pleasure to announce a new book "What's Normal Anyway?" co-authored by RSA Director of Research Steve Broome and Forensic Psychologist Dr Anna Gekoski. The book features ten candid first-person accounts of mental illness from some of the UK's most prominent names including Alastair Campbell, Bill Oddie, Trisha Goddard, Alicia Douvall (model), Tasha Danvers (former Olympic athlete), Richard Mabey, Stephanie Cole (actress), Dean Windass (former premiership footballer), Charles Walker (conservative MP) and Kevan Jones (Labour MP).
These celebrities share their experiences of a range of conditions including bipolar disorder, anxiety, panic attacks, agoraphobia, obsessive-compulsive disorder, eating disorders, body dysmorphic disorder, nervous breakdowns and suicide attempts.  Their stories are also ones of recovery, positivity and acceptance – illustrations of how mental illness does not have to be a bar to achievement, happiness, and fulfillment in life. The book is also practical, detailing coping strategies, and will offer solace for anyone out there who feels they are suffering alone.
From a Social Brain perspective, the book clearly makes good use of 'the messenger effect' – building on a body of research that suggests who says something is often more important than what is said.
From a personal perspective I am just happy to see one more step in a positive direction of travel for people suffering from mental illness. Whether what you are facing is acute and enduring, or mild and temporary, it should be easier to talk openly about it.
As this honest and uplifting book indicates, the first thing we would discover about mental health, if we were to talk about it more often, is that the only 'normal' people in the world are the ones you don't know very well.
Are UKIP serious?
Is it timely to assume that a party that appears to have a reasonable chance of topping the polls in our next national election and winning seats in our next general election must have solutions for the major problems in our lives? Presumably now that UKIP are about to get more television coverage because Ofcom have reclassified them as 'a major party', they will they use that bigger platform to showcase a range of big ideas?
This 'bunch of fruitcakes, loonies and closet racists' as our Prime Minister once called them, just happen to be the party 'viewed most favourably' and 'viewed least unfavourably' by the electorate in a recent ComRes national poll. Surely that indicates they must have some finely honed policies that people resonate with, or at least some coherent organising principles to indicate what they would do with respect to the economy, health, education, crime, and other such sundries?
Well actually, no, not at all, and UKIP's leader Nigel Farage admitted as much on The Andrew Marr Show this weekend. Farage said that his core aim is to continue with popular campaign themes and ideas (principally on The EU and Immigration) to try to finish first in the European elections, but he also openly acknowledged the policy vacuum and wanted to reassure prospective voters that UKIP are currently working hard on a carefully budgeted manifesto in preparation for the 2015 general election.
This might sound like a good idea, but it is likely to hurt UKIP quite badly, and to understand why we need to look more deeply at UKIP's appeal:
The moral foundations of politics
Research in political psychology by George Lakoff, Jonathan Haidt and Drew Weston, among others, indicates that most people don't really vote for 'policies' at all. We vote rather on the basis of unconscious moral frameworks often expressed in metaphors (e.g. Putin is 'the strict father') projective identification with leaders (e.g. 'The barbecue test' that apparently won George W Bush his elections – people could imagine enjoying his company more than Al Gore or John Kerry), and narratives (e.g. Bill Clinton's 'it's the economy, stupid'; Obama's 'Yes we can').
With this in mind, I believe UKIP's meteoric rise relates to the way they are tapping into certain kinds of 'moral' foundations that have been relatively neglected by the (other) mainstream parties. Satirical takes on UKIP's distinctive style of righteous indignation capture something important about their appeal, like the 'UKIP keyboard' designed "to remind you of the good old days before the country went to hell in a handcart".
UKIP's rise illustrates that the three main parties are too close together in spirit and policy, and that huge swathes of the population do not see themselves adequately reflected in this group. On this account, UKIP is not just for people who believe immigration is insufficiently controlled, or who strongly dislike Europe, but more generally for those who do not identify with Westminster, or who have been 'left behind by the relentless mark of globalisation and glib liberalism'.
A deeper way to make this point is that UKIP, perhaps unwittingly, appear to be tapping into what some social psychologists view as 'moral foundations', which appear to be largely ignored by the (other) mainstream parties. To be clear, I am definitely not saying UKIP are more or less moral than anybody else, but rather that they are tapping into certain kinds of moral sentiments that a significant number of people feel and seek expression for. Indeed, while it is difficult to be precise without careful research, my reading of Values Modes suggests the values palette of UKIP supporters(principally 'settlers' with 'prospector' elements) which often finds expression in the tabloid press(The Sun and The Daily Mail are best selling newspapers) in particular, is common to between a fifth and a quarter of the population.
The thing is, most of the rest of the position may not recognise such perspectives as 'moral' at all…
Six Moral Foundations
Moral Foundations Theory has recently been popularised by Jonathan Haidt, who spoke at the RSA last year, and kindly stayed afterwards to speak to Social Brain about his work in more detail. While I hugely recommend Haidt's book, The Righteous Mind, I also recommend the more sophisticated critiques which suggest that the gap between science and morality cannot be bridged with quite as much conviction as Haidt seems to suggest.
The book includes a detailed account of the evolutionary, psychological and anthropological case for social intuitionism, which is a particular account of cognition and morality. Crudely, it says that certain adaptive pressures in evolution gave rise to quick automatic associations that are largely emotional in nature, leading us to make evaluative judgments extremely quickly, which forms the true basis of our morality. On this account, reason only emerges after the fact, to rationalise the moral position we have already intuited.
A quick overview of Haidt's palette of moral foundations includes:
The Care/Harm Foundation is based on concern for others and a desire to protect them from harm.
The Fairness/Cheating Foundation relates to a particular sense of justice, treating others in proportion to their actions, sometimes called proportionality, as in Aristotle's famous line that 'justice is giving each their due'
The Liberty/Oppression Foundation is about resisting domination, and the sensitivity to people being tyrannized. Haidt says this "triggers an urge to band together to resist or overthrow bullies and tyrants.
The Loyalty/Betrayal Foundation is about the love of tribes and team mates, about our drive to form cohesive coalitions, whether through families or nations.
The Authority/Subversion Foundation is tradition and legitimate authority, grounded in respect and an appreciation for the structures provided by hierarchies.
The Sanctity/Degradation Foundation is about avoiding disgusting things, foods and actions but it extends to a broader conception of purity or disgust, and our ideas about what is sacred
The claim is that we all have these moral foundations to a greater or lesser extent, but the degree to which they matter to us varies hugely depending on our political outlook. More to the point, our political outlooks are shaped by these moral foundations much more than we typically realise. Those with what Haidt calls WEIRD morality (western, educated, industrialised, rich and democratic) may struggle with this message, because we have a set notion of what moral means, but the social intuitionist perspective forces you to reconsider.
Haidt's earlier and more controversial statement of his argument "What Makes People Vote Republican?" offers evidence to show many vote against their economic self-interest because they are motivated mostly by the extent to which candidates speak to the values above, and those on the right tend to speak to all of the moral foundations, while those on the left usually only offer a very concentrated form of the first and a little of the second and third. You might say progressives are 'morally outnumbered', which is not to say they are wrong, because there is no empirical way to determine how much weight we should give to each of the touchstones – that's the value judgment that determines who we are.
Why UKIP Press Buttons others find hard to reach
***Disclaimer: What I'm about to say should not be read as an endorsement of any position, nor a justification for why it is held***
(Image via: http://thebackbencher.co.uk/tag/ukip/)
If you tune in to the tone and language of what UKIP say, rather than analyse the claims rationally, you begin to see the breadth of their appeal, because they are touching lots of these moral foundations,
When UKIP ask for their country back from the EU they are tapping into the liberty/oppression foundation, resisting dominance of a foreign power, and relatedly activating 'the legitimate authority foundation'.
When UKIP speak passionately about limiting immigration they are tapping into loyalty and sanctity.
When UKIP opposed gay marriage they were appealing to sanctity and degradation.
When UKIP speak about red tape from Brussels they are tapping into 'the liberty/tyranny foundation'.
When UKIP speak about human rights law getting in the way of dealing with criminals they are tapping into fairness/cheating and liberty/oppression.
Note that UKIP actually say very little about 'the care foundation', which is why people on the left, who see the world mostly through the care foundation, tend to think of UKIP as barmy, extreme, or callous.
Political Psychology
When you think about these moral foundations, you can see that the risk of getting serious is partly that UKIP might lack the ideas, intellects and infrastructure to develop a credible and creative manifesto, and also that UKIP are popular not in spite of their lack of policies, but because the public don't really associate them with policies at all.

However, the most profound risk for UKIP lies deeper, because people are voting for them for 'moral' reasons that the other parties do not view as moral at all, and which are 'moral' in ways that are inherently anti-policy in spirit. The fifth or so of the electorate that are currently inclined to vote for UKIP are finding nourishment from UKIP's manner and message, which appears to me to be a mixture of lionised 'common sense' and self-righteous indignation. 'Policy' is antithetical to both, because it requires details that are technocratic in spirit, and a position of one's own that makes indignation more self-conscious, and vulnerable to counter-attack.
The other risk of developing policies is that the nature of the messenger changes from being a particular kind of anti-politics, anti-policy morality, to being another political party that looks less moral for fraternising with the enemy. UKIP are therefore in an interesting bind. They need policies to get serious, but getting serious about policy will dilute and diminish their 'moral' appeal.
Dr Jonathan Rowson is Director of the Social Brain Centre at the RSA.
You can follow him here.
Have you seen our latest RSA Short: How Cooking Can Change your Life?
"Eat anything you like, as long as you cook it yourself?" Pretty intriguing advice, no? Did it make you want to get home and buy, unpack, wash, peel, chop and fry some potatoes?
Not quite? Well this reheated blog post full of hidden salt, sugar and fat from July 15th might help to convince you.
I wrote it after listening to the podcast, which gives a much fuller picture of the important argument, and which I would strongly recommend listening to, ideally in your kitchen with a good chopping board and a few willing vegetables.
More than half a year later, I am even more sure that the idea is worth heeding and reflecting on for its political implications. The basic idea sounds trivial (let's all cook more, ha ha…) but it might just be the kind of small revolutionary act that could lead to significant systemic change if it really took hold.
The idea that we should (in the pragmatic and moral senses of the term) all cook more might even be relevant to the RSA's emerging world view around the power to create; at its heart it's about shifting the balance of power from big to small, and distributing a daily act of creativity much more widely. It's also fun, good for your health and ecologically beneficial, but those arguments are small fries….
Potentially much more motivating is the Bachanalian carnival of aromatic delights that lies dormant within your very own unsuspecting kitchen.
Why not start tonight by adding some cumin to your beans on toast?
##
That title (Is Cooking a Subversive Act?) makes the content sound like a combination of self-help and how-to, but it's much more political than that. The speaker, Michael Pollan, is a professor and activist who sees food in general, and cooking in particular, as a critical driver of the economic and social order.
That might sound a little bourgeois and worthy- Who has the time? Who has the kitchen space? But the evidential case is pretty strong. Processed food generally tends to be much less cheap and convenient than we imagine, for instance, and the relationship between cooking and health is apparently very robust.
He starts the talk with the example of the fries sold at a famous fast food restaurant having to be long to look right in the red boxes, which means a special kind of long potato has to be grown, and that that strain of potato has to free of blemishes, which means you need a certain kind of pesticide which is highly toxic…and this is one example of thousands- the food we see every day carries with it a huge range of generally hidden public health and environmental issues.
The familiar argument is that our reliance of processed foods is a huge public health problem, but the twist is that one of the main things that perpetuates the problem is the idea that cooking is a kind of problem or drudgery that the market should solve for us, rather than a creative and joyful act that we should do for ourselves and each other. In this sense cooking is the fulcrum around a much broader argument for an economy, promoted by nef amongst others i.e. an economy that properly values time and the costs of not having time, and allows us to be a bit less like time-starved consumers and a bit more like time-plenty producers (who, on balance, tend to be happier).
A few ideas/quotes from scribbles on a train (check audio for verbatim quotes):
Poor women who cook are healthier than rich women who don't.
The food industry don't speak of fat, salt and sugar in terms of 'addiction'. Instead they tend to use the words 'cravability' and 'snackability'
Food marketing tends to operate by creating anxiety and the providing a solution (at one point Pollan makes reference to feminism giving rise to a domestic redistribution of labour, in which women who work couldn't possibly be expected to cook as much as they used to…However this change doesn't happen without resistance, and the ensuing arguments are then placated by adverts that implicitly say – don't fight about it, we'll do it for you…)
"Special occasion foods become every day foods when we let industry cook for us."(One example Pollan gives is french fries or chips. They taste great when you cook them yourself, but the process is highly labour intensive(washing, peeling, cutting, pan, oil, splattering, oil, washing up etc) so left to our own devices we might eat them only every month or so as a treat, but many Americans now eat two batches of french fries a day because they have become so convenient.)
The diet that would work for everybody is: eat anything you like, just cook it yourself.
Michele Obama's original speech about food and the subsequent 'let's move' campaign was really powerful/radical, but its impact was lessened when she got into a conversation with the food industry about reformulating the ingredients of processed food. The speaker compared this to 'low fat' food being a mixed blessing, because it tends to mean other 'bad things' are put in to replace the fat.
"Slightly improved processed food is a trap"
"Health is a collective property of the human microbiotica"
"The environment is not just 'out there', it's passing right through you.
By Jonathan Rowson, Director, Social Brain Centre, Follow at @jonathan_rowson
A few weeks ago I popped into our Folkestone Room  to do a short interview for the good people at Swarm about our recent report A New Agenda on Climate Change: Facing Up to Stealth Denial and Winding Down on Fossil Fuels.
This video was shown at the event #whitepencilswarm supported by D&AD, The Global Association for Creative Advertising & Design Awards, which this year created a #NewBloodAwards brief in partnership with Al Gore around Climate Change. 
The event included a presentation by the intensely honest Kevin Anderson, and focused on helping professionals within the worlds of Advertising, Marketing & Design to come to grips with climate change in particular, rather than just 'sustainability' in general, which they tend to find much easier to navigate. (For more on that distinction, this recent Guardian piece on The Seven Dimensions of Climate Change is a good place to start).
I gave a similar pitch when I spoke at The Hospital Club about Climate Change as part of their sustainability week, alongside Adam Elman, Global Head of Marks & Spencers celebrated 'Plan A', Jez Frampton Global CEO of InterBrand, and Jon Alexander, Director of The New Citizenship Project.
In each case I had the felt sense that the challenge for those working in the creative industries is that many of the implicit associations relating to 'climate change' (emissions, floods, existential threat) are quite different from the buzz surrounding sustainability(chic, desirable, caring).
The essence of the climate change challenge is the wrong kind of energy(fossil fuels) in the wrong kind of economy(fixated with GDP) pursuing the wrong kind of objective(consumption without end). That's quite a different vibe for those professionals sometimes termed 'creatives' to work with, compared to the challenges relating to waste and broader ecological constraints, which are more tangible and tractable for companies and consumers alike.
Anyway, the video is 16 minutes long, features a yellow jumper, and, in case you're wondering, there is a cup of coffee at the end of my right arm that you can't see.
Dr Jonathan Rowson is Director of RSA's Social Brain Centre. You can follow him on Twitter here.
Everybody is speaking about the link between flooding and climate change, and many are saying it is time to 'act' on this understanding. The trouble is, as I've written before, this injunction to act on climate change is often simplistic and painfully generic, which serves to dissipate political will.
With this in mind, the Guardian's behavioural insight blog features my latest thoughts on how to improve the quality of our thinking on climate change, following up on our report at the end of last year: A New Agenda on Climate Change: Facing up to Stealth Denial and Winding Down on Fossil Fuels.
The point of this particular piece was to begin to flesh out what it might mean to think of climate change as being distinct from more general 'environmental' concerns, and to explain why that reframing matters. The following is an abbreviated version, so if you feel you have another click in you, please go here for the fuller version and leave comments or tweets there, but if you're happy with 'the gist', read on:
"We need a form of simplicity that rejects the lazy conflation of climate change with environmentalism by presenting a more energising set of associations. … Second, the right kind of simple would offer a vision of human behaviour informed by political consciousness, so that calls for "behaviour change" connect with the deep roots of the problem in fossil fuel production, rather than a misplaced emphasis on energy efficiency…Third, the right kind of simple would promote systems thinking, such that the climate problem is not viewed as having discrete independent elements, but rather multiple inter-connected dimensions that co-exist in the same space…
1. Science matters because it is the closest thing we have to an objective reference point for debates that might otherwise lack grounding.
2. Law matters, because it acts as a powerful constraint at scale…
3. Money matters, because capitalism is the planet's operating system, and given the time constraints, we will need to respond to the climate change problem from within the system that created it…
4. Technology matters because we need innovative forms of creating, storing and transporting energy urgently…
5. Democracy matters because it is a mechanism for making collective decisions, and climate change is the biggest collective action problem of all time…
6. Culture matters because our response to climate change is informed by everything from its place in formal education to implicit consumerist values in advertising to how the media frames judgments on systemic risk as scientific "uncertainty".
7. Behaviour matters because while our choices are shaped by the facts (science), the rules (law), the resources (money), the tools (technology), the institutions (democracy) and the ideas (culture) around us, it is ultimately what we individually and collectively choose to do (behaviour) that matters."
I hope you can read the fuller version in the Guardian, but based on the gist here, what do you think?
Too simple? Not simple enough?
Dr Jonathan Rowson is Director of RSA's Social Brain Centre. You can follow him on Twitter here.
What is glimpsed is a world in which there is greater trust and less worry; in which mystery or uncertainty do not need to constantly explained and understood, but can simply be met as they appear….
- Professor Guy Claxton (illustration by Dwyllis Maggs)
Introduction by Jonathan Rowson
After many requests, it is a great pleasure to be able to share the transcript of Guy Claxton's public lecture at the RSA in November. The talk developed an account of the connection between embodied cognition and spiritual experience to a packed Great Room, but was so rich in content and expression that many who attended or listened online were eager to see the text.
Guy was my PhD supervisor and we are now friends, so I am by no means impartial, but I have chaired many RSA events before and this was the first time I felt speechless at the end of a talk. The content below reveals Guy's very personal, informed and evolved take on the fundamental question of what it is to be human. Guy is a Cognitive Scientist, best known for his pioneering work on Building Learning Power, but he has also described himself as 'a Buddhist in remission' and he calls upon his spiritual hinterland in what follows.
The ideas and positions developed manage to be grounded, evocative, and strikingly non-partisan in spirit. Hardened atheists may regret the lack of a scientistic debunking of the spiritual, while those yearning for details of what may lie 'beyond' materialism may also feel frustrated by an unwillingness to venture out in that direction.
Guy gave generously of his knowledge and insight, but he steadfastly refused to be drawn on more speculative or divisive questions. In this sense the event was a perfect contribution to the work we are developing in this area, showing the value of going 'beyond belief', with a deeper inquiry into human nature and experience. I believe Guy succeeded in explaining spiritual experience without explaining it away.
This was the second lecture in our series of six public events on the how new conceptions of human nature may inform our appreciation for the nature and value of spirituality. These public events are part of a 20 month project called Spirituality, Tools of the Mind and the Social Brain, which includes a broader programme of research, culminating in a final report scheduled for September 2014. The next scheduled public event in the series is Psychiatrist Iain McGilchrist, author of the critically acclaimed 'The Master and his Emissary' on March 31 who will talking on the subject: "What happened to the soul?".
The reaction to Guy's talk was extremely positive. The RSA Replay was viewed over 8,000 times, and the edited video has already received almost another 8,000. However, some of the best ideas and exchanges were in the questions and answers, so after reading below, I would encourage you to listen to the full audio recording too. In the transcript below I have only edited out references to slides and made minor amends for comprehension where necessary. Enjoy!
On Being Touched and Moved: Why Spirituality is Essentially Embodied (Professor Guy Claxton, RSA, Nov 26th 2013)
Thank you.
What I want to say about embodiment is part of a broader picture of spirituality, which I do not have time to justify here. But to make sense, I do have to state its main contentions rather baldly.
THE BACK-STORY
Spirituality and religion originate in a particular kind of felt experience. These experiences are typically short-lived, surprising and uncontrollable, but they seem, to the person having them, to be highly significant and attractive. They go by a variety of names – kensho, satori, the Grace of God, sometimes mystical experience or a peak experience – though they often have no florid elements such as visions or premonitions. I shall call these experienced Glimpses (with a capital G).
Spiritual practice is the attempt to recapture or stabilise such Glimpses: to make them home ground rather than holiday accommodation. Religions are originally codified and organised sets of such spiritual practices. They often develop around an individual who seems to have cracked this quest for stabilisation – a Jesus, a Muhammad, a Siddhartha Gautama. Their fleeting Glimpse has been held steady. Such people offer Promise – if I did it, so can you – and a Path – follow in my footsteps.
But the path has many Potholes and Pitfalls, most of which I am going to pass over this evening. But I must mention one. One of the apparent consolations of religion is an escape from death. People's anxieties about death are attributed to a physical body that will inevitably let them down, and they are encouraged to find solace in a world of abstract but indestructible forces and entities such as the Immortal Soul, Almighty God or Reincarnation. Mind and Pure Thought are Good and Higher; Body and Emotion are traitorous and Lower. So mind and body are split and set at odds with each other. I want to suggest that these Glimpses involve an apparently miraculous healing of that split; but that the miracle can be explained by biology.
First, I want to concentrate on what the Glimpses are. Let me set the scene with a short poem by WB Yeats called Vacillation, which many of you, I am sure, will know. It beautifully captures several of the recurrent features of a Glimpse. (Imagine Yeats – or yourself – at a window table in Starbucks on the Strand, perhaps.)
My fiftieth year had come and gone
I sat, a solitary man
In a crowded London shop
An open book, an empty cup
On the marble table-top
While on the shop and street I gazed
My body of a sudden blazed
And, twenty minutes, more or less
It seemed, so great my happiness
That I was blessed, and could bless
Glimpses
There is a database of thousands of 'glimpses' gathered over the years by the Alistair Hardy Religious Experiences Research Centre, now based at the University of Wales in Lampeter. I have highlighted some of the commonly occurring elements (see video). Let me read you a slightly longer extract from one of those reports. It is also set in London, this time on a commuter train.
"Vauxhall station on a murky November Tuesday evening is not the setting one would choose for a revelation of God…The carriage was full. I cannot remember any particular thought processes which may have led up to the great moment… For a few seconds only (I suppose) the whole carriage was filled with light… I felt caught up in a tremendous sense of being within a loving, shining purpose… In a few moments the glory had faded – all but one curious lingering feeling. I loved everyone in the seats around me. It sounds silly now, and indeed I blush to write it, but at that moment I think I would have died for any one of those people. I seemed to sense the golden worth in them all."
As you will see, people reach for a variety of metaphors and images as they attempts to describe their Glimpses. But it is possible to discern a common core of qualities that many of these experiences share. (I'm going to ignore for the moment the variety of visions and premonitions that sometimes –but by no means always – accompany the Glimpses. I think a good case can be made that such dramatic, eye-catching aspects of the experience are accoutrements rather than of the essence, but I don't have time to pursue that here…)
ASPECTS OF THE EXPERIENCE
Glimpses are surprisingly common – in surveys up to 50-60% of people admit to some such experience, and they are frequent in teenagers too. Such experiences tend to be under-reported, however, partly because they are seen as highly personal and private, partly because they are hard to talk about, and partly for fear of being thought 'odd'. They are usually fleeting and elusive – Yeats' 20 minutes (more or less) is common, though some come and go in a few seconds, and a few are more lasting, such as that of the British scientist John Wren-Lewis. And they vary in their intensity, some being pleasant but not momentous, while others seem to strike at the very foundations of our normal ways of perceiving and feeling.
Glimpses seem infuriatingly elusive – they appear out of the blue and disappear again of their own accord, and cannot be held on to deliberately. Indeed, the deliberate attempt to control them seems to make them slip away all the more. Nevertheless, despite their evanescence, they are regularly felt not to be illusions but concrete reality unmasked: things unusually accurately and intensely perceived. And, as I have already noted, they also seem frustratingly hard to capture in words. As the English philosopher Alan Watts put it, the aftermath of a Glimpse may require an effort to speak the unspeakable, scrute the inscrutable – and eff the ineffable.
Despite this difficulty, there do seem to be a number of common characteristics of a Glimpse that can be described relatively easily. First, there is the physical burst of vitality and aliveness, often described as brightness, energy and warmth. In the yogic traditions, this release of pent-up vitality is referred to as kundalini, and is often sought through deliberately targeted exercises. In the language of cognitive science, we would describe it as an abrupt intensification of perception, both in the so-called special senses that detect different kinds of energy from the external environment, and also in interoception – the awareness of the internal state of the body itself. Normal experience seems muted and attenuated by comparison
Secondly, there is a felt shift from separation to connectedness; from being an individual, somewhat isolated observer, looking for connectedness, to being essentially and intimately connected. The Benedictine monk Brother David Steindl-Rast describes this as a spontaneous shift from Longing to Belonging. The English mystic Douglas Harding used to describe human beings as 'built open', but often suffering from an illusory sense of closedness and self-containment. Normal life seems rather lonely by comparison
The flip-side of belonging is care. One of the most attractive facets of a glimpse seems to be the liberation of affection. Instead of being too busy to care, you notice what needs doing to look after the people and the environment around us, and naturally do it. It's as if we no longer waste time trying to decide who is worthy of our affection, by virtue of their familiarity to us, or being morally deserving, but, like the man on the train, simply because one sees 'the golden worth' in everyone. Normal life seems, rather sheepishly, to be self-centred and ungenerous by comparison.
Then there is a feeling of ease, as a complex weight of considerations and concerns seems to drop away, and life appears radically simplified. Rabindranath Tagore said "It is very simple to be happy, but it is very difficult to be simple". A Glimpse seems to reveal the truth of that in direct experience. What is glimpsed is a world in which there is greater trust and less worry; in which mystery or uncertainty do not need to constantly explained and understood, but can simply be met as they appear. Normal life seems stymied by second thoughts and conflicts of interest by comparison.
So I suggest that spirituality and religion start not from a system of belief that offers comfort and meaning, but from a first-hand glimpse of a different way of relating to the vicissitudes of life. And this shows up not as a thought, a wish or an interpretation, but as a direct experience. It is seen and felt, not construed or imagined. It is embodied.
SCIENCE
Can science add anything to our understanding of what these Glimpses are, where they come from, what their validity might be, and how they could be earned or encouraged? I think physics was a false dawn in this respect. I bought The Tao of Physics – but I never really bought it. The idea that the key to happiness lay hidden in quantum uncertainty and microtubules seemed as unlikely and unhelpful as the idea that the Archangel Gabriel might swoop down in a burning chariot and carry me off to Paradise.
But now I think the scientists of embodiment are on to something. Here's a few of the pioneers: Andy Clark, Francisco Varela, Susan Hurley, Jeffrey Gray, Mark Johnson and George Lakoff. Actually I have added one physicist – David Bohm – because he was really more of a psychologist. Let me try to give you a few illustrations of what they have been up to, and how this body of work is beginning to illuminate those elusive Glimpses. To do so in the time, I am going to have to ignore many of the technicalities, and make use of a variety of metaphors myself.
PEOPLE AS SYSTEMS
At the most general level, there is the deepening understanding of human beings as biological systems – technically, Complex Adaptive Dynamic Systems. Biologically, we are more like clouds or whirlpools or waves than snooker balls. We see ourselves as mid-level entities, operating in time-scales from seconds to years and sizes from millimetres to kilometres. But if we only stay at that level of description we miss important things about ourselves. Like the cloud or the whirlpool, we only have the appearance of semi-stability because we are in constant interaction with wider systems that keep, quite literally, 'whipping us into shape'. Bodies and minds are semi-stable forms that are composed of constantly changing and constantly interacting stuff. Try to take the whirlpool home in a bucket and you will be disappointed. Waves don't carry the same water forward; they are born, so to speak, have a life, travel, interact, and die, because they are constantly being whipped into shape by a complicated dynamic interaction between wider groundswells, currents, wind-forces, the phase of moon, the rotation of the earth and the wake of a tanker that passed half-an-hour ago…
Conscious mind, we might say, is a kind of phosphorescence that can appear to crest each wave, if further conditions are fulfilled. Consciousness is spume or spindrift. If I were to really see myself in this light, as a temporary form created out of wind and ocean and moon – not just to entertain the idea, but to know that that is what I am – things would look very different (especially the inevitability of death). Astonishingly, right here and now, the World is Guy Claxtoning in a particular (and, it has to be said, rather peculiar) way. This talk should actually be billed as 'by The World, temporarily masquerading as Guy Claxton'.
The body is what connects us to these wider forces – a dynamic pattern of sensibilities and concerns that are in constant resonance with the larger systems within which it is implicated. Physicist David Bohm referred to this wider swirl of energy and information as the implicate order, which explicates itself from time to time as a Guy or a Jonathan. Disconnect me from this incessant flow of perturbations and resources and, like the whirlpool in the bucket, both body and mind will immediately begin to disintegrate.
The body is much more sensitive to this myriad of shifting influences that the conscious mind. Under controlled conditions I can flash you those eyes so quickly you are not aware you have seen anything – but within 50 milliseconds your amygdalae are fired up and your body is already sending bursts of adrenaline to muscles and heart, and parasympathetic impulses to your gut to dampen the ongoing processes of digestion. You may or may not be aware of these repercussions, but you won't know where that blip of threat came from.
PUPILS
We are especially built to reverberate to the social world. Digitally enlarge the size of the pupils slightly in a photograph, and I will describe the person and warmer and more attractive – and I won't know why. Mirror my body language in a subtle way and, again without knowing why, I will trust you more. Show me a clip of a friend in pain and my brain will automatically squirm in sympathy. Through the body I am deeply ecological, profoundly and ceaselessly in conversation with the physical and the social milieu in which I am embedded (and from which I am continually emerging). Like the wave, I am made up – concocted – by the world around me. Like a mobile phone, I may look like a lump of stuff, but I am actually aquiver with information – whether I am currently checking myself for messages or not. So says the science of embodiment.
KANIZSA TRIANGLE
The view that consciousness gets is a very partial, and in some ways inaccurate, reflection of all the activity that is going on 'below stairs'. In this familiar figure, the Kanizsa triangle, there is no white triangle, lying on top of the black figures, slightly brighter and slightly in front.  What consciousness sees is not what's there, but a useful, plausible guess about what's probably there – which in this case is wrong. Out of the swirl, the body-brain constructs a semi-stable image, our 'World', which isn't an accurate representation of 'what's out there', but a tissue of useful but fallible predictions about how things would change if I did various things like moved my eyeballs, or reached out my hand, or smiled. We actually see the world in terms not of what it is, so much, as what I expect to be able to do about it. If my concerns or priorities change, so does the world. Hills look steeper to tired people. Coins look bigger to hungry children.
INTEROCEPTION
My current state of bodily needs, resources and capabilities is constantly being relayed to the brain where it infuses all of the central or 'higher-level' processing. As the work of Antonio Damasio shows, we know our values first by getting a visceral sense of Right and Wrong: a feeling of 'better to go this way', and 'doesn't feel good to go that way'. People's sensitivity to these bodily promptings – their ability to hear and to heed their intuitions – predicts how well they make value-laden decisions.  "By the pricking of my thumbs something wicked this way comes" turns out, sometimes at least, to be a valid form of cognition.
Even the understanding of abstract language is underpinned by the body and its capacities. When I read 'Guy gave a lecture', my brain's motor system is instantly and irresistibly primed to move my hand outwards from my body. If I have to respond by moving my hands inwards, to hit the appropriate response button, the motor system gets conflicting messages and the response is slowed down. If I had read 'Jonathan took Guy's point', the reverse would have happened. Abstract thinking never loses its roots in the bodily bedrock of sensing, acting and feeling.
The idea that Cognition and Emotion, Mind and Body, come from different realms, and are constantly at odds with each other, doesn't hold. When I 'get' a joke, comprehension and feeling are locked together. Merely understanding it is quite a different thing. When I am touched by Billy Eliot's Dad's change of heart, and his decision to risk his social position to support Billy's dream to be a dancer, my appreciation does not just happen in my head; it happens in my chest and throat and eyes as well.
JAPANESE ART
When I gaze at a picture in a gallery, I am not thinking much, but my whole being is reverberating with a deep kind of knowing. As Suzuki says, the experience is aesthetic precisely because it is not clearly explicated.
In these kinds of experience, our reactions are not considered. They well up from deep inside us. Sometimes they catch us by surprise, and often remain unexplicated. But are they rare moments of embodiment? Or are we always like that, but just not noticing it? David McNeill, a venerable psycholinguist at the University of Chicago, suggests that all our actions, utterances and thoughts well up inside us, starting from a deeply visceral seed of meaning or intention. Like a bubble released from the bottom of a pond, or a baby gestating in the womb, the intention gradually grows in size and complexity till it breaks the surface, so to speak, as a well-formed action or thought. Or, most commonly as some combination of thought, action and feeling. We gesture as we speak because gesture and utterance started from the same seed, but took different branches along the way, and carry different facets of the original intention. Our default way of knowing is simultaneously linguistic, affective and enactive. It takes effort and sophistication to decouple them, and to imagine ourselves to be, whether ideally or in fact, calm, rational beings.
So perhaps it is all welling up –but we don't notice it. The process of welling can be too fast to catch, so it looks like the thought has sprung fully-formed into our minds – indeed, was actually produced by our minds. And maybe we have become neglectful: we simply fail to notice the less-clear precursors of our thoughts and deeds. Instead of sensing the real origin in the dark recesses of the body, we invent a more proximal cause called 'Will' or 'Volition' or simply 'I'.
Perhaps that is what people see and feel in a Glimpse: they feel that reintegration and un-pent-up-ness. They feel the fertilised egg of thought embedded in the immune system and the digestive system and in smooth and striate muscle. Maybe what Julian of Norwich really said was "All shall well, and all shall well, and all manner of thing shall just well up".  Perhaps the very idea of well-being is inherent in those Glimpses. (Though playing with the multiple meanings of the word Well reminds me unfortunately of a Peter Cook sketch in which he explained that his wife was not a well woman…she hated being lowered down the well every morning.)
If embodied cognition is right, we are capable of badly misconstruing ourselves. We commonly see ourselves in a distorting mirror that minimises the importance of our bodies, and the ecological connections that extend therefrom, and exaggerates the importance of the bubbles of conscious thought. A lot of trouble and anxiety is created by that distorted image. Mere inconveniences get blown up into matters of life-and-death, for example.  But that false reflection does not affect the actual workings of the Body-Brain-World System that I actually am. I always carry on being as ecologically connected, and unconsciously influenced, as I always was.
EINSTEIN
And occasionally, if I am lucky, I get a Glimpse of biological Buddha Nature, or the Godhead. I see behind the mirror – and, for a few minutes, all the habitual weightings in my neural networks get re-set. In this new light, I find that much of what I had been treating as disastrous turns out to be humorous. The lonely bubble is instantly transmuted into a reverberating network of connections. And a vast, conscripted army of neural censors and sentries – the massive, continual deployment of frontal-lobe inhibition that I had thought necessary, to keep me out of trouble – is suddenly redundant. Those neural sentries strip off their uniforms and start to party! No wonder the world look brighter, and the interoceptive system suddenly pumps up the volume. Of course the world looks luminous and the body blazes with warmth and energy. Where else is all that pent-up neural activation going to go?
Now it's time to stop welling, and pipe down- and let someone else have a chance to well more exuberantly.
Thank you.
For me, the solution has to be primarily spiritual and secondarily political.
–Russell Brand
About three months after Russell Brand's iconoclastic call for a 'revolution in consciousness' on Newsnight (c10 million views on Youtube) and in New Statesman (103,000 Facebook 'likes') the dust has settled, and, well, nothing much has happened.
That's a real pity.
Perhaps Brand's fame, his main asset, proved to be a liability, in the sense that the messenger subsumed the message. That big story of October 2013 proved to be more about who Brand is(former drug addict, now celebrity, with challenging political views) how he got the better of Paxman, and what he did(edited New Statesman) than the content of what he was saying.
The minor tragedy is that beyond Brand's sizzling ego, zealous eloquence and sharp eyebrows lies a coherent argument that we need to take deadly seriously. He is absolutely right to say that we need a deeper appreciation for who we think we are and why we think we are here before we can face up to the inadequacy of our existing social, political and financial institutions. Only then might we build the requisite will and insight needed to create a better world.
(In case you still have no appetite for the message due to the messenger, one of the world's most respected Philosophers, Robert Unger, has a view of political change that, while several orders of magnitude more complex, is similar in its insistence on starting from a more spiritual account of human aspiration: "The commanding objective must be the achievement of a larger life for the ordinary man and woman").
However, while Brand's call to spiritual arms spoke to millions, it did not convince everybody. The message sounded fresh, but on examination it appeared half-baked because there was no clarity about the nature of the meaning of 'spiritual' or the link between the spiritual and the political, nor what it would mean to develop it in practice (in his own defence, he said he was busy that week being a magazine editor…).
And his suggestion that a corollary of his view is that we shouldn't vote sounded overblown, because as anybody who takes spiritual progress seriously knows, a shift in consciousness may place your work in perspective, but it never does the work for you. To paraphrase an old Zen saying: before enlightenment – use your vote, after enlightenment – use your vote.
But his intervention was timely and profoundly important and we shouldn't lose sight of it.
Modern political debates have become too tactical and technocratic to inspire political hope, and the idea that politics has lost touch with deeper foundations of human nature and aspiration not only rings true, but chimes with the RSA's emerging worldview. As Adam Lent suggests, we have lost faith in conventional politics, and as Matthew Taylor argues, it is questionable whether better policymaking will ever change that.
Curiously, at least for those who believe in Zeitgeists, Brand's public statements came out a few days after the first of six public events on taking spirituality seriously. I gave a short speech there, which I developed further and published in New Humanist in December. The editor Daniel Trilling kindly allowed me to repost that piece (some of which is lightly edited above, and some of which is lightly edited below).
If Russell Brand were ever to ask me for advice on how to flesh out the idea that the spiritual is primary and the political is secondary, here is the material I would draw upon to help him advance the case (Warning, c3000 words ahead).
Taking Spirituality Seriously:
The capacious term 'spirituality' lacks clarity because it is not so much a unitary concept as a signpost for a range of touchstones; our search for meaning, our sense of the sacred, the value of compassion, the experience of transcendence, the hunger for transformation.
There is little doubt that spirituality can be interesting, but what needs to be made clearer by those who take that for granted is why it is also important. To be a fertile idea for those with terrestrial power or for those who seek it, we need a way of speaking of the spiritual that is intellectually robust and politically relevant.
This goal looks achievable when you realise that Spirituality is not centrally about 'beliefs'. The conventional notion that to believe something means endorsing a statement of fact about how things are is an outdated and unhelpful Cartesian relic, grounded in a misunderstanding of how our ideas and actions interact.
Consider the story of two rabbis debating the existence of God through a long night and jointly reaching the conclusion that he or she did not exist. The next morning, one observed the other deep in prayer and took him to task. "What are you doing? Last night we established that God does not exist." To which the other rabbi replied, "What's that got to do with it?"
The praying non-believer illustrates that belief may be much closer to what sociologist William Morgan described as "a shared imaginary, a communal set of practices that structure life in powerfully aesthetic terms". This perspective chimes with the emerging 21st century view of human nature as fundamentally embodied, constituted by evolutionary biology, embedded in complex online and offline networks, largely habitual, highly sensitive to social and cultural norms, riddled with cognitive quirks and biases, and much more rationalising than rational. This perspective helps to move beyond simplistic accounts of 'belief' and sheds light on the three main perspectives on spirituality in the UK today.
Three forms of spirituality
First, there is religious spirituality, in which religions can be understood as the cultural and institutional expression of the spiritual. This association explains why those who feel antipathy towards religion are wary of bringing spirituality into the public realm. As the Humanist Anthropologist Matthew Engelke put it at a recent RSA workshop on the idea of 'spiritual commitment': "the word spiritual has a history, and that history has a politics."
Second, there is the 'spiritual but not religious' category, an expression that does little to illuminate the nature of the spiritual beyond the disassociation with religion. 'SBNR' is now a bizarrely demographic box to tick that serves mainly to carve out a space on the census form for amorphous worldviews. Indeed, this large and heterogeneous group does not have anything resembling 'class consciousness', nor culturally recognised institutional forms.
One of the reasons we tend not to take spirituality seriously is that people in this category get attacked 'from both sides'; from atheists for their perceived irrationality and wishful thinking, and from organised religion for their rootless self-indulgence and lack of commitment. However, while survey findings on such matters have be treated with considerable caution, this broad categorisation arguably captures the majority of the British population. For instance, a 2012 meta-analysis of attitude surveys by the thinktank Theos, revealed that about 70% of the British population is neither strictly religious nor strictly non-religious, but rather moving in and out of the undesignated spaces in between.
Thirdly, there is a perspective that might be called secular spirituality, which is typically atheistic or humanistic but does not disavow the idea that some forms of experience, ritual or practice may be deeper or more meaningful than others; a perspective that still finds value in the term 'spiritual' as a way to encapsulate that understanding.
Consider, for instance, humanist celebrants giving dignity to marriages and funerals, or the completely open nature of the 'higher power' that participants in alcoholics anonymous are asked to place their faith in, or ecstatic dancing, sublime art, the charms of nature, the birth of a child, or even the sexual union that led to it. For all the problems with the word spiritual, there are forms of life where we seem to need it to point towards an appreciation that would otherwise be ineffable.
Personal transformation and Social Transformation
So spirituality can come out the closet. It is by no means a minority issue, and there is no need to be embarrassed by the term. Indeed, we need to talk more freely about it to understand the connection between these diverse and widespread spiritualities and the social, economic and political challenges we face.
I see the connection in Mahatma Gandhi's famous line that "we must be the change we want to see in the world". These evocative words are a distillation of a much longer statement rather than a direct quotation, but they nonetheless landed on t-shirts, posters and bumper stickers around the world, because the expression speaks to us deeply. We must be the change we want to see in the world.
When I read that line I think to myself: Yes, that's what I want and need – to close the gap between my actions and my ideals; to make my daily decisions speak to the vision of the kind of world I would like to help bring into being.
But how on earth do I go about that?
Gandhi's statement highlights the forgotten imperative to connect social transformation with personal transformation, which his leadership of the Indian Independence movement exemplified. The contention here is that we struggle to make this connection because, unlike Gandhi, our identification with the spiritual in private realms is not manifesting publicly. Indeed, our public discourse seems to be becoming spiritually illiterate.
Perspectives, Experiences and Practices:
When it comes to the very practical business of aligning our vision and values with our actions on the word, we look like amateurs, unfamiliar with the tools we need. Spiritual experiences, perspectives and practices are wrongly framed as otherworldly, rather than precious human resources to bring our ideals into being.
By spiritual experiences, I mean experiences that make the world feel viscerally meaningful; moments of aliveness, rapture and homecoming that, as Psychologist Guy Claxton puts it, make ordinary experience seem vapid and attenuated by comparison.
By spiritual practices I mean the disciplined and creative activities that support human development, like meditation and yoga, but also for instance writing, art, or even running – things we do to strengthen our inner lives.
And by spiritual perspectives I mean the value-rich visions of what it means to be here, to be human, our worldviews that contextualise our experiences and practices.
This question of perspective is important, and formative for many, but the science-religion debates of the last few decades struggled to find traction because they said so little about practices and experiences, which for many are closer to the heart of why the spiritual matters.
Our Ground and our Place
For me, there is nothing more spiritual than the impact of death on our lives, which has a particularly powerful humanising and levelling quality. Our shared recognition of a brute existential reality brings us back to our common humanity. Life as such is precious to all of us, but our experience of it becomes more visceral, shared, and tangible when it is threatened, as witnessed for instance in the solidarity and kinship widely experienced in the aftermath of terrorist attacks or natural disasters.
Such moments illustrate a useful and generative distinction. Common to the three main manifestations of the spiritual highlighted above, and therefore fundamental to the concept, spirituality is about our ground, rather than our place. This contrast stems from Buddhism, but it can also be inferred in Heiddeger's emphasis on the philosophical primacy of the lived experience of being human, or as he puts it, 'Being-there'.
By our ground I mean the most basic facts of our existence: that we are here at all, that we exist in and through this body that somehow breathes, that we build selves through and for others, that we're a highly improbable part of an unfathomable whole, and of course, that we will inevitably die. Another way to characterise the relevance of our ground comes from the psychotherapist Mark Epstein who refers to the spiritual as 'anything that takes us beyond the personality.'
As anybody who has faced a life threatening illness will know, reflecting on our ground heightens the importance of not postponing our lives, of using the time we have for what really matters to us. And yet, research on the main regrets of the dying indicates the sad fact that we rarely actually do this – most of us do in fact postpone our lives.
And why? Because the world perpetuates our attachment to our place, by which I mean our constructed identities, our fragile reputations, our insatiable desires. We get lost in our identification with our place, and all the cultural signifiers of status that come with it: our dwellings, our salaries, our clothes, our Twitter followers. As T.S. Eliot put it: "We are distracted from distraction by distraction, filled with fancies and empty of meaning."
And this shouldn't surprise us. In 21st century Britain the average urban adult is exposed to about 3000 adverts a day, and we find ourselves caught up what Economist Tim Jackson calls 'the social logic of consumption'.
There is no simple causality in such matters, but while our attachment to our place fuels consumption, our experience of our ground may provide immunity to the idea that we need to consume to validate ourselves.
Our failure to come back to the basic conditions of our existence may also be closely connected to the gradual and relentless shift in the public being described as consumers rather than citizens, a shift meticulously documented by the Public Interest Research Centre in national broadsheet references. Consumption predates capitalism, and is part of being human, but consumerism is less benign, a vision of human life that takes us away from our existential ground and threatens our ecological ground in the process.
Of course we need governments and markets, but their qualities and priorities depend on our qualities and priorities as citizens. And where are we in that respect? And how would we know?
Spiritual practice indicates that our everyday consciousness is not a particularly reliable or benign set of states – in fact we are more or less deluded most of the time. Meditation is the best teacher of this troubling fact, which might sound provocative, but is a completely uncontroversial idea for the millions engaged in regular spiritual practice. For instance, former Buddhist monk Stephen Batchelor characterises our default functioning in the world in terms of 'compulsive becoming' and 'existential flight'.
In this respect, Tocqueville comes to mind. He argued for the moralising power of participation in his classic book, Democracy in America, but on his account religion was a prerequisite for that moralising process, and in lieu of church attendance, which is declining everywhere except, curiously, London, we may need something that serves a similar function to revive collective political will.
This will not be easy. We scramble away from our ground because the alternative is deeply disconcerting. When we succeed in slowing down, it can be quite a shock to glimpse the machinations of our own minds from an unfamiliar vantage point. In most cases we find that our mind's default state is not to be calm and focussed and judicious, but more like a noisy self-serving storyteller, fuelled by self-concern and anxious justification.
It is hard for us to accept that we rely on such wayward minds to act on the world, but when you begin to sense this inner confusion, you are less inclined to look outside of yourself for answers. For starters, the familiar saying, that if you're not part of the solution, you are part of the problem, begins to look entirely misconceived. American academic Bill Torbert suggests it's the other way round: "If you don't realize you're part of the problem, you can't be part of the solution."
Our refusal to face up to our ground, and experience it more viscerally on a regular basis has also made most of us complicit in allowing public policy to become pseudo-objective in its emphasis, characterised by forms of evidence that squeeze out the emotions and experiences that they seek to promote.
We document patterns of social isolation rather than emotionally connect with those who are lonely. We tweak institutional design to improve social care, but say little about showing kindness to neighbours in need. We confidently debate the efficacy of treatments for clinical depression but often conceal our own experiences of sadness. We strain to justify the arts instrumentally, expressing their value in economic terms, while knowing in our hearts that that's not what they are for. And a growing number of environmentalists, increasingly desperate for traction, now find themselves referring to mother nature – God bless her? – as natural capital.
The neglect of our ground goes beyond political discourse. In every day life ubiquitous technology, abundant news, and an uncomfortable awareness of all the things we will never do or be make our lives feel increasingly centrifugal, in the literal sense that we are drawn away from our centre. Spirituality can therefore be seen, helpfully, as a centripetal force, bringing us back to our ground, back to the fuller version of ourselves that we need to act constructively in the world.
Spirituality as a Radical Perspective
So while spirituality is often charged with escapism, is it not the evasion of the spiritual that is the real escapism? A renewed activism, grounded in spiritual perspectives, practices and experiences may be precisely the radical stance towards the world we now need.
It is no longer radical to suggest that it is mad to fetishize economic growth measured in percentiles of gross domestic product – a measure of human progress that is, above all, completely unrecognisable at a personal scale.
It is no longer radical to suggest that the default five-day working week is not the only way to structure our lives, and looks like an unhelpful convention when many are ill due to overwork, and others, especially the young, remain unemployed.
And it is no longer radical to suggest, along with our finest scientific minds, that the climate alarm cannot be snoozed away, and we urgently need to wake up to plug more than 7 billion people in to an almost entirely different source of energy, to retain a liveable planet in the second half of this century, not some point in the unimaginable future.
What is somewhat radical, however, is to suggest that the reason we are not acting on such imperatives with sufficient conviction is because we are not paying attention to our ground. We have lost sight of the potency of spiritual perspectives, practices and experiences in bringing the fundamentals back to our attention.
Former Mayor of Vancouver Sam Sullivan offers an inspiring example. He suffered a skiing accident when he was nineteen, which left him quadriplegic, in a wheelchair for life. A spiritual experience brought him out of despair and sustained spiritual practice related to stoicism helped him forge a celebrated career in disability activism and public service.
Soon after the accident, while contemplating suicide, he imagined his own death in vivid, visceral and bloody terms. After carefully simulating the gunshot in his imagination, he describes how he felt as the witness to his own continued breathing, witnessing the sensation that remained in his disabled body but highly functional mind; now from a renewed, life-affirming perspective: "Somebody could do something with that," he thought. "Hey, I could do something with that."
Knowing our Ground.
We need to know ourselves more fully because the resulting awareness helps to make sense of why the gap between the way we are living and the world we would like to create endures.
But how much do we know about our ground, experientially, relationally, scientifically? For most of us, not much (see the seminal essay for the project as a whole: The Brains Behind Spirituality) The experience of spiritual practice, and a growing body of scientific research, reveals just how far our common understanding of who we are is mistaken. Three features of what makes us human illustrate the validity of this broad point.
We are not the isolated, conscious minds often assumed in our folk psychology. Rather, we are fundamentally embodied. Any spirituality that ignores how the body influences what we think and do will not be usefully transformative. The success of Yoga in the west may be precisely because it is grounded in that understanding.
We also need to challenge the modern presumption of automaticity, the idea that we are forever doomed to be creatures of habit, condemned to live in a preoccupied fog, vulnerable to whatever is thrust upon us as salient. So much of the recent emphasis on 'behaviour change' in public policy takes our automatic natures as a given. However, the growing mindfulness movement, for instance, speaks to the possibility of individually and collectively waking up from the habitual rumination that keeps us experientially absent, and less than fully alive.
And we need to think about what we call the deep social – not merely that we are social creatures, which is a truism, but that we are physiologically social – that we have evolved through and for each other. While empathy for our family and friends may come naturally, we can also dramatically expand this sense of who 'we' are in space and time, through particular forms of spiritual practice – like loving kindness meditation – that have been honed precisely for this purpose. Such practices are not merely nice, but rather essential for international and intergenerational problems like climate change, which we seem to lack political motivation to solve, partly due to the biological limits of empathy.
Coming back to the connection between the spiritual and the political, unlike Russell Brand, Martin Luther King clearly lived and breathed this link and combined both to great effect for civil rights. His reference to love in the following statement is by no means synonymous with the spiritual, but it serves a similar function:
"Power properly understood is …the strength required to bring about social political, and economic change… One of the great problems of history is that the concepts of love and power have usually been contrasted as opposites- polar opposites- so that love is identified with the resignation of power and power with the denial of love.
Now we've got to get this thing right…Power without love is reckless and abusive, and love without power is sentimental and anaemic…It is precisely this collision of immoral power with powerless morality which constitutes the major crisis of our time."
Spirituality, for me, is about tapping into the deep sources of our own power and love, and the lifelong challenge of bringing them together in practice.
###
Dr Jonathan Rowson is Director of the Social Brain Centre at the RSA. He tweets at @Jonathan_Rowson
When it comes to climate change, creativity is not optional. To retain a resilient and livable planet, we need to do things differently, better, and quickly. In light of our competing commitments to energy security and fuel prices, that means rethinking our ends, our means, and our conception of ourselves.
Despite my reservations about Adam's attack on the political class and my concern about creativity being hollow, I have enjoyed thinking about what it might mean to link our new agenda on climate change with our emerging worldview.
A broader conceptual discussion about creativity is needed, but for now, with creativity understood as self-directed, pro-active and innovative activity, here are some thoughts on what 'the power to create' might mean for attempts to tackle climate change.
Writ large, our current approach to climate change is passive rather than creative. Most of us follow the routines of our lives, point the finger at politicians, do a few tokenistic things like recycle or use our own shopping bags, demand cheap and secure energy without realising that's a climate position, hope for the best at big international climate summits and wait for another IPCC report or devastating storm before saying: isn't it terrible that nothing is happening? We can do better, and here are six ideas on how an emphasis on creativity might help:
1) Frame the power to create as a solution to stealth denial
If passivity is a large part of the problem of 'stealth denial' creativity may be part of the solution.
(Our report unpacks the claim that about two thirds of the population are in stealth denial on climate change, i.e. they accept the significance of human-caused climate change, but don't live as though they do.)
Creativity is about more than DIY, but I was struck by the importance of passivity as a contrast with creativity while reading George Monbiot's piece in today's Guardian:
"Almost universally we now seem content to lead a proxy life, a counter-life, of vicarious, illusory relationships, of secondhand pleasures, of atomisation without individuation…Perhaps freedom from want has paradoxically deprived us of other freedoms. The freedom which makes so many new pleasures available vitiates the desire to enjoy them… Freedom of all kinds is something we must use or lose. But we seem to have forgotten what it means."
Perhaps that's too rhetorical, but the idea seems sound: large chunks of the population have become so busy focusing on work, family, bill-paying, domestic chores, and entertainment, that we lack the requisite will, time and energy to think about – never mind act upon –  'bigger-than-self problems' like climate change.
Given that climate change is not exclusively 'an environmental issue' one role for creativity is to highlight the scope for people to act in ways that they might not have previously imagined to be relevant. This includes wasting less food, flying less, eating less beef, and a myriad of other micro behaviour changes. However, the point of our recent report is that we clearly need to connect such acts to a credible narrative about the big picture of continued fossil fuel production and steadily rising global emissions.
In that respect, you should find our who your MP is (most don't know) and tell them that climate change matters to you, but you might have more impact by finding a few hours of gumption to change your energy supplier and then use social media and email your friends and colleagues to explain why.
As far as possible (not always very far if you are in poverty, a full-time carer, unskilled etc) we need to seek to solve the problems of our lives rather than waiting for them to be solved for us.
What might that mean more tangibly? Others might disagree, but to me it points squarely to Shorter working weeks which means a revaluation of the core economy. Without that shift, most people simple don't have the time and support required to be more creative.
2) Get creative about our ends as well as our means.
If we are stuck with indefinite economic growth that is parasitic on undervalued and scarce natural capital as our chief measure of societal success, then the power to create is unworthy of the name. The 'power' in 'power to create' should be about contesting the rules of the game as well as playing it better.
In this respect, is it not just sane to think we need a conception of economic maturity that connects to an idea of human rights and respects planetary boundaries? Can't we have a political discourse where people speak about economic decisions as if they are also social and ecological decisions, which they are? Getting seriously creative about how we conceptualise 'change' means breaking down the distinctions that falsely keep these dimensions of our world apart.
3) Place our hope in cities as well as States
Some say governments are now too small for the big problems (e.g. climate change) and too big for the small problems (e.g. anti-social behaviour), and the time of cities has come.
An uncreative approach to climate change is to wait for international agreements between states. Given the divergent economic needs, different energy reserves, vulnerability to climactic changes and range of national political systems, we are never likely to get a global agreement (that satisfies, say, USA, China, India, small island states, Norway, Russia) that goes beyond a firmer resolve to reduce emissions in principle(which is not to say we shouldn't try).
In the meantime we can act at levels where the impact is more tangible – cities. As Benjamin Barber put it in the RSA Journal:
"It turns out that about 80 percent of all energy is used in cities and 80 percent of global carbon emissions come from cities with more than 50,000 people. Therefore, if cities take strong measures – as well as Amsterdam, Los Angeles cleaned up its port and reduced carbon emissions by 30 percent to 40 percent – they will have a profound effect. Even if the US and China do nothing, cities can have a big role to play in fixing the problem. It's not just a theoretical thing."
The connection between cities and creativity is well established, and our hope for creative action on climate change may lie at this level of the Polis.
4) Trust creative artists to help communicate climate solutions
As this recent piece indicates (HT Jonathan Schifferes), climate communication has not so far been very successful, and there is a place for artists not just to change the message but also the medium: "People respond to authentic artistic expression, not scripted messaging. Artists need free rein. Businesses should take the plunge and give it to them."
This might sound a little worthy, but as indicated in 'Divided Brain, Divided World: Why the best part of us struggles to be heard', we are in danger of being over-literal and half-blind in our attention to the world, and we need artists of various kinds to help us retain a sense of balance and perspective: This cartoon helps put this point in perspective: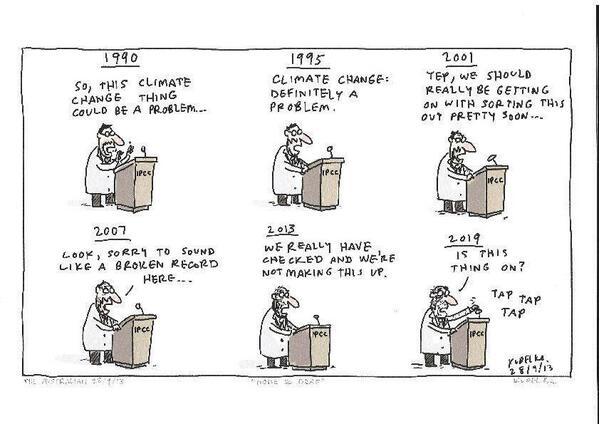 5) Trust in a radical decentralisation of energy provision. 
This point is covered in more detail as one of our eight suggestions for how to overcome climate stealth denial in the report (see pages 56-58):
Not only do we need a transition to renewables, but we need to design the energy
infrastructure in a much less centralised, vulnerable and remote way, as suggested by Rebecca Willis and Nick Eyre of Green Alliance:
'Only 50 years ago, most households were directly aware of the amount of energy they used from the weight of coal carried into the house. Today it flows in unseen through pipes and wires, and embedded in the multitude of products purchased, most of which are manufactured out of sight from consumers. The pervasive attitude that new energy infrastructure should not be seen may well be one of the reasons behind opposition to
renewable energy installations. But a sustainable energy system will not be an invisible system. Reconnection of people with the energy system is a precondition for the low carbon transition.'
The power to create could be about that reconnection, with more homes being power plants, and more communities collectively managing their localised and renewable energy. Perhaps 'the power to create' is precisely what we need for the third industrial revolution.
6) Divest in centralised dirty energy and reinvest in decentralised renewable energy, thereby supporting the forms of innovation we need (see page 53-54). 
If the power to create means challenging vested interests, the best way to do that is to move your money accordingly. The test of the RSA's resolve to challenge vested interest will be questions like this one.
These six ideas are a way of showing how 'the power to create' might help to flesh out what the call the action on climate change might mean. In essence the point is this: it's not hope that leads to action, but action that leads to hope.
Dr Jonathan Rowson is Director of the Social Brain Centre at the RSA and author of the recent report: A New Agenda on Climate Change: Facing up to Stealth Denial and Winding Down on Fossil Fuels. He Tweets @Jonathan_Rowson
Adam Lent's rallying cry for creativity met with strong tacit approval from the echo-chamber, and rightly so. What's not to like? Creativity is a feel-good concept, tapping into to the value of human freedom, with pleasant undertones of productivity, individuality, and style.
No sane person would therefore come out against creativity consciously and explicitly, which is why Adam suggests many vested interests in big business and government are clearly anti-creative in practice, but won't admit to it in those terms. But what if the fact that creativity is inherently unobjectionable poses a deeper problem for the RSA's emerging world view?
Creativity is hollow and needs filling out:
I am reminded of Voltaire's famous reply to the complaint that "Life is hard" –  "Compared to what?". Creativity doesn't really make sense as a stand alone concept, and Voltaire's response would be almost as stinging as a response to "Creativity is good". Compared to being uncreative might is the obvious answer, but that just kicks the can further down the road.
Sooner or later you have to hook up a particular idea of creativity to some broader patterns of values, ideology and human nature which are much more open to dispute, and any inspiring organisational strategy will be explicit about those links.
Adam has begun to do that in terms of the concentrations of power and vested interests that we believe need to be challenged, but I think it's important to keep in mind from the outset that we need to do more of that because 'creativity', as such, is hollow.
To make sense of this claim, consider the related point that sometimes you can have too much of a good thing(chocolate, wine, holidays…). You can sense the hollow nature of creativity when you ask whether there are optimal levels of creativity, and what the personal and social maturation of creativity would look like.
Adam is right that a lack of creativity can be stifling, but it is no less true that too much creativity could be chaotic, manic, even mad. The point is that the question about where you draw that line does not lend itself to a creative answer, but to an inherently political one, which is why we need to be clearer and more open about what promoting 'the power to create' entails.
Most forms of growth have natural limits. To give a related example, the most impressive critique of indefinite economic growth for its own sake is not that it is ecologically hazardous to a self-defeating extent(which it is) nor that it brings sharply diminishing if not vanishing or negative returns to wellbeing (the jury is out on which of those is closest to the truth) but that it's simply absurd – measuring societal progress through indefinite economic growth makes no sense and has no meaning at a human scale, as the Skidelskies argue in their wonderful book: "How Much is Enough?".
Just as we need to qualify the need for economic growth with a conception of economic maturity (a concept I picked up from Andrew Simms) we also need some idea of how much creativity is good for us and society. Otherwise this idea of everybody, everywhere, all the time, being as creative as possible, sounds absurd (not to mention exhausting) and will begin to feel like a panacea that is literally incredible.
Moreover, if we don't clarify the scope and texture of creativity at the outset, RSA calls to 'unleash' the power to create will have a cheerleading groupthink quality to them, which are in danger of sounding ever so slightly creepy, and that is definitely not what Adam is advocating, nor what the RSA is or should be about.
(As a provocative comparison, consider Susan Cain's celebrated TED talk on the value of introversion, where she recalls, with bemused horror, being at a summer camp where all the kids were forced to be more extroverted by being brought together to sing/chant: "Let's all be rowdy!").
Creativity: means, end, or a bit of both?
So when Adam says (in jest, I know!) "expect us all to be taking to the barricades yelling "Liberté! Fraternité! Egalité! Créativité!" I see an instructive category mistake.
Liberty, equality and fraternity (for which we should probably read 'solidarity' in the early 21st century) are all contested ideas, but most forms of these concepts are typically viewed as ends in themselves(often somewhat incommensurate with each other) while creativity is surely more like a means towards the ends we care about, in which case the question remains: which ends?
As a non-partisan charity, does the RSA say we are passionate about being creative but ambivalent, indifferent or non-aligned on what the creativity leads to? Surely not.
However fuzzy, we do care about some form of the social good. Adam is right that creativity is in our DNA, but so is our focus on 'undertakings for the publick good' (wonderful spelling from our original eighteenth century enlightenment mission).
But here's the thing: computer hackers, unscrupulous marketeers, dodgy accountants and genocidal war criminals are notoriously creative, and we don't want to be complicit in all those forms of creative activity. So if we are for creativity, what kinds of creativity are we against? Are there limits to how creative we should want people or society to be?
What are the nature of those limits in terms of human rights, ecological limits, levels of inequality and so forth – how does supporting 'the power to create' help us to draw those lines?
(There's a separate argument to be made on how the emerging worldview links with cultural theory – at present it reads like a largely individualist view that is vulnerable to solidaristic and authoritarian critiques, i.e. it's not 'clumsy' enough..).
The pragmatic response is to say the RSA focus is on creativity and we will lead the way by showing how it can be used for the social good. That's fine, but it makes us sound more like the honest broker rather than the campaigning organising we are striving to be. To get to that transformative change, we need not so much to define creativity as to give it more definition.
Creativity: Individualism by stealth?
Adam refers to creativity in terms of "an act that is unique to an individual's own capacities or vision (and…) the unique, pro-active and self-determined nature of the activity".  The argument is on relatively strong terrain when he argues, with Mill, that the quintessence of what it is to be a 'free' human being is to be 'creative', and it is useful to juxtapose that emancipating vision with the spread of mindless and passive consumption under late(st) capitalism. I also like the general idea of people being less passive and reactive and more pro-active and creative.
At the same time, at present 'the power to create' has an implicit individualist and libertarian emphasis, and I would like to see that made more explicit, if only because there are other readings of recent world events that don't chime with this view.
I am not at all sure modern history appears to be unfolding towards creative economies full of self-generated value, because I think that is only one of many current trends, and by no means obviously the dominant one.
More generally, there are many counter-trends to the rise of the creative individual: Where is the occupy movement? Where is nationalism? Where is the Arab spring? There are also plenty of examples of Governments overreaching – what does the power to create tell us about whether Snowden is a hero or a traitor?
What if social media is not just used to enhance creativity but also to support Government oppression, as Mozorov and others have argued it does? There are also many (majority of the British public) who want to see more Government, not less, for instance in their support for rail and energy nationalisation.
Relationships
Finally, while some forms of creativity may be good for us, the key driver of wellbeing is the quality of our relationships, and for the last four years we have been arguing that the model of the self-directed individual is partial at best. If humans are, as I believe them to be, fundamentally social (see Transforming Behaviour Change, part one) there is still a place for individual initiative but the power in 'power to create' has to be grounded in relationships, and the purpose of creativity has to be about enhancing the range of quality of those relationships.
The call for more creativity is good, sound, and timely. But before that becomes our defining rallying cry, let's clarify what kinds of creativity we want, and how much creativity we need, for the deeper and more political ends that we really care about.
'To know and not to act, is not to know.' *
Today we are releasing our report: A New Agenda on Climate Change: Facing up to Stealth Denial and Winding down on Fossil Fuels.
The piece was covered in The Times earlier today and I have a piece distilling the report in the Guardian. We also experimented with conveying the report's message through Buzzfeed, which will appear soon, and was a lot of fun to create.
The website preamble is copied below, but the main thing I want to convey now is that researching and writing this report really opened my eyes. At the start of the process I  thought of climate change as a problem of emissions, and that the purpose of behaviour change was about using behavioural insights to reducing personal carbon footprints. However, the more I looked into it, the more I felt the issue is unavoidably political, and that 'behaviour change', to be worth its salt, had to connect with the core issue of gradually substituting our energy supply. We can still play nicely, but if you care about climate change, you have to talk about the price of fossil fuels, and think hard about what it would take to keep them in the ground.
Facing Up to Stealth Denial and Winding Down on Fossil Fuels
The human response to climate change is unfolding as a political tragedy because scientific knowledge and economic power are pointing in different directions. The knowledge of the reality, causes and implications of anthropogenic climate change creates a moral imperative to act, but this imperative is diluted at every level by collective action problems that appear to be beyond our existing ability to resolve. This challenge is compounded by collectively mischaracterising the climate problem as an exclusively environmental issue, rather than a broader systemic threat to the global financial system, public health and national security.
This report makes a case for how Britain can take a leading role in addressing the global climate problem, based on a new agenda that faces up to pervasive 'stealth denial' and the need to focus on keeping fossil fuels in the ground. Our data indicates that about two thirds of the population intellectually accept the reality of anthropogenic climate change, but 'deny' some or all of the commensurate feelings, responsibility and agency that are necessary to deal with it. It is argued that this stealth denial may be what perpetuates the doublethink of trying to minimise carbon emissions while maximising fossil fuel production, and also what makes us expect far too much of energy efficiency gains in the face of a range of rebound effects that lead energy to be used elsewhere.
This report argues that we should focus less on those who question the scientific consensus as if they were the principle barrier to meaningful action. Those who deny the reality of anthropogenic climate change are not at all helpful, but at least they are consistent. One corollary of facing up to stealth denial is that we should turn more of our attention instead to mobilising those who, like the author of this report, fully accept the moral imperative to act, but continue to live as though it were not there.
*- Wang Yang-ming (Neo-Confucian philosopher 1472–1529)