Our focus on climate change has been temporarily displaced by other work, but from mid November, in partnership with COIN we'll be intensifying preparation for 5 RSA public events from January-May 2015 as part of our project The Seven Dimensions of Climate Change.(Democracy,Economy,Law,Technology,Science,Culture,Behaviour) As things stand, the planned events look wonderfully risky (not just talking heads…) so watch this space in about a month. To keep those climate embers bright (rather than burning…) in the meantime, here are ten things(with some of the 7 dimensions captured more than once) that have caught my attention during the last few months:
1. Democracy: The global climate marches were an inspiring sight. I recently argued, slightly too strongly I suspect, that it would have been even better if the generic call for 'action' was clarified, but that was a quibble really- demonstrations of that scale can be hugely galvanising. A friend in New York said the best part of the march was the moment of shared silence beforehand as the assembled masses contemplated what they were about to do and why. The marches also gave rise to an evocative expression that may be the key to climate solutions: "If you want to change EVERYTHING, you need EVERYONE." Nobody quite knows its provenance though you can find Bill McKibben(a huge climate star in the US, barely known in the UK) reflect on it here at 32.40  (HTs @Mariegasha, Adam Corner and Jonathan Rose)
2. Law: While major Oil companies are now on record as saying they don't believe Governments will act in a manner that is consistent with the totemic 2 degrees target, Mark Carney, The Governor of the Bank of England just made an announcement that acknowledged the reality of the carbon bubble at the heart of the global economy. Simply stated, the world's projected economic health is based on a false premise i.e. that we can access valuable fossil fuel reserves for the foreseeable future. This is no small matter, and potentially much worse for the global economy than the housing bubble that caused devastation in 2008.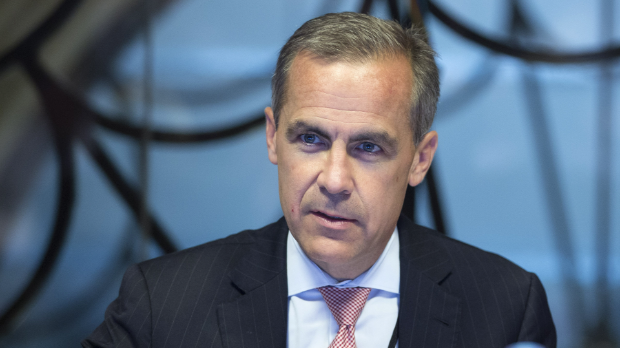 3. Democracy: The Naomi Klein show has recently graced the UK. I am slowly reading her book 'This Changes Everything: Capitalism against the Climate" and enjoyed her Guardian event chaired by Owen Jones. Her emphasis on the 'bad timing' of climate change; arriving in public consciousness just as the public realm is in retreat is a crucial point – and axiomatic for her claim that solutions to climate change involve mass social mobilisation and fundamentally rethinking capitalism. I need to reserve judgement until I have finished the book, but I suspect I will end up agreeing with Adam Corner. Adam wrote an excellent summary and critique on COIN's website here. The depth, scale and complexity of the problem suggests to me that any meaningful climate victory will not be a victory for the left, but more like a growth in human consciousness and cooperation that transcends left and right.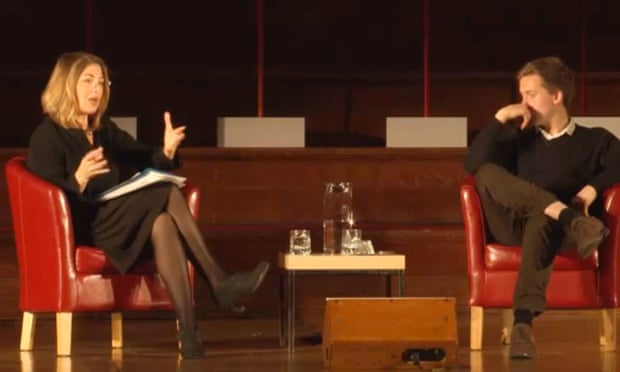 4. Economy: I am not sure how directly Klein engages with the question of economic growth, but it's a fundamental fault line on climate questions, as I wrote here. I was delighted to see a more advanced version of this argument by David Roberts (a climate writer recently back from a year's sabbatical!) in an outstanding piece responding to some lazy articles by people who should know better- Paul Krugman (and Chris Huhne) among them- who suggest that technology means we can decouple growth from emissions in absolute terms in a timely enough way (maybe we can, but David Roberts explains what they need to explain to make sense of how.)
5. Technology: On the other hand, a few months ago I was really impressed by a piece that had somehow escaped me about the failures of environmentalism. It's from 2004, but there have been updated versions since in book form, and the authors now run 'The Breakthrough Institute'. In essence these ex NGO activists who used to think very differently now argue that the only hope for climate change is a commitment to certain kinds of growth that aim to transform the material basis of the economy. For instance, two of the main proponents of this world, Nordhaus and Shellenbenger argue: "Environmentalists like to emphasize the ways in which the economy depends on ecology, but they often miss the ways in which thinking ecologically depends on prospering economically." (p6 Breakthrough, 2007)
6. Culture: I don't know what I think about that yet, but I suspect David Roberts is right that timing is the key question, and that is not particularly intuitive for human thinking or for our cultural discourse more generally. We are prone to deciding between what are effectively ideological visions on the basis of coherence, facts, and values, but with climate change the question becomes even more complex because it's not so much a matter of what should we do in principle, but rather what should we do given that we have so little time to do it. As Bill McKibben puts it in the video mentioned above: "The physics of global warming are such that if we don't get it right quickly, we don't get it right."
7. Technology: My inclination is to view climate change more as an adaptive challenge(about people, cultures, feelings, psychologies) than a technical problem (clear policy levers, technological change, simple interventions) but that's a personal bias based on background, and clearly it is both. In this respect this report on 'Deep Decarbonisation' led by Jeffrey Sachs is noteworthy – he believes global negotiations on emissions are much less likely to succeed than government commitments to the technological infrastructure. Put that way, he might be right, but he seems to overlook or underestimate potential solutions at the level of behaviour or culture that impact indirectly on such international talks – as the global marches said loud and clear: the political mandate ultimately comes from us.
8. Economy: And political pressure and economic change happen in tandem. Lots of really influential bodies have begun divesting in fossil fuels and in some cases reinvesting in renewable energy. For instance, recognising the threat to public health, The British Medical Association did it, recognising the moral case, lots of Churches and Quakers have done it, and following the intellectual and moral lead of many US Universities, Glasgow University became the first European University to divest- good on them! That's quite a bit of momentum on divestment now; slowly but surely fossil fuels are becoming socially stigmatised – the key point of this process, as argued by this influential Oxford University report.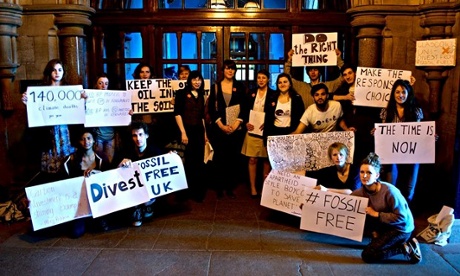 9. Science: All of this is of course premised on Science, and there was an exceptional report released earlier this year by UCL about how Climate Scientists need to form a new social contract with society, both improving their communication based on the kinds of understanding that underpin our work in Social Brain; and, just as important, getting more directly engaged with the policy implications of their work – an excellent and very important read.
10. Behaviour: Finally (for now), it has never occurred to me to write an open letter to Nigel Farage! (The very idea…) But I came upon one well worth reading. Farage's love of alleged common sense, pints and, crucially- being seen to be drinking pints is well known, but his sceptical if not downright dismissive thoughts on climate change are less salient. I was therefore impressed by Geographer Joe Smith's charming pitch to help him see sense on climate change which can be summarised thus: 'let's have a pint and talk about the weather.'
Jonathan Rowson is author of "A New Agenda on Climate Change: Facing up to Stealth Denial and Winding Down on Fossil Fuels."
You can follow him @Jonathan_Rowson
If spirit is a name for the resistant and transcending faculties of the agent, we can spiritualize society. We can diminish the distance between who we are and what we find outside of ourselves. - Roberto Unger, The Self Awakened p38.
A few months ago I wrote an extended post about the relationship between the spiritual and the political. The pied piper of our generation, Russell Brand, momentarily adopted it as part of his 'revolution in consciousness', tweeted approvingly to his millions, and thousands followed his tune to our website. Happy days.
The political dimension of spirituality is exciting because it's 'the vision thing', it's about being human, about who we are and what we care about. It's depth and values and hope and how it all fits together. Moreover, as noted above, it is intellectually safe terrain because even heavyweight philosophers like Roberto Unger take it seriously.
The elusive place where the spiritual meets the political is perhaps the experience of life many of us are looking for; a place where the possibilities for your own power and place in the world make sense. When you are living in that place, life tends to be much more rewarding. For instance, I was heavily involved in Scotland's recent referendum and campaigning felt distinctly spiritual, a way of connecting identity with meaning and purpose. There was an intense feeling of aliveness for many weeks, which is, etymologically at least, close to the heart of the spiritual.
There is nothing democratic about the sacred, but there is definitely something sacred about democracy.
I felt that sense of the sacred intensely when I witnessed 84% of my country's electorate turn out to vote in Scotland on Thursday, and I felt it again on Sunday as I witnessed about 40,000 people in London march in solidarity with over 300,000 in New York, and a total of around 600,000 people around the globe, all calling for action on climate change.
You'll have heard the chant that tends to accompany any major political march of this nature: "Tell me what democracy looks like! – This is what democracy looks like!" Who could fail to be impressed, moved even, by people in unison, embodied, alive, emboldened, speaking truth to power.  It was a staggeringly impressive organisational feat, and a much needed shot in the arm for an issue that suffers from lack of public concern and media oxygen.
Look at the image below. Sunday 21st September 2014 might even be marked as the day the world finally 'woke up' to climate change.
But it might not.
In fact it almost certainly won't.
The excitement of any contest depends upon four main elements:
1. The stakes are high.
2. The competitors are fairly evenly matched.
3. You care about who is going to win.
4. The outcome is imminent.
Politics shares much with sport in this regard, which is perhaps why, until very recently, most people outside of Scotland were not particularly engaged in the referendum debate that has been underway for almost two years. Only the first of these four elements initially seemed to apply.
But opinion polls have finally caught up with what Scots have been saying for some time: feelings on this matter have always been somewhat volatile, and the final vote could go either way.
When it comes to words, I'm never quite sure whether I'm the hunter or the hunted.
After four years writing a PhD about 'wisdom', I emerged only somewhat the wiser. In my current role I'm often asked to talk or advise people on 'behaviour change', but rarely manage to hide my discomfort with the ambiguity of 'behaviour' and the maddening vagueness of 'change'. Now I find myself leading a two year thought leadership project on 'spirituality' – a concept that does strange things to people's facial expressions. And just when I thought I might finally be emerging into a post-conceptual, keep-it-real adulthood, my employer decided to build a strategic review around a reappraisal of 'creativity'.
Many RSA staff are just getting on with it, content with a common-sense understanding of the term, only slightly troubled by the possibility that the epicentre of their organisation's world view is so contested. For most purposes that's fine, but for me, a seasoned concept wrestler, I'm looking for a bit more of a fight.
It's not that I think we need to define creativity, because an over-reliance on definitions is pseudo-intelligent, a pretence at axiomatic logic that denatures living ideas. As Ambrose Bierce's celebrated 'Devil's Dictionary' puts it:
"Definition: The vivisection tray upon which a word is splayed; while the gist may be clearly labelled with coloured pins, resuscitation becomes problematic."[1]
There is something lazy about merely defining a term, sweeping the attendant intellectual rubble under your resolutely practical carpet, and thinking that part of your work is done.
There are things you can do to make words tractable that doesn't involve defining them. By reading, writing, experimenting and talking you can develop a certain intimate familiarity with the concepts that shape your work, which is why my first reaction to creativity taking a central place in RSA's vision and mission was constructively sceptical if not critical – I didn't feel that kind of connection and could barely imagine developing it.
But things change. Over the last few months I have been quietly wrestling with creativity, like Jacob with the Angel, and I didn't want to let go until I could say 'creativity' with a better felt sense of what I was talking about.
Creativity
So here goes. There is no lack of material out there, and it comes from a variety of disciplines, practices and perspectives, so I'm going to be extremely selective here. My main impression is that pre-internet theories of creativity that are predominantly psychological (for instance Howard Gardner, Sternberg or Csikzsenmihalyi) feel a bit kitschy now, while theories of creativity that over-rely on techno-optimism are a bit unreal, and can leave you feeling a bit alienated.
There is missing humanistic part of the story. Where is the body, where is the soul? Where is the perspective that connects cognition, emotions, people, products, relationships and culture at large.
While looking for precisely this kind of perspective, I struck gold in an extraordinary essay published in 1954 called, modestly, "Towards a Theory of Creativity." by esteemed psychotherapist Carl Rogers. Unfortunately the whole Rogers essay is not freely available online, but I think it's the best single piece of writing I have come across on creativity.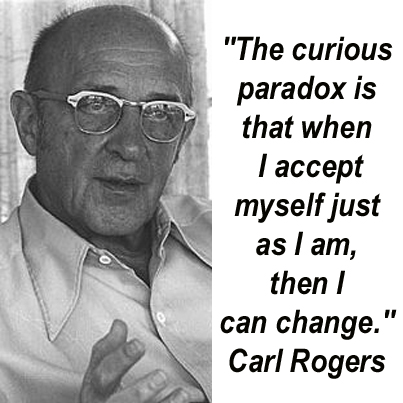 I was delighted to come across this reference because if anybody can find a way to make creativity feel less like a feel-good nebulous buzzword, and more like a profoundly important part of what it means to be human in a way that is relatively timeless, it is Rogers. If you have never heard of him, imagine somebody with acute insight who believes deeply in people and made a global reputation out of listening extremely well.
Here is what he says about creativity in 1954:
"I maintain that there is a desperate social need for the creative behaviour of creative individuals. It is this which justifies the setting forth of a tentative theory of creativity-the nature of the creative act, the conditions under which it occurs, and the manner in which it may constructively be fostered."
The essay is striking because it feels fresh 60 years after it was published. Consider, for instance:
"Any of the serious criticisms of our culture and its trends may best be formulated in terms of a dearth of creativity…In education we tend to turn out conformists, stereotypes, individuals whose education is "completed," rather than freely creative and original thinkers. In our leisure time activities, passive entertainment and regimented group action are overwhelmingly predominant while creative activities are much less in evidence. In the sciences, there is an ample supply of technicians, but the number who can creatively formulate fruitful hypotheses and theories is small indeed. In industry, creation is reserved for the few-the manager, the designer, the head of the research department-while for the many life is devoid of original or creative endeavour."
So Rogers shares the RSA desire to democratise creativity, and he also seems to share the RSA analysis that creativity is not really optional. And if that was true in 1954, it would appear to be even more so now:
"In a time when knowledge, constructive and destructive, is advancing by the most incredible leaps and bounds into a fantastic atomic age, genuinely creative adaptation seems to represent the only possibility that man can keep abreast of the kaleidoscopic change in his world… a generally passive and culture-bound people cannot cope with the multiplying issues and problems. Unless individuals, groups, and nations can imagine, construct, and creatively revise new ways of relating to these complex changes, the lights will go out. Unless man can make new and original adaptations to his environment as rapidly as his science can change the environment, our culture will perish . Not only individual maladjustment and group tensions, but international annihilation will be the price we pay for a lack of creativity."
In 1954, the threat of annihilation was mostly about the cold war, but there are similar existential threats today, including forms of ecological collapse that were barely imaginable 60 years ago.
The creative process
Rogers even ventures a definition of creativity, but only after a great deal of discussion:
"My definition, then, of the creative process is that it is the emergence in action of a novel relational product, growing out of the uniqueness of the individual on the one hand, and the materials, events, people, or circumstances of his life on the other."
What makes the essay so valuable is that Rogers takes care to present creativity as a fundamental human attribute, and clarifies what is required for creativity to be socially valuable rather than merely something instrumental or profit-driven.
"The mainspring of creativity appears to be the same tendency which we discover so deeply as the curative force in psychotherapy-man's tendency to actualize himself, to become his potentialities. By this I mean the directional trend which is evident in all organic and human life-the urge to expand, extend, develop, mature-the tendency to express and activate all the capacities of the organism, to the extent that such activation enhances the organism or the self."
I love that line: "The urge to expand, extend, develop, mature-the tendency to express and activate all the capacities of the organism." I can hardly think of a better description of what the desire to create feels like on the inside. Creativity is about unfolding and flourishing, not just problem solving and impressing. It's about building, as Roberto Unger puts it, 'a larger life'.
Moreover, the Rogers article of faith in the creativity of the many, not the few, is the a key premise of the RSA worldview: "(Creativity) exists in every individual, and awaits only the proper conditions to be released and expressed. It is this tendency which is the primary motivation for creativity as the organism forms new relationships to the environment in its endeavour most fully to be itself."
Three key determinants of socially constructive creativity:
But why is it socially valuable? This is a big question: for what reason do we place faith in creativity when it appears, prima facie, to be as likely to be used for selfish destructive ends as generous or generative ones?
Rogers is discerning here, saying that we cannot easily judge whether creativity is constructive because novelty is often inherently subversive at first, and tends to prove its value, or not, over time. So it's not about immediate public approval, because we don't always know creative value when we first see it. Indeed, you might say we are built not to.
Nor can we judge it by the intentions of the creator, because something initially created for good reasons can easily be used to destructive effect and vice versa, as is well known from work on, for instance, splitting the atom. My favourite example of an unexpeccted benefit is the telephone which initially appeared to further isolate people who were deaf, but later lead to the internet, which of course is hugely beneficial for the same group of people.
Most of the time, we just don't know. So what can we put our faith in?
"We must face the fact that the individual creates primarily because it is satisfying to him, because this behaviour is felt to be self-actualising, and we get nowhere trying to differentiate 'good' and 'bad' purposes in the creative process."
So it is a normative commitment, an article of faith. We say: there is something about the creative process properly understood that is more likely to do good than harm. Rogers goes on to suggest three key determinants of creativity properly understood.
1. Openness to experience
This idea is really about getting beyond defensive reactions and lazy assumptions, but it requires a certain amount of emotional and intellectual stability.
"Certain experiences are prevented from coming into awareness except in distorted fashion. In a person who is open to experience each stimulus is freely relayed through the nervous system, without being distorted by any process of defensiveness….It means the ability to receive much conflicting information without forcing closure on the situation….The more the individual has available to himself a sensitive awareness of all phases of his experience, the more sure we can be that his creativity will be personally and socially constructive."
We can cultivate this kind of openness through education and training, but we are only likely to do so when we deeply appreciate its importance.
2. An internal locus of evaluation
This determinant is fascinating for me personally because it sounds a lot like Kegan's '4th stage' of adult development that was a key premise both of the seminal piece for the Social Brain Centre, Transforming Behaviour Change, and of the RSA's Big Society Report.
Rogers puts it as follows:
"Perhaps the most fundamental condition of creativity is that the source or locus of evaluative judgment is internal. The value of his product is, for the creative person, established not by the praise and criticism of others, but by himself. Have I created something satisfying to me?… If to the person it has the "feel" of being "me in action," of being an actualization of potentialities in himself which heretofore have not existed and are now emerging into existence, then it is satisfying and creative, and no outside evaluation can change that fundamental fact."
Rogers couldn't didn't make this connection to theories of adult development in 1954, mostly because Piagetian models were still thought to apply almost exclusively to childhood. But it is very clear that Rogers thinks there is a 'hidden curriculum' for socially constructive creativity that appears to be developmental in nature. Indeed, by placing 'an internal locus of evaluation' as critical to creativity, he unwittinly poses a question to schools working with creativity, becuase this kind of stage of development generally occurs well into adulthood.
That doesn't mean that younger people cannot be creative of course (they are, for instance, typically more 'open to experience' than adults) but there is an interesting tension here that might inform educational and cultural interventions designed to foster 'the power to create'. Really, we need to think about this. If the guarantor that creativity is socially valuable rather than merely entertaining in some way is a form of development that occurs after school, what follows for how schools 'teach' or 'facilitate' creativity. I am sure there are good answers, but don't know what they are yet.
3. The ability to toy with elements and concepts
This is a more routine and familiar feature of creativity, but Rogers believes it is also a habit of mind and action that we can place our trust in and it clearly connects to the openness to experience. A simple example of this kind of 'toying', to get beyond functional fixedness is a group of friends on a picnic who find they forgot to bring a knife for the cheese – somebody reached into their wallet, and used a credit card as a knife.
"It is from this spontaneous toying and exploration that there arises the hunch, the creative way of seeing of life in a new and significant way."
It is not immediately clear what follows. Rogers himself suggests his theory is testable in various ways and suggests some experiments for testing his theory, but that's for another day. For now, I hope those who have doubts about the humanistic and spiritual value of creativity, can see a bit more of themselves in the creative process. I know I can.
@Jonathan_Rowson
I apologise for the intemperate language of the title, and I had to check today wasn't April 1st before posting, but I wanted to share an idea I came across today in The Economist which involves using our pee to create renewable energy. The article features a new insight on an old idea rather than something completely original, but the upshot is that taking the piss might help to save the world.
Look, we all do it, several times a day, so if it's good for something other than moderately entertaining sound effects then let's put it to the best possible use. Contrary to the occassional wacky health fad, it's probably not very good for you to drink your main liquid waste product, but it turns out that when it comes to creating electricity, urine has a p-value that would be the envy of any good statistician.
Love is a fundamental feature of how people seek to create meaning in their lives, but what do we really know about the nature, experience, and history of love; about its breadth and depth and ubiquity? What, if anything, is common to our love of life, love of God and/or love of reason; maternal love, romantic love, love of work, good and bad forms of self-love, love of friends, love of places, love of books, love of ideas, love of RSA public events…
Here are ten of my favourite quotations on love as an appetiser ahead of Thursday's event at 6pm, What kind of love do we need?, including three from our prospective speakers Devorah Baum, Simon May and Mark Vernon: 
The recently released Adonis Review, a key plank of Labour's emerging policy platform tries to present a comprehensive strategy for national economic renewal without any apparent thought to how this strategy chimes with the other unavoidable story of our time; decarbonisation. Some may have barely noticed this oversight, or think they are completely separate things, but if you are motivated by dealing with climate change as the Labour party still claims to be, this disconnect is little short of embarrasing.
The critique that follows is not directly about The Labour party. Indeed, I felt John Cruddas's speech at the RSA yesterday was outstanding, even Obamaesque, though again the story of decarbonisation was conspicuous by its absence, as it was, more or less, in IPPR's condition of Britain report. (What's going on here?…)
I'm sure the Adonis Review was the product of diligent research and careful political judgment, but I reach for the word 'embarassing' because the review is a particularly striking example of policy blindness that should no longer be considered permissable; it is simply not sane to continue presenting economic policy as if it was not also energy and environmental policy.
You know iTunes, and you've heard of the the A-Team, but I'm guessing you have never heard of an 'I-team'; at least not by name.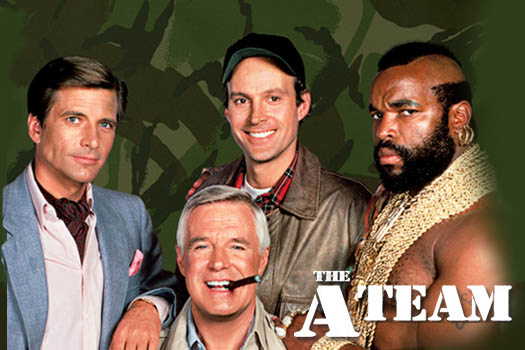 Definitely not an iTeam…
 I'm just back from attending the launch of a major new report by Nesta called I-Teams: The Teams and Funds Making Innovation happen in Government around the world, supported by Bloomberg Philanthropies.
I-Teams (short for innovation teams) are a new institutional form that views 'policy' from a radically different perspective to the traditional hierarchical 'command and control' approach. They are government units, teams (often small) and funds working on various forms of government innovation, and doing 'policy' very differently.
That's more like it: one of the UK's finest iTeams: (Some of) The Behavioural Insights Team (image from May 2013)
I-Teams are not yet legion, but there are enough of them for us to know they vary considerably and work at national, regional and city levels. The report helpfully breaks their work down into four main categories (often overlapping in practice).
1) Solutions to specific challenges
2) Citizen, business and charity engagement to find new ideas.
3) Transforming government skills, culture and processes
4) Achieving wider policy and systems change
Examples and Reflections:
The Nesta report examines 20 of these iTeams in depth, four of which are highlighted by one of the authors of the report, Ruth Puttick, and copied below (with my hyperlinks, which may not be optimal matches).
Many believe these iTeams are a critical institutional form to promote government innovation, and the Nesta report and today's event are a way of trying to map their emergence across the world, and learn from early indicators of when they work well, and when they don't.
I haven't yet read the whole report, but here are my initial impressions:
First, I wonder whether the fourth manifestation of these iTeams – major systems change across government with commensurate impact in the real world- is really part of the story at this point, or whether that is merely part of the aspiration.
There are huge forces of inertia in Government machines, and iTeams currently tend to go round that inertia rather than going through it. The iTeam I know best, The Behavioural Insights Team, has been hugely successful with 1,2 and to some extent 3 on the list above, but much less so with 4 – wider policy and systems chance- and personally I find it hard to imagine how they ever could be with their current methodologies. If I'm right about that, I wonder if this is a fundamental feature of iTeams, or merely a function of them being relatively nascent and small in number at this moment in time.
Secondly, in today's discussions, I was struck by the prevalence of relatively emotional, even spiritual language in the context of what might have been assumed to be a relatively technocratic discussion.
Nesta's Helen Goulden spoke of the need for 'non-attachment' and being 'Buddhist-like' with respect to ideas, given that many of the ideas we love and want to work don't work in practice. MindLab's Christian Bason spoke of the core capabilities of people in iTeams in terms of the  'higher meaning' they are motivated by, and also the need for people who have ambition not just for their own ends, but 'ambition on behalf of the systems they are working with'. Douglas McGowen from Memphis spoke of the need for 'passion' for the work and sounded like he meant it, and Geoff Mulgan, the chair of the event, spoke of the role of iTeams in putting 'human experience' back at the heart of the policy-making process, contrasting it with the bygone days of experts writing long policy analysis reports that would somehow, magically, trickle down to the betterment of human experience. 
Thirdly, the event got me thinking about what cultural theory would say about iTeams, which tend to be data-driven and nimble, but also appear to be predisposed to being 'clumsy' rather than 'elegant' in their approach, in a good way.
In the way they work, iTeams typically include aspects of hierarchy(e.g. support from national government), solidarity(work closely with communities involved) and individualism(often working with profit-motive) and are interested in what works in a given instance, measured empirically, rather than ideological loyalty to any given theory of change.
I may feel differently after reading the report, but the analysis of iTeams feels like an important development for anybody who cares about making government more effective.
I wanted to share three excellent pieces I read this morning which are all calls to action in different ways; why the charge of hypocrisy is typically facile and obtuse, what it might take to overcome despair at global politics, and what stops us realising that climate change really has very little to do with 'the scientific consensus':