Jonathan Rowson, who's heading up our Social Brain project talks about Matt Grist's Steer report, and how an understanding of why we behave in certain ways can help us all to make the most of what we do.
The RSA is an optimistic Fellowship. The word "encouragement" is in our organisation's name. We hold to the idea of a new enlightenment, with the emphasis on the symbolism of "light" syllable. We instinctively gravitate to the assumption that, when it comes to change, people will more readily move towards a positive idea of the future than a negative one.
"When loss remains unspoken, neither grieved nor worked through, then change and adjustment cannot follow"
But what if we're wrong? A lot of great work on climate and behaviour has been done using this positive model of change. It's worth mentioning the achievements of a couple of Fellows. Tracey Todhunter was one of the founders of the successful Low Carbon Network, which allows communities to envisage the plusses of living in a low carbon society. Ed Gillespie's ground-breaking Futerra agency takes it as read that dour messages of doom are a turn-off – a strategy that appears to be endorsed by IPPR reports that show how discouraged people are by negative discussion of the environment.
But on the grand scale, we have also to admit that this approach isn't working either. Governments still don't feel able to make the changes that will lead to significant emissions reduction. In the UK, especially climate is slipping down the public agenda. COP15 achieved little. If, as the already outdated IPCC Fourth Assessment report showed, global emissions need to peak around 2020 and then start to decline if we are to stand a chance of missing the 2 degrees rise, we are, we must now admit, way, way, way off target. As climate experts at the Oxford conference 4degrees and beyond argued, we are now realistically looking towards trying to avoid or mitigate a four degree global temperature rise.
A couple of weeks ago I chaired the philosopher and Australian Greens candidate Clive Hamilton's talk here at the RSA, based on his recent book Requiem for a Species. In the discussion afterwards,  towards the very end of the video posted below, Hamilton argues that it is hope, eternally teasing us with the idea of a technological or political fix, that is one of the major stumbling blocks to action. He argues the timescale is now too short for such solutions anyway. From a psychological viewpoint Hamilton says we need to go through a period of mourning for what we are about to lose so that we can move on to real action.
This is chimes with a recent essay by Rosemary Randall in the journal Ecopsychology. We are paralysed because pyschologically we can't face up to the scale of the loss we are looking at:
While loss features strongly in predictions about the long-term effects of climate change, writes Randall, it is not fashionable to suggest that loss is inevitably a consequence of mitigation. This is not a message that the public wants to hear, nor is it a message that politicians are enthusiastic to promote. It is possible, however, that beneath the veneer of much public indifference or cynicism, there is an underlying perception of threatened, personal losses, possibly from climate change itself but certainly from attempts at mitigation.

If this is the case then the consequence is that change will be forestalled. When loss remains unspoken, neither grieved nor worked through, then change and adjustment cannot follow.
Do we need to go through an acceptance of loss in order to reorder our world in a positive way? Is such a "mourning" even possible? This weekend the writer Paul Kingsnorth and his associate Dougald Hine are running Uncivilisation: The Dark Mountain Festival in Llangollen. On the Sunday I'm chairing a discussion along these lines with Paul Kingnorth, the poet Melanie Challenger and the writer Gregory Norminton. What does culture that acknowledges this look actually look like?
Today saw a major step forward for the Whole Education partnership with a major launch here at the RSA. The Whole Education network wants to be more than just a talking shop. As Matthew Taylor said in his speech today in a swelteringly hot Benjamin Franklin room, what we don't need right now is more reports. That's why the Whole Education partnership has created a series of practical events based around exploring ways to deliver transformational education to young people.
The problem is taking the time to find out about it
School and college leaders, Local Authority senior managers and governors are all very busy. They know that there is innovative work going on – the problem is taking the time to find out about it.
Whole Education have designed 'One Stop Shop' EXPO Workshops for school leaders (heads, deputy heads and others) interested in learning more about projects and programmes they can get involved with.
Whole Education believes that education ought to be relevant and engaging, active not passive. That education is about more than school, and that individuals learn best in different ways and thrive in different environments. That education is about joint responsibility – teachers, parents, communities, and indeed young people themselves, taking responsibility for their learning.
Accordingly, when designing our regional Expo events, we were keen to ensure that they reflect our beliefs and not just follow the usual format of some keynotes and very little, if any time, for participation. If we believe education should be about more than a teacher delivering information from the front of a classroom, then to hold an event where practitioners were lectured to for the duration of the day seemed contradictory. Instead we wanted to engage and involve our attendees – give them space to direct their own learning.
Our Expo events therefore will be a 'one-stop-shop' for all of our partner projects. Delegates will be invited to explore the projects that interest them, and have the opportunity to delve deeper into four of these over the course of the day, guided by a practitioner who is already involved in implementing the project in their school or youth group. There will be no gurus, no keynotes, just a focus on practices being applied in context.
If you are interested in attending then please visit www.wholeeducation.org, download the event flyer here, or call 0207 451 6837 to book your ticket now.
Emma Norris and Jamie Young of RSA Projects outline some of the thinking behind the Sustainable Citizenship project in Peterborough and what they mean by "civic environmentalism":
For more information go to www.citizenpower.co.uk.
Also see: www.pect.org.uk

Heart of Darkness by Cornelia Parker, 2004 from Earth: art of a changing world, London 2009
This is Climate Action on Cultural Hertitage week – it's an initiative championed by Bridget McKenzie as a response to the growing number of individuals and organisations calling for a more clearly defined sense of purpose from the arts and heritage sector.  People like Al Tickell of Julie's Bicycle ask: "Why do we expect moral leadership to come from corporations and science? Surely the meaningful nature of the arts in society puts it in a position to take a lead on climate action?"
Even the most obviously campaigning art is of little value if it is simply reducible to being about climate
There are two aspects to this. Firstly it's about how we behave ourselves. Art fairs, say, have become an example of the muscularity of the art industry. As curators/critics Maja and Reuben Fowkes have asked,  is this world of global art jamborees a sustainable one? Gustav Metzger's Reduce Art Flights was one of the artist's passionate "appeals", this time to the art world to reconsider how they had been seduced into transporting themselves and their works around the globe. Furtherfield.org's We Won't Fly For Art was equally explicit, asking artists to commit to opting out of the high profile career track that conflates your ability to command air tickets with success.
Industries can change the way they behave. Tickell's work with the music business has already shown how a cultural industry can transform itself in terms of process.
But there's also the role of art as a spoke in the wheel of culture. Science itself changes nothing. To become a transitional society requires more than policy. The real change must be cultural. So should climate be the subject matter of art?
Pause for thought: Do we want rock stars enjoining us to change our ways? Please God, no. See? If it doesn't work for rock music, why should it work for other art forms?
In an article being published next week on the RSA Arts & Ecology website, Madeleine Bunting will be arguing strongly against the urge to push artists into an instrumental role in climate:
"The visual arts offer a myriad of powerful ways to think and feel more deeply about our age and our humanity, but it is almost impossible to trace the causal links of how that may feed through to political engagement or behaviour change," she cautions.
It is time to accept that artists don't simply  "do" climate. Even the most obviously campaigning art is of little value if it is simply reducible to being about climate. They may be inspired to create by the facts of science and economics, as Metzger and Ruth Catlow and Marc Garrett of Furtherfield were in those examples above, but if you asked them to make art about climate they'd almost certainly run a mile.
What was interesting about the RA exhibition Earth: art of a changing world was the way that made that explicit. Artists like Cornelia Parker and Keith Tyson were clear in saying their pieces that they weren't necessarily conceived with climate in mind at all, (though both are passionate about the subject). The decision to include Parker's Heart of Darkness as an a piece of work to make us ponder the destruction of our planet was a curatorial one.
There's a kind of separation between church and state needed here; institutions shouldn't just be looking to their carbon footprints, they should be looking to see how they can contextualise this cultural shift with what they show their audiences – whatever the artform. It is up to the curators, directors and art directors to take on this role. In this coming era, we urgently need events, exhibitions and festivals that make us feel more deeply about the change taking place around us – and we need them to find new audiences for those explorations too.
But what we shouldn't be doing is asking artists to make art about climate.
Read Bridget McKenzie's Framework for climate action in cultural and heritage organisations
Follow Climate Action on Cultural Hertitage #cach on twitter
This also from Bruce Sterling:
As Sterling's blog Beyond the Beyond points out, artist Sergio Cezar makes huge models of the Brazilian favelas out of cardboard.
There is something disturbing about scale. The 200 dolls houses of Rachel Whiteread's Place (2008) – part of Psycho Buildings at the Hayward – were downright creepy. Maybe it's because there's something unsettling about the way we loom over things when they're unsettlingly small. You can't help feeling a little like Adolf Hitler looming over Albert Speer's models for a new Berlin.
It's also something to do with the fact that we aim for a kind of perfection when making models. I once met a criminologist who made model villages. True story. I wondered if he would put the odd burglar breaking into a model house into his creations but it turned out his model villages were entirely crime free. He preferred it that way. We Brits tend to make villages set in some imaginary idyllic past.
And so when you look at them there's a dissonance between their vision of miniature perfection and the imperfection of what they represent. Which is why I kind of like this vision of a slum; it makes it look cute for a second until you start thinking of what it must be like to live in it and what that person in the black limousine is doing there.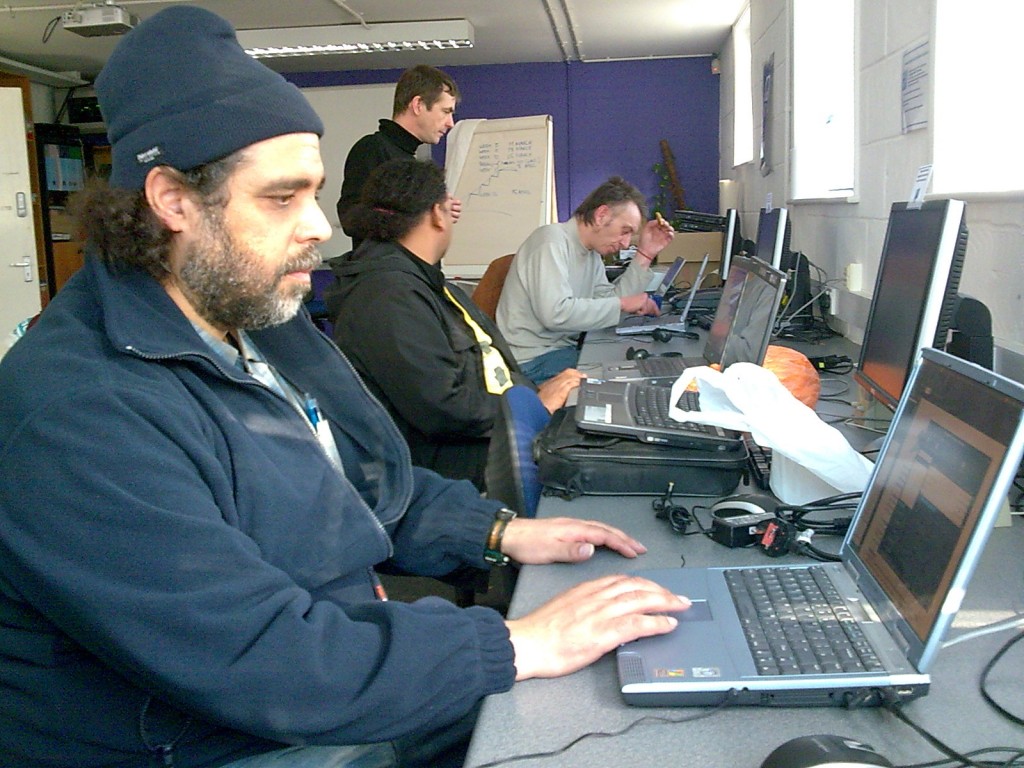 Nice to see Bruce Sterling picking up on the excellent media arts collective furtherfield.org's Zero Dollar Laptop project.
Working with clients from St Mungo's homeless charity, they're helping people break up old laptops and build new ones, adding free opensource software to help them build new computers for themselves entirely free of charge.
It's a great project. To paraphrase the fishing rod homily, teach a man to use Microsoft Word and they'll be able to write their own CV. Teach him tobuild his own laptop from scratch and, who knows, I'll probably be sending him my CV in years to come.
Donate your own laptop to the project
Find out more about The Zero Dollar Laptop project
Furtherfield and Feral Trade Cafe on Arts & Ecology
Furtherield on not flying for art
Earlier this week the papers were full of stories of Ridgemont House in Devon – a house bought for £150,000 by auction, only to see its garden plummet down towards Oddicombe Beach.
The story brought together the national obsession with house prices with the fact of increasing coastal erosion due to climate change. Artist Kane Cunningham is jealous of the Devon housebuyer. He is actually waiting for his house to fall into the sea:
Landscape artist Kane Cunningham has used his credit card to buy a house that is about to fall into the sea. A bungalow at Knipe Point in Scarborough, North Yorkshire – near the scene of the infamous Holbeck Hotel cliff collapse 16 years ago has been condemned after a fresh landslip. Cunningham states:
'I've bought a house that will be the next one to fall over the cliff. It feels like I have no choice. I'm going to rig the house with cameras and film the last sunrise before nature claims its bounty'.
'It's the perfect site-specific installation – a stark reminder of lost dreams, financial disaster and threatening sea levels. It's global recession and global warming encapsulated. This little house is feet away from the edge of the cliff – it can go at any moment. The idea is to create an artwork on a scale never been seen before in North Yorkshire and to stimulate within the imagination of the public the idea that this house falling into the sea can become a work of art. If the aim of art is to stimulate discussion and debate on issues, then surely this will get people talking.'
His idea's a little like Bettinna Furnee's Lines of Defence, except this time with a real house involved. It's an interesting thought; if you're trying to make people act on climate, maybe you need to make the message as domestic as possible, like an English bungalow falling into the sea…
Maybe
This via Thriving Too:
"An ongoing series of public installations highlighting the problem of surface imperfections on Britain's roads by Pete Dungey, a Graphic Design student at the University of Brighton."
On Dungey's web page the photos are accompanied by the quote:  "If we planted one of those in every hole, it would be like a forest in the road."