Earlier this year I played a small part in helping Chess in Schools and communities raise almost £700,000 from the Educational Endowment foundation for a randomised control trial on the impact of chess  on attainment in Maths and English (and a few other measures) in about 50 primary schools.  The scheme is being evaluated by the Institute of Education in London and represents a big breakthrough for chess, and potentially for educational research too.
Those who played chess when they were younger tend to have little doubt about its educational value, but as with almost any educational initiative, finding hard evidence for that is difficult. There is a huge range of anecdotal, case study and qualitative evidence, but this study over 4 years will hopefully prove what we have long suspected.
At the current count, Chess in Schools and Communities now covers over 283 schools over 46 boroughs, mostly in deprived areas. They are hosting a conference this weekend at Kensington Olympia's exhibition centre called Successes and Challenges: Improving School Chess Practice, Research and Strategy.  There are still places available for those who want to attend!
I had very much hoped to play a part in the conference, but now urgently have to finish our climate change report and conserve some 'wild card' energy to compete with some of the best players in the world later next week.
The most exacting challenge with any educational intervention is not to show that it helps, or how much, but to say what makes you think it helps more than other interventions. Chess has potential to make this case, due to its rich history and cultural resonance, affordability and helpful association with intelligence.  Many who otherwise struggle at school find they are good at chess, and realise that thinking and reasoning has a positive place in their lives.
My own 'take' on the value of chess in a nutshell, particularly in areas of educational disadvantage, is that it builds what Ron Ritchart calls 'Intellectual Character' by providing a safe space with rules and feedback where you learn that you will inevitably make mistakes, but can still win. It also creates particularly valuable forms of what sociologists call 'social capital', in terms of community pooling of resources and time and inter-generational learning…but alas instead of developing that, I'm afraid I currently only have time to share a lightly edited version of a newspaper column I wrote on the subject two years ago! I hope some of you can make it to the conference.
Herald Chess Column for October 1st 2011:
Primary school feels like a long time ago, but it was instrumental to my chess development, as it is for most players who go on to become Grandmasters. Had it not been for supportive teachers  and a team of players I liked most of the time, including my brother, there is no way I would have fallen in love with the game in the way I did.
I went to Skene Square primary school in Aberdeen where chess was always played in the library with the red carpet, on the corner of the second floor.  We only tend to remember things that make an emotional imprint on our souls, and that room must have, because I remember little else of the inside of the school.
Chess in primary school meant challenge, delicious tension like no other, structured competition where physical strength didn't matter, and a constant experience of learning and growing. It was also a time of learning away from home, going to nearby schools to represent my own, and sometimes crying when the result didn't go my way.
I think of this now because the charity, Chess in Schools and Communities, is campaigning hard to get chess into primary schools, at least in England and Wales, but no doubt North of the border in time. The charity was set up by the chess world's most revered and respected Scouser, Malcolm Pein, and already teaches chess to primary school children in seventy schools.
The breakthrough was an appearance on BBC breakfast television, which led to Yasmin Qureshi, the MP for Bolton South East, tabling an Early Day Motion supporting the playing of chess in primary schools, which was co-signed by Rachel Reeves, the Labour MP for Leeds West:
"This House recognises the positive social and intellectual benefits for all children across the social spectrum of learning chess at a young age and the relatively low costs of teaching it in schools; notes that while chess currently receives no financial support from the Government, many European countries including Sweden and France financially support chess in schools; further notes that the European Commissioner for Education, Culture, Multilingualism and Youth would welcome UK support for the Chess in Schools project being developed by the ECU and the Kasparov Chess Foundation; welcomes the work of the UK-based charity Chess in Schools and Communities which teaches chess to primary school children from less affluent backgrounds; and calls on the Government to ensure that all children are given the opportunity to learn chess at primary school within existing resources."
References to 'green crap' miss the point. The key political fault line on climate change is not green versus non green, but how you order the priorities of the energy 'trilemma'. The case for climate change action needs to be made at this level to gain political traction.
Michael Fallon is the minister whose thinking most closely mirrors Number 10′s stance on energy policy so if you want to know what number 10 thinks beyond disputed references to 'green crap', his words should be carefully observed.
The Energy Minister recently told The Spectator Conference on energy that the most important issues were 'security of supply, affordability, and playing our part in combating climate change. And that for me is the order.'
This seemingly innocuous statement is hugely significant because it publicly acknowledges the key trade-offs at the heart of energy policy, and candidly takes a clear position on it. Fallon, like Cameron and Osborne are not denying the need for a rapid reduction in carbon emissions, they are saying you can't get those reductions without compromising two other important priorities.
In this case, the three horns of the trilemma in question are climate change, energy security and fuel poverty. Such 'trilemmas' are every bit as real and pervasive as dilemmas, but they are not as widely discussed because they are significantly more complicated, and debates surrounding them are more difficult to follow.
There is wide political agreement that we have to try to reduce the impact of anthropogenic Climate change, which means significantly reducing and gradually eliminating fossil fuels from our energy supply, and improving energy efficiency at scale.
However, we also have to retain a secure and stable energy supply, which is harder with renewable forms of energy that are generally less reliable than the baseload power offered by fossil fuels ('the sun doesn't always shine, the wind doesn't always blow') and complex if you are simultaneously interfering with the energy market to lower prices. This was the argument (strongly contested) recently used by British parliamentarians to justify extending the life of the country's dirtiest power stations. - that it was necessary to 'keep the lights on'.
And we also need to keep fuel prices affordable, especially for those facing acute fuel poverty who sometimes literally freeze to death because they can't pay for their heating. Keeping costs low is not easy with a transition to renewables, which is costly in itself, and because renewable energy is currently more expensive. On current form, energy companies will inevitably pass on such costs to consumers.
It is hard to argue with the general validity of each of the three imperatives – energy security, fuel poverty and climate change – but we can question whether they deserve to be treated with equal strength and importance, and challenge some of the assumptions underpinning them. Indeed, how you do so represents the new political fault line on the energy debate.
As I argue in a forthcoming RSA report on climate change, I believe the moral priority of climate change takes precedence, and would challenge the validity of the second two imperatives. If pressed, I would probably say the order has to be climate change, energy security and fuel poverty, but making this case well requires keeping competing perspectives on 'morality' firmly in mind.
If your responsibility is to keep the energy supply stable across the country, you have to think about that moment every day when people return from work, when there is a huge spike in demand caused by heating and lights going on, people having hot showers, watching TV and preparing meals. Can you stomach the idea of power failure for millions in that context?
And if, like millions, you struggle to pay your energy bills, or are a politician aware of the growing political importance of energy as an electoral issue, would you not be more inclined to question the importance of our climate commitments, regardless of scientific opinion?
The main issue at stake here is whether the appropriate position on climate change is international leadership, with some potential national risks and costs, or the underwhelming pragmatism we currently see. Those like Fallon apparently accept that we should 'do our bit', but argue that we cannot unilaterally decide what 'our bit' should be – for that we look at the actions of comparable countries. This position is hardly heroic or inspiring, and makes my heart sink, but let's accept that it is at least understandable.
Which doesn't prevent us from saying it is wrong on a number of levels.
Those attacking the priority of energy security could ask why we can't significantly reduce our energy demand through lifestyle changes. Or they might ask whether it's ok if the power goes off every so often. Couldn't we live with back-up generators maybe, as many in affluent parts of India do? If that sounds like political suicide, more powerful is to challenge the contention that renewables alone can't provide that stability, as Marc Jacobsen and others are doing with increasing conviction, or(more controversially) that we need more nuclear power.
Those attacking the priority of fuel poverty might begin with the old suggestion to wear jumpers rather than turn the heating on, as David Cameron recently did, which chimes with social practice theory arguments about 'energy need' being socially constructed, but feels much too facile. The key challenge, surely, is to the billions of pounds offered in fossil fuel subsidies, without which renewable energy would not struggle to be seen as affordable. An even more fundamental question is whether profiting out of energy provision – now an essential human need – makes sense at all? Could there even a case for renationalising control of our energy, as 69% of the population seem to want?
You will notice, in each case, that few of the arguments or suggestions sound straightforward or completely convincing, and even where they feel necessary, they sound politically difficult if not implausible. That's why we have a genuine energy trilemma. Something has to give.
 Jonathan Rowson is Director of the Social Brain Centre at the RSA and the author of a forthcoming report on Climate Change 'stealth denial' in the British population. You can follow him on Twitter @jonathan_rowson
At the risk of being a bit corny, I'm going to use today – the holiday of Thanksgiving in the US – to write about what I am thankful for.
This isn't to wave a flag and to offer even more insight into American culture than we already get on a daily basis, but rather, it's to link the holiday to the act of paying attention, one of the key themes of the RSA's Social Brain Centre.
As we've previously blogged, paying attention to the positive aspects in your life can help to build emotional resilience (for a great exercise, see our late colleague Emma's post about poetry and attention), and Jonathan wrote about the power of gratitude.  So with this in mind, I'd like to declare three things for which I am thankful.
I am thankful that I am lucky enough to work in a field about which I am passionate, trying to learn and understand more about human nature and behaviour, what makes us tick, and how these insights can be applied to some of the many challenges of our time, including climate change and the socioeconomic performance gap in education among others.
I am immensely thankful for my friends and family, both near and far, many of whom will be celebrating today with a roast turkey.
And I am thankful for the great card from Louise, Associate Director of Education, which elicited a laugh and which makes me smile each time I glance at it – see the photo above!
Creating your own gratitude list is easy enough, but if you'd like to share it with others, I've just come across the gratitude list website where it looks like you can read what celebrities are thankful for and share your own lists, too.
To those celebrating, wishing you a very happy thanksgiving!
Tonight I am chairing an event with my friend and former PhD supervisor Professor Guy Claxton, for the second of our series of public events on Spirituality, Tools of the Mind, and the Social Brain. The event is booked out with a large waiting list, but you can watch or listen to the event live, download after the event, or follow (and give) comments at the hashtag #RSASpirituality.
For now, I offer the following extracts as an appetiser. I am sure Guy's thinking has evolved since his inaugural address at Bristol University in 2002 around the time we first met, but I'm equally sure the quality of thinking and expression will be just as good, if not better.  Guy's main argument tonight will be similar in spirit, enriched by some of his recent thinking on embodied cognition. The following extract follows from the claim that spiritual experiences tend to bring four shifts in the quality of our experience: aliveness, belonging, mystery and peace of mind, which Guy examines as follows:
"Underlying all these four shifts in the quality of experience seems to be an expansion in the sense of identity, so that instead of feeling like an anxious bubble, in constant danger of being jostled or pricked, one feels more union or wholeness, both within and without, and this brings with it more kinship and more trust. It is no coincidence that the descriptions are couched is such glowing language, for those who report them overwhelmingly appraise them as positive and valuable. While from the outside it is possible – as Freud and others have done – to interpret accounts of the Common Experience sceptically or pathologically, from the inside, there is little doubt that something precious, even momentous, has occurred.
I think that experiences like that are small gifts, little tastes of spirituality. And those tastes are attractive, and often leave, when they fade, as they mostly do, a thirst for more of what they have betokened. So here is my definition of spirituality. First, it involves the feeling of being drawn towards such qualities and experiences, and of wanting to increase their likelihood, frequency or stability. The urge is not to seek them piecemeal, however, but to develop the quality of being which underpins them. Second, spirituality may involve a strengthening desire to seek the company of people who seem to possess these qualities more strongly: to find what Buddhists call a sangha. And third, and less comfortably, the spiritual impulse may involve a feeling of heightened dissatisfaction with the absences or the opposites of such qualities. A taste of intensified aliveness may make normal energy levels and perceptions feel grey and dull. That blast of 'belonging' can make that orphaned feeling all the more intolerable. A surge of 'mystery' may make adventure seem more attractive than conventional security. And even a moment of deeply felt inner peace can painfully accentuate a more familiar feeling of self-consciousness or confusion."
… and to non-economists, too.
A few weeks ago I attended a launch for the book Behavioural Public Policy. The book, a collection of academic papers with considered responses from other academics, is edited by Adam Oliver, and is born out of the suite of seminars he ran at the LSE (London School of Economics) in 2011.
The book launch, held in the LSE's impressive Shaw library (similarly inspiring as the RSA's Great Room), comprised an introduction from Adam and some short reflections from Julian Le Grand, Lord Gus O'Donnell, Drazen Prelec, and George Loewenstein. The RSA's Social Brain Centre explores how a better understanding of human nature can be used to help address some of the challenges of our time, so a book about behaviour and policy sits nicely within our reference library. Here are some highlights of the evening:
Understanding behaviour is key to effective government policy
Kicking off the reflections, Lord Gus O'Donnell began with overwhelmingly positive praise for behavioural economics, explaining that in his view it is the biggest thing to happen to public policy in 30 years.  (Despite all this positivity, Lord O'Donnell said he is working with Angus Deaton to investigate the question "when does an RCT go wrong?").
In a very entertaining way of bringing theory to life, O'Donnell went through each of the components of MINDSPACE to demonstrate how the environment and situation were working to subtly influence our decision about whether to buy the book. For example, looking at the messenger effect, if Adam were to praise the book we would know that he has a vested interest, whereas since Lord O'Donnell was praising the book we can trust his endorsement. Incentives were of the standard economic type: the book was on sale at a special discounted price for the event. But our drive to avoid anticipated regret makes the limited-time discount all the more powerful. In terms of commitment, we had all already chosen to attend the event and made the effort to get there; remaining consistent with this commitment by buying the book would be a natural next step. And in my favourite example, for the affect component Lord O'Donnell pointed out that we had all been served wine.
Nanny state
Julian le Grand continued by summarising some of the key concerns about using behavioural science in policy, namely, that it could be seen to infantilise people, and, referring to the famous Titmuss paper about blood donation, that it is not always obvious how people will respond to incentives.
Better than psychology or just a tempest in a teapot?
Drazen Prelec continued the conversation with a very balanced view of the impact of behavioural economics. On the one hand, "behavioural economics is a tempest in the economics teapot", in that it is (simply) a deviation from a point of view (the point of view of neoclassical economic theory). He explained that some of the insights from BE are really just a restoration of common sense. But on the other hand, some important findings have emerged and these insights would not have been available if the researchers were not "already marinated in the economics way of thinking". In this sense, behavioural economics has something different to offer than does psychology.
Prelec offered three aspects of a Nudge approach that should be carefully taken into consideration as it becomes more widespread: transparency (of the nudgers' interests), accountability for the outcome (is the nudger or the nudgee to blame for a failed intervention?), and neutrality (i.e. what values underpin the 'neutral' default option?).
No substitution
George Loewenstein finished off the evening with his forecast about what will happen now that behavioural economics is becoming less niche and more mainstream, extending beyond academia and now into policy making and elsewhere. Echoing an earlier op-ed piece in the New York Times, Loewenstein asserted that the role of BE is to augment or increase the power of traditional economics. There is a risk that some people have seen it to be a substitute, rather than a complement, to standard econ theory.
Here he quoted Colin Camerer about neuroeconomics with an absolutely brilliant line, and applied the sentiment to behavioural economics: "the problem isn't that we are overselling it; the problem is that it's being over bought". Loewenstein praised the Behavioural Public Policy book for avoiding the over-selling and offering instead a balanced view, and ended by stating his optimism that the field will work together with – not in opposition to – traditional economics.
Even-handed discussion
What was great about the event is also what seems to be refreshing about the book: even-handed and thoughtful discussion about both the benefits and the limitations of behavioural economics, instead of an all-out love-fest. Although I readily admit to being one BE's loudest cheerleaders, I appreciate that to understand its strengths, one must also understand its weaknesses.
Having attended nearly all of the Behavioural Public Policy seminars that Adam Oliver hosted, the chapter headings are no surprise to me. But the book includes responses to the papers and I expect will be more developed than the seminars, so I am glad that I was there to get a copy and to chat with fellow BE-enthusiasts. And in any case, recalling Lord O'Donnell's comments, the launch provided entertaining insight into how behavioural science is used in practice – to flog books!
A version of this blog was originally posted here on 5th November 2013.
A discount code for the book Behavioural Public Policy is available here.
Nathalie Spencer is a Senior Researcher in the RSA's Social Brain Centre.
The Guardian's sustainable business hub just published the first of a series of posts that I hope to be contributing on behavioural insight for sustainable living:
"What do free bananas, pension auto-enrolments, and the deepest bin in the world have in common? They are all examples of behavioural insight. Free bananas have been used by charities to elicit donations, working with our notorious weakness for anything free, while subtly priming our sense of reciprocity. The introduction of pension auto-enrolment simply shifted a default setting from 'off' to 'on', harnessing the awesome power of inertia and ensuring provision for thousands. And the deepest bin in the world turns out to be a normal bin with in-built sound effects, making throwing rubbish away fun and helping to keep parks tidy.
Such examples are now legion, and the behavioural ideas that underpin them are rightly perceived to be cool. The fact that behavioural insight is a modern form of intellectual entertainment is no bad thing, but it should give us pause, because cool is not the same as profitable or ethical or sustainable, and it doesn't address the core tension between commercial ambitions and ecological constraints."
For the rest of the article, please go here.
"Imagine a classroom where everyone started off an academic year with an "A" grade, and in order to keep the grade, a pupil had to show continuous improvement throughout the year. In this classroom, the teacher would have to dock points from a pupil's assessment when his or her performance or achievement was inadequate, and pupils would work to maintain their high mark rather than to work up to it. How would this affect effort, expectations, performance, and assessment relative to current practice?"
         Image by ludwg
This is one of the questions we pose in our upcoming paper, due to be published next month, which explores the application of behavioural insight to educational policy and practice.
Specifically, we are concerned with the socio-economic attainment gap – the difference in performance between pupils from affluent backgrounds and those from deprived backgrounds.  We've been working with the Vodafone Foundation Germany to understand the education context in Germany, where the gap is particularly severe.
While no country has yet to achieve a fully equitable system where educational attainment is not correlated with socioeconomic background, the UK, Germany, the USA, France, Austria, Bulgaria, Belgium, and New Zealand, among many others, are worse than the OECD average.  So while our paper reviews the German context in particular, the message is applicable across many different parts of the globe.
So what is the big idea with everyone starting with an A?  Regular readers of this blog might recognise that this approach taps into our tendency to want to avoid a loss – more so than we want to receive an equivalent gain – a tendency known as loss aversion.
Loss aversion just one of many behavioural insights that we explore, where the term behavioural insight is used to describe the application of behavioural science (comprising many different fields, including behavioural economics and social psychology among others).
Our paper includes the distillation of academic theory that would be expected, but we also turned to educators to get their perspectives on the practicality and value of applying behavioural insight in the classroom.  To do this, we conducted focus groups with teachers in Berlin (see Josef Lentsch's blog post from earlier this year for a glimpse into that experience), ran a survey with YouGov to explore views of teachers in England, and drew on a report that Vodafone Foundation Germany published earlier this year about teacher, parent, and pupil perspectives on a range of educational issues.
The paper be published in both English and German, and we'll provide another update closer to the date with a link from which you will be able to download the report.
Nathalie Spencer is a Senior Researcher in the RSA Social Brain Centre  
The BBC's David Dimbleby, the Presented of Question Time and the anchor for every election since 1979, has chosen to have a scorpion tattoo on his shoulder.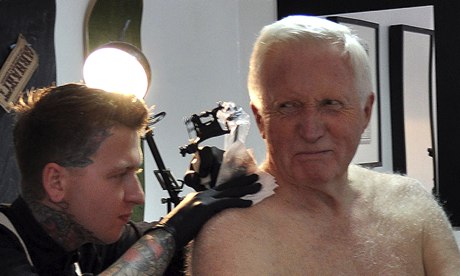 (Photograph by BBC via Guardian) 
I am happy for him!
He Chose a scorpion because of his star sign(which is not to say that he 'believes' in astrology), and because he liked the idea of it "sitting on my shoulder ready to attack my enemies". He also remarked: "You are only old once. I have always wanted a tattoo. I thought I might as well have it done now. It's a dream come true for me."
At this point I am proud to say, on behalf of my late former colleague, Dr Emma Lindley, that her research indicates that Dimbleby may not be unusual in this respect. It was principally Emma's work, supported by The Hanover Trust that lead to the report: What older people want: sex, skydiving and tatoos.
The overarching message of the report was that there is an enormous sense of playfulness and experimentation among older people. Dimbley, and his new scorpion, have many like-minded allies.
I have never wanted a tattoo, but I admire the spirit of doing what you really want to do before it's too late. What really matters is the scorpion tatoo you have on the inside…
Did you hear about the cyborg 'hottie'?
Turns out he is the best chess player in the world.
(Image by Fred Jonny via CNN Money)
'Hottie'
This morning (Sunday) I was invited on to the BBC World Service (from c37mins) to talk about the World Chess Championship match (currently underway in Chennai, India, and tied at 1-1 after two fairly cagey draws) and the second question was about the challenger being 'a hottie' (not my term!).
You may have seen Norway's Magnus Carlsen advertising for G-Star Raw on London busses, or heard about him in the national news. As well as being world number one chess player, he has that combination of height, youth, muscle definition and masculine moodiness that the cameras seem to love (and for which he was voted one of the sexiest men of 2013 by Cosmopolitan magazine…). **
And he's not just any old 'hottie'. At 22, he is by far the highest rated chess player in the world, but has minimal match experience and is currently competing for the World Championship title against Viswanathan Anand ('Vishy') who excels in match play, and has survived numerous challenges to his throne.
Cyborgs?
Thankfully, I was also asked about the shifting role of computers in chess, and took the chance to link with my broader Social Brain perspective and suggest that most top Grandmasters are now like cyborgs.
The point is not so much that computer supremacy has stopped people playing or enjoying chess, but that they have significantly changed our approach to the game. For instance, chess analysis engines ('computers') are now so easy to use and so much stronger than human players in most positions that cheating has become a big challenge (e.g. any half-decent player can figure our the best move in their game with the help of a smartphone in a toilet cubicle, or some other private place).
Moreover, chess preparation now takes place at the human-machine interface. I have experience of World Championship opening preparation, and can assure you that human Grandmasters are very much used to bring out the best in the computers, rather than the other way round. Indeed, in most chess training camps for top players you would expect to find lots of powerful laptops but few if any chessboards.
In this sense, top Grandmasters like Magnus are like Cybernetic organisms in that their chess ability if a fusion of human and computer qualities. Some might say Magnus is a relatively analogue creature, famous for 'just playing', but he would never have become so good so quickly without computers collating, organising and analysing information that took much longer for previous generations to assimilate, and through accessing worthy opponents to practice with on the internet, that would otherwise be a flight or two away.
Chess Grandmasters remain human, but we are beginning to look at positions with 'computer eyes', and see our own limitations more clearly. For instance, while we are playing we often sense that the best move – the one the computers would choose- is different from the one we choose to play(usually because it is so counter-intuitive) and the very fact we acknowledge this schism between objective best and human best indicates the computers are 'getting in to our heads'.
World Champion Viswanathan Anand, via chessbase.com
The extended mind
This point is by no means limited to chess. Much of our memory is now in our smartphones or inboxes; much of our creativity is now a function of cleverly using search engines and the copy and paste function, and so on. Does it matter as much as it used to that we learn to spell accurately or do arithmetic accurately? Purists would say so- we need such knowledge to build other forms of knowledge in our heads, but others would say why bother so much, when handheld computers can do it for you?
This point about the extended mind is not just about technological developments and has a deep ontological basis. Where does the mind stop and the world begin? Is your mind in your head? What about your glasses, your pens, your tools of various kinds- are they not also in some sense part of your mind? If somebody steals your smart phone, is part of your mind not also taken away?
Highly respected philosophers, David Chalmers and Andy Clark have written about The Extended Mind in this way, and it's an important perspective for our general reappraisal of human nature. Although the analogy is clearly an exaggeration for effect, some have even compared the impact of one's hard drive crashing to having a mild stroke, in the sense that both significantly debilitate our cognitive functions.
There is a huge debate about what exactly constitutes a bona fide cyborg with some suggesting there has to be constant two-way feedback between organism and machines. However, I am at ease with the more modest claim that since we all function with minds that are extended through the tools we use, and since those tools increasingly shape how we think and act, we are all gradually becoming more cyborg-like.
Alas, the Magnus Carlsen phenomenon indicates that although we may all be cyborgs, we can't all be hotties as well.
The World Chess Championship match takes place from Nov 9th-Nov 28th in Chennai, India. Dr Jonathan Rowson is Director of the Social Brain Centre at the RSA, a chess Grandmaster and former British Chess Champion (2004-6). You can follow him @Jonathan_Rowson
Postscript:
(**I am proud to say that Magnus has read at least one of my books and I played him at the Scotland-Norway match at the Dresden Olympiad back in 2008. He was only 17 then, but already part of the world's elite. I played well, but too slowly, and as time pressure took hold I could sense him turning into a predator, ready to pounce, which he did in great style. There's a short Youtube video of us analysing our game together.)
The Home Office is pushing a foolhardy immigration bill that will, among other things, charge foreign students a premium to access NHS care as well as introduce new requirements for British citizens to do the UKBA's bidding.
British immigration policy has already done quite enough do discourage foreign students, who already pay much higher tuition than their British/EU counterparts. And even if the new policies are designed to discourage irregular migration, they have the effect of creating a hostile and unwelcoming atmosphere for migrants of all kinds (including those who might help to lift the UK from its 18th position in the world competitiveness rankings). The degree to which these policies conflate several analytically distinct migrant categories shows just how blind the Home Office is to human rights and economic strategy as it pursues the much-publicized net migration cuts.
Requiring students to pay £200 to access the health service is a bad idea for many reasons; here are two:
First: public health. Thrifty and cash-poor as students tend to be, the price tag will make students resist seeking medical attention even when they know they should, which threatens their own well-being and that of the community at large. (The same argument also applies to irregular migrants, whose access to the NHS would be further restricted by immigration status checks.)
Second, students tend to be young and infrequent users of health services. The urgency with which Ms May aims to address this problem evokes an image of international students as some kind of gaunt and hunched-over horde of healthcare carpetbaggers, which is hardly how the UK should be characterising a £17 billion export industry. If, as critics claim, there is a problem with many student visa recipients not being genuine students, then a £200 healthcare surcharge is a feeble way to address it.
Now to that other, very different group of people affected by these ham-fisted measures – the unauthorised immigrants. My contention here is not that Britain should swing open its hospital doors to just anyone who might fancy a new knee or two. It's not so unreasonable to tie some restrictions on non-emergency care to immigration status. What this bill does, however, is pumps that ragged immigrant straw man's face full of expensive British taxpayer-funded Botox. Let's not forget that, overall, immigrants contribute more than they take, and that to thrive in the globalised 21st century will require a whole lot more innovative approach than to exorcise the immigrant demons from this small and remote island. (Who better than migrants, arriving with nothing but the drive to build a better life, to create something of value?)
And we should also remember that it is absolutely unfair – indeed, it is immoral and destructive – to require members of a society to cast suspicion upon anyone they wish to engage with. The UKBA, either through ineptitude or because of the insurmountable difficulty (and futility) of the task, is diffusing its enforcement responsibility by requiring doctors, professors, banks, employers, and now even landlords to act as border agents. Citizens should have the right to choose for themselves whom they wish to associate with, and should not be put in a position of vigilante authority over anyone they just may wish to harass or exclude. This devolvement of immigration authority creates a toxic and tribalistic axis of subordination in which different people have different rights, and those with more rights are encouraged to treat those with fewer rights accordingly.
This is where Emerson's insights come in so powerfully. In 'The Fugitive Slave Law' (1851, and again in different form in 1854), Emerson notes the insidiousness of the state using everyday citizens as enforcement mechanisms.
"The last year has forced us all into politics", he writes. "I have lived all my life in [Massachusetts], and never had any experience of personal inconvenience from the laws, until now".
The law to which he refers required law enforcement officials in northern states to arrest and return to their owners anyone suspected of being a runaway slave. It also made the provision of food or shelter to runaway slaves a punishable offense, to the tune of six months in prison and a $1,000 fine. It criminalised a natural human inclination towards compassion, and for all free citizens made suspicion a prerequisite for engagement.
To be clear, the condition of irregular migrants is not to be confused with that of slavery, although the mockery often made of human rights in the tabloids is disconcerting. I simply mean to observe that more and more British citizens are being turned into enforcement agents for the Home Office, and that should give everyone pause – both because of the erosion it causes to the freedom, openness and cohesiveness of a society, as well as the hostility it creates towards many of the people who make British cities the lively and metropolitan world capitals they are.
As Emerson described it, the Fugitive Slave Law "required me to hunt slaves, and it found citizens in Massachusetts willing to act as judges and captors". How were Emerson and his contemporaries to know whether someone they met happened to be considered another man's property? Absent any regularised system of documentation and verification, inquisition was the only viable option. A regularised system, as it became clear, was unnecessary; all that was needed was a handful of those who are always all too willing to appoint themselves arbiters of belonging. Put simply, if exclusion in a society is legitimised at an official level, you are likely to find, as Emerson did, citizens willing and eager to help.
If you watch the BBC interview, May stumbles when asked how GPs and landlords are supposed to know whether people are illegal immigrants. And that's the wickedness of the subtext here: it's obvious that the complexity of the immigration system is far beyond what the average citizen can be expected to adjudicate, which means that many landlords instead will rely on intuition—and in all likelihood on prejudice—to judge for themselves whether it appears someone does or does not belong. The Home Office might also open a helpline.