The recently released Adonis Review, a key plank of Labour's emerging policy platform tries to present a comprehensive strategy for national economic renewal without any apparent thought to how this strategy chimes with the other unavoidable story of our time; decarbonisation. Some may have barely noticed this oversight, or think they are completely separate things, but if you are motivated by dealing with climate change as the Labour party still claims to be, this disconnect is little short of embarrasing.
The critique that follows is not directly about The Labour party. Indeed, I felt John Cruddas's speech at the RSA yesterday was outstanding, even Obamaesque, though again the story of decarbonisation was conspicuous by its absence, as it was, more or less, in IPPR's condition of Britain report. (What's going on here?…)
I'm sure the Adonis Review was the product of diligent research and careful political judgment, but I reach for the word 'embarassing' because the review is a particularly striking example of policy blindness that should no longer be considered permissable; it is simply not sane to continue presenting economic policy as if it was not also energy and environmental policy.
You know iTunes, and you've heard of the the A-Team, but I'm guessing you have never heard of an 'I-team'; at least not by name.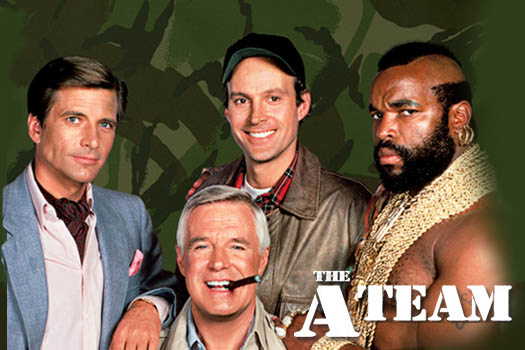 Definitely not an iTeam…
 I'm just back from attending the launch of a major new report by Nesta called I-Teams: The Teams and Funds Making Innovation happen in Government around the world, supported by Bloomberg Philanthropies.
I-Teams (short for innovation teams) are a new institutional form that views 'policy' from a radically different perspective to the traditional hierarchical 'command and control' approach. They are government units, teams (often small) and funds working on various forms of government innovation, and doing 'policy' very differently.
That's more like it: one of the UK's finest iTeams: (Some of) The Behavioural Insights Team (image from May 2013)
I-Teams are not yet legion, but there are enough of them for us to know they vary considerably and work at national, regional and city levels. The report helpfully breaks their work down into four main categories (often overlapping in practice).
1) Solutions to specific challenges
2) Citizen, business and charity engagement to find new ideas.
3) Transforming government skills, culture and processes
4) Achieving wider policy and systems change
Examples and Reflections:
The Nesta report examines 20 of these iTeams in depth, four of which are highlighted by one of the authors of the report, Ruth Puttick, and copied below (with my hyperlinks, which may not be optimal matches).
Many believe these iTeams are a critical institutional form to promote government innovation, and the Nesta report and today's event are a way of trying to map their emergence across the world, and learn from early indicators of when they work well, and when they don't.
I haven't yet read the whole report, but here are my initial impressions:
First, I wonder whether the fourth manifestation of these iTeams – major systems change across government with commensurate impact in the real world- is really part of the story at this point, or whether that is merely part of the aspiration.
There are huge forces of inertia in Government machines, and iTeams currently tend to go round that inertia rather than going through it. The iTeam I know best, The Behavioural Insights Team, has been hugely successful with 1,2 and to some extent 3 on the list above, but much less so with 4 – wider policy and systems chance- and personally I find it hard to imagine how they ever could be with their current methodologies. If I'm right about that, I wonder if this is a fundamental feature of iTeams, or merely a function of them being relatively nascent and small in number at this moment in time.
Secondly, in today's discussions, I was struck by the prevalence of relatively emotional, even spiritual language in the context of what might have been assumed to be a relatively technocratic discussion.
Nesta's Helen Goulden spoke of the need for 'non-attachment' and being 'Buddhist-like' with respect to ideas, given that many of the ideas we love and want to work don't work in practice. MindLab's Christian Bason spoke of the core capabilities of people in iTeams in terms of the  'higher meaning' they are motivated by, and also the need for people who have ambition not just for their own ends, but 'ambition on behalf of the systems they are working with'. Douglas McGowen from Memphis spoke of the need for 'passion' for the work and sounded like he meant it, and Geoff Mulgan, the chair of the event, spoke of the role of iTeams in putting 'human experience' back at the heart of the policy-making process, contrasting it with the bygone days of experts writing long policy analysis reports that would somehow, magically, trickle down to the betterment of human experience. 
Thirdly, the event got me thinking about what cultural theory would say about iTeams, which tend to be data-driven and nimble, but also appear to be predisposed to being 'clumsy' rather than 'elegant' in their approach, in a good way.
In the way they work, iTeams typically include aspects of hierarchy(e.g. support from national government), solidarity(work closely with communities involved) and individualism(often working with profit-motive) and are interested in what works in a given instance, measured empirically, rather than ideological loyalty to any given theory of change.
I may feel differently after reading the report, but the analysis of iTeams feels like an important development for anybody who cares about making government more effective.
Saying "thank you" feels good. And not just for the person on the receiving end (when there is one), but also for the person doing the thanking: it seems that practicing gratitude can help people to focus on the positive and improve wellbeing. While researching aspects of financial capability for one of our upcoming papers, I came across a new study showing that the benefits of gratitude may extend even further.
I wanted to share three excellent pieces I read this morning which are all calls to action in different ways; why the charge of hypocrisy is typically facile and obtuse, what it might take to overcome despair at global politics, and what stops us realising that climate change really has very little to do with 'the scientific consensus':
*Update: see comment below for Tom Crompton's reference to a study where sustained reflection on death led to a shift to intrinsic values, while people only briefly reflecting on death responded by chopping down lots of trees!*
##
"I face up to death but then I flip back into denial. Surely that's what it's like? I lie in bed in the small hours of the morning, absolutely terrified by the apprehension of my own dissolution…And then I go to sleep and wake up the morning and make toast." - Will Self (c51.28)
Who would have thought death would be such a draw? The Twitter hashtag for last night's public event: 'Let's Talk about Death' was #rsadeath but the event was heavily oversubscribed, and in light of the struggle people had getting a seat in The Great Room, #rschairgate was suggested as an alternative. As the chair, there were some tense moments for me, as one might expect, and not least when Will Self appeared to be uncomfortably close to recommending suicide; although many said afterwards that if you're serious about opening up this kind of discussion, nothing can really be off limits.
As indicated in my pre-event post: 'We're all going to die', we put this event on because our denial of death is a key driver of how we live our lives and plan our societies; it is also a key component of whatever we think spirituality is, or should be. The discussion feels difficult at first blush, but once you open yourself to its ubiquity and significance, you almost wonder why people talk about anything else.
I thought the panel were excellent individually and complemented each other well. I offer a few select quotes and thoughts for now, with some analysis to follow when we have the manuscript.
The Philosopher and writer Stephen Cave gave a distilled overview of how human cultures have tried to evade death over time with informed contributions arising from his recent book on the perennial quest for immortality. I particularly liked his not altogether facetious suggestion near the end, imagining a family around the breakfast table posing themselves a familiar question with an important twist: "Given that we're all going to die, what shall we do today?"
I was also struck by the way Stephen set the scene before unpacking details of research in social psychology(c05.00): "Death is a Taboo, maybe our last taboo…Death shifts you into a different gear…If you are religious you'll now be feeling more religious. If you are patriotic you'll now be feeling more patriotic. Whatever the core of your worldview is, because we've mentioned the death word, you'll now be holding on to it more tightly and will more aggressively defend it."
Joanna Cooke offered a compelling perspective based on her experience of spiritual practices as a Therevada Buddhist nun in Northern Thailand; further enriched by her athropological acumen. (c15.40) "In my own sitting I was aware of my own skeletal structure, and the muscles and sinews and so on that make up the body…But not just the body, my body; as in, me….So there is no cheating death here. The meditator learns to stare down the vertiginous fact of her own mortality, unflinchingly and intentionally…."
Joanna went on to quote Steve Jobs in celebrated Stanford commencement address in 2005: "Remembering you are going to die is the best way of avoiding the trap of thinking you have something to lose. You are already naked. There is no reason not to follow your heart."
Spacetime and 'Lifedeath'
Will Self was typically unnerving, subversive and dark, but also brilliant, funny, substantively helpful, and periodically generous in spirit. I was particularly struck by his life/death continuim idea. Just as physicists now speak of 'spacetime' rather than seperate dimensions of space and time, so life and death are not really seperate things.Death is such an integral part of life that we should think of them as part of the same ontological or phenomenological fabric.
Will also made some challenging comments about the State's need for military deaths as a kind of sacrificial rite to legitimase its ongoing monopoly of sanctioned violence Relatedly: (c1.09.30) "Surely there is nothing more obscene than the sight of a priest in military uniform. It really shows the whole charade up for what it is." I was also struck by his sympathy for certain aspects of Christianity e.g. (c37.10)"When I say, as an agnostic, that religion does death well, what I mean is, that the part of me that is a genuine agnostic is swayed, under the influence of a Christian funeral. I couldn't believe I think they do it well if I was sitting there thinking this is obviously…Sky-God nonsense, clearly part of me is responding."
And later, in response to a question by Mark Vernon, I felt part of his answer was particularly elegant line (c49 mins): "What is interesting about Christianity is that it views salvation as simultaneously a dissolution and an actualisation of the ego."
Beyond all the great contributions, my main reflection concerns the connection between the public salience of death and research in the social psychology of values championed by Common Cause. I will unpack this point in another post – because it's a potentially huge issue, but in essence, if reflecting on our own deaths tends to promote intrinsic values(love, nature, craft) and weaken extrinsic values(fame, money, status), and concealing death has the opposite effect, our cultural representations of death clearly have much greater political and economic implications than we tend to realise.
On Monday June 23rd at 6pm I'll be chairing 'Let's Talk about Death' featuring Writer Will Self, Philosopher Stephen Cave and Anthropologist Joanna Cook. This event is the fourth in our series of six on reconceiving spirituality, which is part of a larger Social Brain Centre  project on Spirituality, Tools of the Mind, and the Social Brain. We have completed public events on Spirituality, The Body, The Soul and, now, Death (though it's not yet the end!..). We have also been busy with research behind the scenes, and our final report on the project is scheduled for publication in September. For now, some thoughts on death ahead of Monday…
Imagine having someone follow you around, observing you for just a fraction of a day, to assess your capability on the job.  Sounds nerve wracking.  This is how many teachers are evaluated, and new research suggests that these observations are not altogether reliable.
Although observations as a means of teacher assessment may be favoured over other methods such as gains in pupil standardised test score, we should be wary of relying too heavily on observations as they currently stand.  A new paper out by the Brookings Institute reports that an assessment of teachers via observations is biased based on the existing ability level of the pupils in the class. That is, if the same teacher was dropped into in a better-performing class, he would be rated more favourably than if he had been dropped into a group of lower-performing pupils.
The very ink with which history is written is merely fluid prejudice – Mark Twain
It's often said that history is told by the victors. But what effect does this have on how we understand the present? In Britain, it means all too often that we're quick to judge the actions and beliefs of people abroad without reflecting on what's going on at home.
Tensions between the West's understanding of itself and of other countries surfaced recently at the RSA, when historian Orlando Figes came to give a talk on revolutionary Russia. Figes presented a thought-provoking argument for understanding the Russian Revolution in the longue durée (which you can watch here). But amidst this analysis he made a particular assertion that left me with an uncomfortable but unfortunately all too familiar sense of doubt.
Figes described Russian society as dominated by a pathology, in which Russian citizens accepted 'state violence for national defence and for revolutionary goals'. The evidence he provided for this came in the form of a poll taken in 2007 in three Russian cities, St Petersburg, Kazan and Ulyanovsk. The results of this survey revealed that 71% of the population believe that Felix Dzerzhinsky, founder of the Soviet state's security force, the Cheka, had protected 'public order and civic life'and that two thirds of respondents thought Stalin was positive for the country, despite acknowledging that between 10-30 million people had suffered under his regime.
Taken in isolation this seems counter-intuitive. Surely if there's hard evidence that a regime was responsible for such huge carnage, there would be unanimous agreement that it should be remembered as a historical evil.
It is this seeming incoherency that led Figes to propose his pathology hypothesis. But, his explanation doesn't provide the answer to this puzzle. Instead, although he is no spokesperson for Britain, Figes' explanation implicitly creates an alarming and unrealistic dichotomy between the West and the rest (or, in this case, Russia). Russia, imagined as a nation brimming with people who have a disturbing view of the past and the present, is seen as the antithesis of civilised Britain.
Now, this isn't to say that I in any way embrace Stalin's actions, nor support Putin, whose power Figes explains is, in part, predicated upon historical myth. But lurking in Figes' hypothesis is the assumption that there is something unique about Russia's glorification of past atrocities.
This simply isn't the case. It's time we, in Britain, talked about our own understanding of national history. Let's look at the facts. In 1998 a Gallup poll found that when asked about the British Empire 'roughly 70% of people' expressed pride that Britain had an empire, while 60% said they regretted its passing. These levels of nostalgia for Empire are strikingly similar to the proportion of those polled in Russia who saw the Cheka as integral to maintaining order in Soviet society.
Yet, as with the Soviet Union, there's no shortage of evidence to show the negative effects of Empire, which saw colonialists murdering, dispossessing and enslaving indigenous peoples who they saw as inferior to themselves. In the 10 years following the First War of Indian Independence in 1857, for example, it's estimated that almost 10 million Indian people were killed at the hands of the British.
And although unlike Stalin's regime in Russia, the majority of the colonialists' actions affected peoples far away from Britain, the specifics of such atrocities continue to surface in contemporary society. Newspapers reported two years ago on the publication of documents that revealed with stark clarity the systematic torture and starvation of Kenyan people imprisoned in British-run Mau Mau detention camps. This means that despite not being affected directly, people in Britain are aware of the unquestionable suffering caused by British colonialists. In this context, a positive understanding of Empire is as galling as Russian support for the Cheka or Stalin.
The similarities between British and Russian peoples' understanding of their respective national histories are not the result of  underlying pathologies but rather romanticised narratives perpetuated in popular discourse.  For example, alongside facts that begin to reveal the extent of its injustices, Empire is remembered by the likes of David Cameron, Boris Johnson,Michael Gove and Gordon Brown as halcyon days of British history, seen as necessary for the Britain's and the world's development. In this sense, the dominant historical narrative shapes public understanding and facts lose their importance.
A skewed understanding of history is therefore by no means limited to Russia. With this in mind, in the UK we must stop using such interpretations of the past to reinforce the division between East and West or between 'them' and 'us'. Instead, domestically and internationally, it's time to start challenging accepted historical narratives, where the voices of the victors are louder than all others.
Ten years ago we'd never heard of names like Twitter, Facebook, Instagram and Whatsapp. And yet today, for many, they are modern pillars of daily communication. Social media has become an omnipresent host to our daily interactions with 72% of all internet users now active on some form of social media. We have an array of social media outlets to suit every kind of action, personality type and human expression- both newsworthy and banal – and our engagement online is increasingly unwavering; we send around 500 million tweets per day and spend on average around 15 hours and 33 minutes a month on Facebook, for example.
Social media has revolutionised the way we disseminate and receive information. While there are benefits to this, how does it affect the way we communicate with each other, who we choose to interact with and most of all how we feel? The video, The Innovation of Loneliness (above) is an effective and terrifying short film that in its essence presents us with the hard contradictory truth we've been avoiding; while we've never been so well 'connected' we have never felt so lonely.
I am in South Delhi in an air-conditioned hotel room. It is 40C+ outside. I have bottled water and a flat screen TV supplying endless Bollywood and Hollywood options, hour upon hour of Criminal Minds, The Voice USA and Indian talent shows and sitcoms. My tablet is on my lap and I am tapping out this blog. I have the power to create thanks to the world in which I live, the society, the country, the culture, the job. And yet right now I feel very, very sad and absolutely powerless. My home is in the UK, my job is with the RSA – these day-to-day norms empower me, enable and encourage me to write this. My other home, my husband's home, is Delhi. This home is what leaves me feeling powerless today.