'Bob's Big Idea': Harvard Professor Robert Kegan (Bob) has been arguing that we are living longer for a reason – to give us time to evolve a different order of consciousness (5th stage, or inter-individual in his model) to deal with the problems created by the prior 3rd (socialised) and 4th(self-authoring) levels of consciousness.
Older? Yes – always, alas. Wiser? Sometimes. More creative? It depends what you mean…
In Spiritualise we argue that facing up to the inexorable nature of death is part of being more fully alive. But we rarely manage to achieve this, partly because of our cultural fixation with youth. "Hold on to the phase of life that keeps death at arms length", we seem to say. But that's a futile, unhealthy battle. In a society with good public mental health we would all feel that the best age to be is the age you currently are, but that would mean viewing the ageing process in a positive way that didn't seem like a consoling fantasy.
Let's start with the phases: In most OECD countries in the early 21st century, 'childhood' is thought to last around 18 years. Pre-birth and infancy are important parts of that, and 'adolescence' complicates matters, arguably a distinct state extending from young teenage years up to around 25. 'Adulthood' goes up to about 45, when we talk of 'middle age', and then around 65, at least until recently, we begin to talk of 'old' age, but that feels increasingly obtuse, mostly because so many people view this phase of life much more positively, and it's hardly a minority interest.
Here's the thing: "Of all the human beings throughout human history who have ever lived to 65 or more, two thirds of them are alive today." – Robert Kegan (Speaking at the RSA c11 mins in video above)
"It's almost as if there is this magic bullet that we all know about but [that is hard to] implement in public policy … the people around you completely condition how well you do in life, what you end up doing and how well you are feeling"
On Saturday I was invited to speak to BBC Radio Bristol's Dr Phil Hammond about the Social Mirror project we are currently piloting in Knowle West, Bristol, with our local partner, the Knowle west Media Centre. Social Mirror is a project in which people waiting in their GP's surgery are invited to carry out a short survey on a tablet computer that 'diagnoses' their levels of wellbeing and personal connectivity, and that can suggest local community prescriptions if there is a need. These community prescriptions can be anything from walking groups to Tai Chi to Woodworking.
Not for the first time, I was asked why the Royal Society for the Encouragement of Arts, Manufactures and Commerce would "be doing good work like this" quite so close to the coal face, and quite so practically. It is easy to think that hyper-local projects might be too 'small' to be of interest to an organisation with such international reach, but it is only through trialling out our innovations in the real world that we can allow them to take real roots.
As Adam Lent – the RSA's Action and Research Centre Director – laid out yesterday, the RSA has hoisted a new flag: the power to Create. Adding a new ending to the French enlightenment refrain -  Liberté, Fraternité! Egalité! Créativité! – our interest in the power to create helps explain why an organisation such as the RSA might be interested in connecting isolated people in Bristol to activities in their area. As I explained to Doctor Hammond, social connections – who we know, who we rely on, who we  get our information from – are almost the magic bullet; a friendly elephant in the room that no-one quite knows how to operate.
The truth is that who you know massively influences who end up being, just as you influence all those around you. In our research with 3000 people in deprived areas in England, we found that people's social connections affected their life satisfaction and sense that what did they did in life was worthwhile. Indeed, those people who did not have people they felt close to or who did not have people that might give them small-scale, practical help or that did not have any connections in the local area, had both life satisfaction and feelings of life being worthwhile that were lower in statistically significant ways, independently of other factors.  For groups that might generally be at a wellbeing risk, for example older people or single parents, we often found that social support seemed a determining factor in their subjective wellbeing being either very positive or very negative.
If we are to open up the power to create – the ability to 'act in ways that are unique to [your] own capacities or vision' [in a] unique, pro-active and self-determined nature' – then we need to start paying serious consideration to the effect of an individual's social context on their understanding of their own capacities or vision. Like Sir Young's originally satirical understanding of the term 'meritocracy', the power to create is not a phrase that we can accept uncritically, even as we welcome it into the arsenal of tools that we can use when seeking to help create the world we would like to live in.
The perception of owning this power to create – the power to be an actor in your life and not merely a participant – is not as widely distributed as the ability to create is. People often need a push, a spark, a catalyst. The act of doing, of interacting, of creating implies some level of believing that you are worth it. By connecting people to others and activities in their local area, by helping them open that front door and get out there, we ultimately might be that spark.
"I can't say enough about [the social mirror project] because it has changed my life… if I hadn't done it I wouldn't have known about these walking groups. After I retired I felt like a recluse, three days a week I didn't go out of the flat. I've now lost a stone in weight, I can talk to people quite freely which I didn't before… I've stopped drinking alcohol -I don't need it to help me sleep as the walks tire me out."
  Social Mirror Project Participant
__________________________________________________________________
Gaia Marcus is a Senior Researcher on the RSA Connected Communities project, and leads the Social Mirror project.
You can find her on twitter: @la_gaia
Social Mirror has recently been featured on BBC Radio Bristol (at 1h :23 minutes) and on BBC Radio 4.
The BBC's David Dimbleby, the Presented of Question Time and the anchor for every election since 1979, has chosen to have a scorpion tattoo on his shoulder.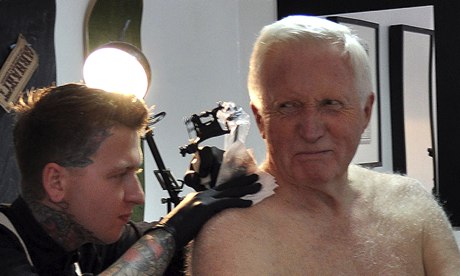 (Photograph by BBC via Guardian) 
I am happy for him!
He Chose a scorpion because of his star sign(which is not to say that he 'believes' in astrology), and because he liked the idea of it "sitting on my shoulder ready to attack my enemies". He also remarked: "You are only old once. I have always wanted a tattoo. I thought I might as well have it done now. It's a dream come true for me."
At this point I am proud to say, on behalf of my late former colleague, Dr Emma Lindley, that her research indicates that Dimbleby may not be unusual in this respect. It was principally Emma's work, supported by The Hanover Trust that lead to the report: What older people want: sex, skydiving and tatoos.
The overarching message of the report was that there is an enormous sense of playfulness and experimentation among older people. Dimbley, and his new scorpion, have many like-minded allies.
I have never wanted a tattoo, but I admire the spirit of doing what you really want to do before it's too late. What really matters is the scorpion tatoo you have on the inside…
Today sees the publication of a report that Steve Broome and I wrote on behalf of Hanover Housing Association, as part of the Hanover@50 debate. It's called 'Sex, Skydiving and Tattoos: The end of retirement and the dawn of a new old age?' and it explores perceptions of ageing, the implications of these for how older people are regarded in society, and what we need to do differently.
In recent years, older people have increasingly been characterised as a social and economic burden. As life-spans get longer, and the need to provide for older people's social, economic and care needs grows, we have ended up regarding older people as a problem. The language used about older people is frequently patronising and paternalistic, and this shapes attitudes, influencing how older people are treated as well as how they see themselves.
In our report, we argue that the time is ripe to turn the issue of ageing on its head. We need to move away from a culture that regards old age as inherently undesirable, perceives older people as having nothing to contribute to society and focuses on the economic 'burden' of caring for the ageing population.
Could it be that older people actually represent a tremendous untapped resource? If so, how can we shift culture, remodel how we accommodate older people and attend to their care needs, whilst enabling them to continue to contribute to society in ways that are meaningful to them and useful to all of us?
In order to explore these issues, we conducted a literature review and held four focus groups made up of:
Retirement community residents aged over 70
Fellows of the RSA aged over 70
A 'transitioners' group aged 57-70
A 'millenials' group of people aged 21-32
In each of these focus groups we asked participants to tell us what comes to mind when they think of old age. We showed them a range of images of older people and asked them what they thought about those images, and used a range of 'springboard' techniques to stimulate discussion.
The results were extremely enlightening and sometimes surprising. The retirement community residents said they were happy to be described as 'pensioners', saying they saw it as stating a fact about them. The RSA Fellows disagreed, feeling that that it carried connotations of inactivity, stagnation and marginalisation (as in being 'pensioned off').
This divergence in views around the word points to the possibility that new, positive language could reinforce a sense of empowerment and enable older people to keep contributing to society in various ways as they continue to age. For the RSA Fellows, being active professionally and feeling that they maintained a degree of influence were important elements of identity, while for the Hanover residents, this was less important that being socially active, although volunteering, and keeping up with the issues that were of interest to them before retirement were also very important to them.
The 'transitioners' group expressed a range of views about what it feels like and represents to be approaching old age. With 65 as the traditional marker for the beginning of old age, some members of the group talked about the way they don't recognise themselves as being 'old' and felt instead that 'late middle age' is a phase of life that lasts longer for their generation.
When we showed this image of an older couple kissing in bed, reactions were diverse across the groups. Most strikingly for me, the 'millenials' group (which I'm only just too old to belong to) responded with almost unanimous distaste.
Comments included:
"I'm sorry but that's just wrong. I don't want to see that. Nobody wants to see that." (Female, 20s, Millennials).
"I don't mind knowing that older people are sexually active or whatever, but I don't want to see images of it. It's just distasteful." (Male, 20s, Millenials).
By contrast, reactions were overwhelmingly positive from members of the other three groups:
"Oh, yes, now that's lovely. It's so refreshing to see. It makes me so happy to see that. There should be more pictures like that in the media." (Female, 80s, Hanover)
"Ah, that's an unfamiliar image. You don't see much of that sort of thing. Sexual images of older people should be more commonly available." (Female, 60s, Transitioners).
"Great, that's great. They're in love. I love it. Most people would hate it. Young people would hate it, definitely." (Female, 70s, RSA Fellows).
The negative reactions from the Millenials group were certainly surprising to me. Coming from a culture that is saturated with sexual images, many of which are far more salacious than this, one might assume that the younger generation would be indifferent to an image like this. The revulsion that some members of the group showed appeared to be purely on the grounds that the people in the image are older. It is noteworthy that one member of the RSA Fellows group predicted that young people would not like the image, and that the comment "I don't want to see that," was followed with "nobody wants to see that," indicating the view that even older people would prefer not to be exposed to an image like this.
Although we were surprised by the vehemence of this disgust, in the context of a society that is overflowing with imagery that champions youth, assumes that getting old is fundamentally unattractive (especially for women) and side-lines older people as having no useful purpose to serve, it is, at least understandable.
So, what do we do? In our paper we suggest three potential ways forward.
The word 'retirement' is part of the problem – we should abolish it. Retirement literally means withdrawing from active life. Whether or not older people continue in paid work, they should be encouraged, enabled, and even expected to remain active, in whatever capacity they can, until the end of their lives.
Society needs to completely rethink older people's care. Policymakers and providers must lead a move away from institutional care that disempowers people and forces them into passive dependence. They must develop models of care with roots in the community, for instance by enabling older people to share their homes with each other or younger members of the community.

These changes should be part of a broader campaign to reposition older people's place in society. Demographic changes mean that older people not only should be but have to be seen as a part of our human and social capacity. The point is not that older people are all 'wise' but rather that there are enormous reserves of experience and time that we are not currently drawing on. It is up to us to choose to see them in this way rather than as a cumbersome burden. This could include a think tank run by older people with a remit that covers the entire spectrum of social issues facing all of us.

Industry should look at the design of products, buildings and services that older people use. Most age-related goods and services are needlessly vanilla. They are overly institutional and bland in perspective and design. A specialist design agency could rethink design, revitalising and popularising products to make them appealing to everyone, not just older people.
I passionately believe that we need to think creatively, reviewing our perspective, policies and practices to enable and support older people to keep contributing to society in meaningful ways.  Such an investment will reap huge rewards for all of us.
Dr Emma Lindley is Senior Researcher at the RSA's Social Brain Centre – you can follow her @DrEmmaLindley
How do we meet the growing needs of an ageing society? We all have an interest in this question (even if sometimes we also prefer to avoid thinking too hard about it) and over the last couple of years I've spoken to many RSA Fellows about their experiences of how acute it becomes when people close to you need care and support.
Some of those Fellows contributed to a report we produced recently for the Joseph Rowntree Foundation on making decisions about care (my colleague Emma Lindley, who was one of the authors, neatly summarised its themes in a recent blog).
This week the JRF published another paper, Widening choices for older people with high support needs, which I heard about from the programme's director, Ilona Haslewood, at a recent event. Its theme is how people can help each other meet their needs as they age, but it also offers an interesting case for why social projects should empower people to help solve each other's problems, rather than doing it for them.
The report starts from the principle that the care of older people should not be a one-way street, based on agencies providing support to people who cannot meet their own needs. Instead, it argues that approaches based on mutuality and reciprocity – how people can do things together and help each other meet each other's needs – allow older people to stay in their communities and make a contribution to them.
The report is clear that there is plenty of good practice out there, ranging from formal schemes such as Shared Lives, to informal arrangements such as peer support networks. However, what's also clear is that rhetoric about helping people help each other can sometimes fall out of step with reality:
"Much is spoken and written about the centrality of mutualism to public service design and delivery, and the role of co-production in the transformation of social care and associated support. […] The reality on the ground for many older people with high support needs is very different." (47)
The interesting question, then, is what makes alternatives to traditional care work. The report picks out a few success factors, and here are three that seem good general principles for any project that depends on reciprocal sharing of time and skills:
All parties involved need to recognise the mutual advantages as benefits of working together.
It needs to spell out the practical benefits of working together (for instance, participants helping each other overcome barriers and "life's obstacles")
It'll work best if is generated, designed, owned and led by those directly involved
The report also lays out an interesting challenge for organisations like the RSA. It generously cites work that we, NESTA and others have done to encourage and support social enterprise – but asks, in effect, whether all the projects we support take the 'social' bit seriously enough. Are these initiatives genuinely grounded in the needs of the people they benefit? Do they make the most of the skills that people have to offer?
Put another way, the idea – the model or approach you take to solving a problem – cannot be everything. Working with RSA Fellows, we're keen to do everything we can to encourage good ideas to grow. Our Catalyst programme, for instance, provides funding and support to socially beneficial projects. What I'm left wondering about, though, is the subtler question of the kind of relationships and behaviours that need to develop (if the above principles are sound) for a good idea to survive in the long run – and to offer the greatest possible benefit, both direct and indirect, to people involved in it.
Returning to the earlier warning about rhetoric outpacing reality, it's not enough to pay lip-service to this ambition: what's needed is advice on how to make it work in practice. One way we can rise to the challenge is to share examples of projects that demonstrate genuine reciprocity where we find them. To that end, who out there is solving a problem by helping people solve it for themselves – and what can we learn from how they work?
Sam Thomas is the RSA's project engagement manager, responsible for improving how people engage with our programme of action and research. Follow @iamsamthomas on Twitter.
Our society is ageing, and the scale of our demographic challenge is immense. To choose just one of several striking projections, between now and 2050, the number of people over the age of eighty will triple to around eight million.
At some time in our lives, all of us will be faced with decisions to make about older people's care, be it our own, or a loved one's, whether it is in a professional, personal, or voluntary capacity. How will we make such decisions?
On reflection, the question is not so much about adult social care policies, but the complexity of choosing between different aspects of 'care' which often look very different from conventional models of state provision. The pertinent questions become: Who do we trust to help us make these decisions? What are the risks in making one choice as opposed to another? Should physical safety be prioritised above wellbeing and quality of life?
We explore many questions of this nature in our recently released evidence review: 'Improving Decision-Making In the Care and Support of Older People: Exploring the Decision Ecology'.
Early this year, the Joseph Rowntree Foundation, as part of their Risk, Trust and Relationships in an Ageing Society programme of work, put out a call for a review of the evidence surrounding risk and trust in an ageing society. The RSA's proposal was accepted, along with a contrasting but complementary proposal from a team at Brunel Institute for Ageing Studies. We focussed our evidence review using decision-making as a lens through which to explore the broader issues. The team from Brunel took a different approach, reviewing contrasting bodies of literature from disciplines including psychology, political philosophy and gerontology.
On Wednesday last week, the two evidence reviews were published at a launch event at Brunel University.  I presented our review, and in preparing what I had to say, I found myself pleasantly surprised by the piece of work we produced.
The process of compiling the review involved several members of Staff from Social Brain and Connected Communities  and was not the smoothest or easiest of processes. In all honesty, while we were fascinated by the content and relevance of the work, by the time the final draft was signed off, the process felt so protracted that I think we were all relieved to move on to other things.
So, when I came to talk to an interested audience about what we found, it was rewarding to discover that I felt confident in the value of the overall message of our evidence review. (More generally, it definitely helps to have a gap between completing a piece of work and launching it, which gives you time to appreciate the document as something you have produced, while being free from the gruelling process that produced it.)
The Decision Ecology
Our report paints a picture of the 'decision ecology'. Jonathan Rowson coined this term to capture the complex social context in which decisions are made, including the diverse range of actors including the older person, their family, friends, neighbours, professional carers, health providers, volunteers, acquaintances and the community at large.
At the heart of this ecology is a triad, consisting of the older person, their informal carers and supporters (such as friends and family) and their formal carers (professionals and practitioners). Like any threesome, this triad is unstable, and the balance of decision-making power tends to be weighted towards the professionals and practitioners.
The insider knowledge that family members have about their older relatives is all too easily sidelined or overlooked, and professional 'expertise' takes pole position. The danger is that important personal preferences can be neglected, and decisions made to favour institutional or administrative convenience.
The insights of the Social Brain perspective tell us that the traditional view of decisions being made on the grounds of logic and rationale is at best inadequate. Decisions are still implicitly framed as individual, conscious and rational, but they rarely are. In reality they are influenced by affective, unconscious and social factors, including our cultural biases, negative stereotypes and risk aversion. Because of this, we need to think very carefully about whose perspective (or decisions) should be given precedence, and on what basis.
To make good decisions, it is vital that we build trust. There are various tools and strategies that can help us do this, and taking seriously and making space for personal narratives is one of them. The stories we hear and tell can change attitudes and be emancipatory and empowering. This emphasis on the unrecognised relevance of narrative was a key part of the report.
Most importantly, we need to do everything we can to enable genuine partnerships between care providers, care recipients and their families and supporters. The responsibility for decision-making should be shared as equally as possible, and efforts made to include and respect everyone involved. Challenging declinist stereotypes of ageing is part of our responsibility in this, along with being reflexively critical about our attitudes to risk.
At some point in your life, perhaps quite soon, you will be playing a part in this decision ecology- it is worth reflecting now on what kind of part you want to play. You could do worse than start by reading our evidence review!
Last month my colleague Sam McLean posted a blog asking whether social capital was necessarily always a good thing. He was right in saying that too often we take it as read that strong social connections and a high level of trust create better outcomes in every scenario and on every occasion. While it is true that there has been a long standing debate about the merits of social bonding capital (connections within groups) vs. social bridging capital (connections between groups), this has really only skimmed the surface of what is a much more nuanced issue.
To give you a better sense of what these nuances actually look like, I've collated a few interesting examples about how complex social capital plays out in semi-formal and informal care settings. Before I lay these out, the first thing to mention is that, broadly speaking, social capital is a good thing when it comes to caring for older people and helping to maintain their independence. Eric Klinenberg's famous study of the Chicago 1995 heat wave found that mortality rates among older people were much lower (30 per cent) in the neighbourhoods where they trusted others and felt safe to leave their buildings. Likewise, we now know from the work of John T. Cacioppo and others that health outcomes are directly linked to levels of loneliness and isolation. The risk of Alzheimer's is said to be twice as high in older people who are lonely compared to those who are not.
All of that said, there are a number of reasons why we should be giving social capital a closer inspection, particularly when it comes to informal care and adjusting to an ageing society. The following points illustrate that the relationships and trust we have with others are neither homogenous, nor stable over time, nor indeed always positive:
1.There is a clear distinction between the support provided by neighbours, friends and family – the kind of care that older people receive is often 'relationship-specific'. It has been suggested by some academics in the field of social care that spouses are the ones who provide both deeply emotional and physical support, adult children the emotional and instrumental support, and friends and neighbours the lighter companionship. No doubt all of these are important to older people but it does highlight the fact that neighbours and casual acquaintances are no substitute for close family when it comes to doing tasks that are of a very personal or physical nature (an important point when we think about housing policy, as my colleague pointed out recently)
2. Relationships are fragile and likely to change in times of illness – in a report on the social exclusion associated with ageing, AgeUK points out that the social stigma attached with certain illnesses can diminish or entirely sever even the strongest of friendships. The report includes the story of one man who felt like a 'social pariah' after his diagnosis of dementia: "Acquaintances would 'pretend' not to see me if I was in their presence and people stopped inviting me to dinner or events. They assumed I had changed in ways that I hadn't, that I wasn't the same person anymore and wasn't worthy of conversations". Friendships do not always weather the storm of illness.
3. Friends and family can be hyper-controlling and sometimes the best individuals to help older people with managing risks are those they have no relationship with at all – Fear can pervade the close relationships that older people have with their relatives and friends, often to the extent that the latter can become overly protective and risk averse. Care from close relatives and friends can turn into 'containment', severely limiting people's independence. The same AgeUK research highlighted before found that some older people feel more comfortable discussing things with strangers who are impartial and who have 'no vested interests'.
4. Older people do not want to be a burden to friends and family – Surprising research by Ipsos MORI shows that older people are far less enthusiastic about living with their children in old age than are their children. This is in part because they do not want to receive 'reluctant attention', but it is also perhaps because they fear the health consequences that may affect their spouses, children and close friends. Indeed, CarersUK found that nearly half of all carers providing significant support were in debt and affected by stress as a result of caring. Few would want to bring those kinds of difficulties on their loved ones.
If any of the above proves of interest, look out for an upcoming report from RSA Projects on risk, trust and an ageing society.