References to 'green crap' miss the point. The key political fault line on climate change is not green versus non green, but how you order the priorities of the energy 'trilemma'. The case for climate change action needs to be made at this level to gain political traction.
Michael Fallon is the minister whose thinking most closely mirrors Number 10′s stance on energy policy so if you want to know what number 10 thinks beyond disputed references to 'green crap', his words should be carefully observed.
The Energy Minister recently told The Spectator Conference on energy that the most important issues were 'security of supply, affordability, and playing our part in combating climate change. And that for me is the order.'
This seemingly innocuous statement is hugely significant because it publicly acknowledges the key trade-offs at the heart of energy policy, and candidly takes a clear position on it. Fallon, like Cameron and Osborne are not denying the need for a rapid reduction in carbon emissions, they are saying you can't get those reductions without compromising two other important priorities.
In this case, the three horns of the trilemma in question are climate change, energy security and fuel poverty. Such 'trilemmas' are every bit as real and pervasive as dilemmas, but they are not as widely discussed because they are significantly more complicated, and debates surrounding them are more difficult to follow.
There is wide political agreement that we have to try to reduce the impact of anthropogenic Climate change, which means significantly reducing and gradually eliminating fossil fuels from our energy supply, and improving energy efficiency at scale.
However, we also have to retain a secure and stable energy supply, which is harder with renewable forms of energy that are generally less reliable than the baseload power offered by fossil fuels ('the sun doesn't always shine, the wind doesn't always blow') and complex if you are simultaneously interfering with the energy market to lower prices. This was the argument (strongly contested) recently used by British parliamentarians to justify extending the life of the country's dirtiest power stations. - that it was necessary to 'keep the lights on'.
And we also need to keep fuel prices affordable, especially for those facing acute fuel poverty who sometimes literally freeze to death because they can't pay for their heating. Keeping costs low is not easy with a transition to renewables, which is costly in itself, and because renewable energy is currently more expensive. On current form, energy companies will inevitably pass on such costs to consumers.
It is hard to argue with the general validity of each of the three imperatives – energy security, fuel poverty and climate change – but we can question whether they deserve to be treated with equal strength and importance, and challenge some of the assumptions underpinning them. Indeed, how you do so represents the new political fault line on the energy debate.
As I argue in a forthcoming RSA report on climate change, I believe the moral priority of climate change takes precedence, and would challenge the validity of the second two imperatives. If pressed, I would probably say the order has to be climate change, energy security and fuel poverty, but making this case well requires keeping competing perspectives on 'morality' firmly in mind.
If your responsibility is to keep the energy supply stable across the country, you have to think about that moment every day when people return from work, when there is a huge spike in demand caused by heating and lights going on, people having hot showers, watching TV and preparing meals. Can you stomach the idea of power failure for millions in that context?
And if, like millions, you struggle to pay your energy bills, or are a politician aware of the growing political importance of energy as an electoral issue, would you not be more inclined to question the importance of our climate commitments, regardless of scientific opinion?
The main issue at stake here is whether the appropriate position on climate change is international leadership, with some potential national risks and costs, or the underwhelming pragmatism we currently see. Those like Fallon apparently accept that we should 'do our bit', but argue that we cannot unilaterally decide what 'our bit' should be – for that we look at the actions of comparable countries. This position is hardly heroic or inspiring, and makes my heart sink, but let's accept that it is at least understandable.
Which doesn't prevent us from saying it is wrong on a number of levels.
Those attacking the priority of energy security could ask why we can't significantly reduce our energy demand through lifestyle changes. Or they might ask whether it's ok if the power goes off every so often. Couldn't we live with back-up generators maybe, as many in affluent parts of India do? If that sounds like political suicide, more powerful is to challenge the contention that renewables alone can't provide that stability, as Marc Jacobsen and others are doing with increasing conviction, or(more controversially) that we need more nuclear power.
Those attacking the priority of fuel poverty might begin with the old suggestion to wear jumpers rather than turn the heating on, as David Cameron recently did, which chimes with social practice theory arguments about 'energy need' being socially constructed, but feels much too facile. The key challenge, surely, is to the billions of pounds offered in fossil fuel subsidies, without which renewable energy would not struggle to be seen as affordable. An even more fundamental question is whether profiting out of energy provision – now an essential human need – makes sense at all? Could there even a case for renationalising control of our energy, as 69% of the population seem to want?
You will notice, in each case, that few of the arguments or suggestions sound straightforward or completely convincing, and even where they feel necessary, they sound politically difficult if not implausible. That's why we have a genuine energy trilemma. Something has to give.
 Jonathan Rowson is Director of the Social Brain Centre at the RSA and the author of a forthcoming report on Climate Change 'stealth denial' in the British population. You can follow him on Twitter @jonathan_rowson
"The People need to rise before the seas do" – Alice Bell
I felt a little bemused by the reactions to the IPCC report on Friday for three main reasons.
First, for those thinking about climate change for the last few years there was little new in the report. The most generous way to interpret the international public shift in understanding from 'very likely'(90%) to 'extremely likely'(95%) is that before Friday we merely knew that climate change is a real and present danger and caused by humans, now we know that we know.
Second, so many sceptics focused on the so-called fifteen year 'pause' in planetary warming of surface temperatures despite an ongoing increase in carbon dioxide. On the one hand this is fair and fundamental: if you say more X leads to more of Y, and there has been more of X, but no more of Y, people are entitled to question the relationship. On the other hand, there are really robust answers that the sceptics tend not to mention. First climate scientists don't think it matters in terms of overall trends because the time window is too short(more X leads to more Y in the long term with periodic exceptions). Second, we have had a similar pause before, mid century, followed by a subsequent rapid increase in temperatures which is likely to happen again, and third, and for me most compellingly, those 15 years began with an outlier: 1998 was an exceptionally hot year because of a particular climactic event, an El Nino. If you take 1998 out of the picture, there is no pause.
Third, almost everybody seemed to be saying 'we need to act', 'time for action' and so forth, but few commentators said exactly how we should act. Alice Bell is right in her evocative line above- if the people don't mobilise, governments won't 'act' with sufficient speed and scale, markets won't respond in their investment decisions, and the patterns of energy supply will continue.
I'm currently writing up a report on climate change that is about that 'how'. Writing almost always takes longer than planned and is subject to Hofstadter's law but in this case the delay has a more substantive basis. Shortly after writing the post "what kind of behaviour change does climate change call for" I realised that the difference between behaviour change for reducing domestic energy demand (how do you get people to insulate their lofts, turn down their thermostats, wash at lower temperatures, buy less imported goods from China etc) and behaviour change that might actually address the global challenge are not just slightly different, but based on completely different readings of the climate problem. Climate change is partly about behaviour and partly about technology, but I have come to believe that it's mostly about money and power.
Simply stated, changing the domestic demand for energy, or ensuring that energy is used more efficiently in homes, offices and transport may have intrinsic benefits in terms of saving money, and not wasting precious resources. However, such changes do not contribute to addressing climate change unless they have a knock-on impact on global energy supply, and that is often a huge lacuna in particular policies, including the green deal.
Globally rising emissions(reductions in the developed world are entirely cancelled out by increases in the developing world) are caused by the extraction and burning of fossil fuels, which are the lifeblood of the global economy. Short of a global reduction in energy demand, as long as fossil fuels are significantly cheaper relative to other forms of energy, a global energy market will continue to use them, and we won't be any closer to preventing significant planetary warming. And of course, fossil fuels are currently significantly cheaper than they might be because they are not taxed in a way that is commensurate with their social harm, indeed they are effectively subsidised; while the investment in renewable energy and carbon capture and storage are not incentivised by government in the way they need to be.
There is a role for decreasing energy demand and consumption more generally, but once you see climate change as being first and foremost a supply-side problem(the main goal is to keep fossil fuels in the ground) what you do about energy demand has to be much more focused, such that the impact on supply is more immediate and tangible. In the forthcoming report this idea is fleshed out with a detailed examination of how we might address rebound effects and patterns of climate denial in the British population.
The challenge then shifts from localised goals of reducing consumption or improving energy efficiency to something more ambitious: How can we use behavioural insight to get people to change, in ways that get governments to change, in ways that get markets to change. The crux of what it means to 'act' therefore involves recognising that markets follow government signals to make energy investment decisions, and governments follow democratic signals to make political decisions. The people need to rise before the seas do.
But how? I am tempted to say watch this space, but two of the main policy answers I am beginning to believe in are a rapid divestment in pension funds that invest in fossil fuels and an alternative to the EU Cap and Trade scheme known as 'fee and dividend' that 'taxes' carbon at source, but gives the money as a flat fee to the population, rather than to Government, while still incentivising reductions in energy demand.
Identifying policies to get behind is important to make sense of what it means to 'act'. To gain traction the incipient climate movement we need to swiftly galvanise will require a positive story to believe in, so that when we are called upon to act, the action is not just against something intangible, destructive and dominant, but for something tangible, progressive and credible.
What do you say to people when you talk about the RSA? Do you mention a great lecture you've seen, a Fellow you've met or perhaps share an animate online? It's easy when you've got an example but sometimes when you're on the spot, it can be difficult to in articulate all the many aspects of the RSA's work. It's a multi-layered, multifaceted organisation that is governed from a huge house which can feel like a bit of a labyrinth -  so where do you begin?
Here in Fellowship we're pretty clued up on the benefits of joining the RSA's 27,000 strong network; we can tell you about the Four Ways to Engage, all the House facilities and how our Regional Programme Managers can help you find like-minded people in your area. But, we also know that when you join an organisation it is important for your commitment to have meaning that goes beyond having a place to meet and free Wi-Fi. You need to have a clear idea about what those four letters – FRSA, represent. There are thousands of organisations out there to join and thousands of worthwhile charitable causes.
What makes us different?
When you join the RSA you join a rich history of enlightened thinking. As the Changemakers handbook demonstrates, the RSA is here to facilitate people thinking differently about social challenges. Back in 1754 when the RSA was founded, the people of Britain were facing the dawn of the industrial revolution; a period that saw great technological advancements and equally, many unforeseen problems.
What is remarkable about the RSA and its Fellows is tha
t they began to find solutions to global problems long before buzz words like social justice and sustainability were on the national political agenda. In 1758, an RSA Fellow suggested providing an award to whomever could devise the best plan for the establishment of a charity house to shelter women whose poverty put them at risk of prostitution. Just under 20 years later, we offered an award for inventions that could reduce smoke emissions.
In 1852, the RSA organised the trial of the first public Water Closets but unfortunately, few people were inclined to use them and the campaign was deemed a failure.  The idea was temporarily laid to rest but then dug up many years later and, where would we be today without public lavatories?
Sometimes, planting an idea is enough.
This is how I prefer to explain the RSA's significance to people who are interested in getting involved. By joining our network you are continuing the history of Fellowship: a group of people who are not only willing to think more broadly than the majority, but who have proven many times over that they have the tenacity to pursue their ideas and turn them into practical solutions for the public good.
Find out more about Fellowship http://www.thersa.org/fellowship
If you already a Fellow but know someone who would be a great addition to the Fellowship, why not nominate them?
 Alexandra Barker is a Fellowship Development Coordinator at the RSA
"Definition: The vivisection tray upon which a word is splayed; while the gist may be clearly labelled with coloured pins, resuscitation becomes problematic."
- Ambrose Beirce, The Devil's Dictionary
The desire to define key terms is understandable, but it is often only pseudo-intelligent, because as Ambrose Beirce suggests, the effect of pinning a word down is often to drain the life out of it.
Still, while designing a national survey on attitudes to climate change recently, I sought out a cogent definition of the term/phenomenon/fact/idea that could be used as a quick and comprehensible reference point for debate and discussion. I googled until it hurt, asked around various people working in the field, sent out a few speculative tweets, and zip, nothing suitable came back.
The definitions were either too short (e.g. The planet is getting hotter, we're causing it, it's bad, we should do something about it) or too long, complex or jargon heavy (see Wikipedia's first paragraph here for instance).
The issue is not just that one person's climate change is another's global warming, or whether 'anthropogenic' is a necessary adjective. The purpose of the short definition is not to close down alternative ideas and interpretations, but rather a pragmatic way to avoid talking at cross purposes.
To do full justice to the science, politics, economics and technology surrounding climate change, we would need many more words and caveats, but for the purpose of the survey (and more generally…) we needed something that described and explained the phenomena, indicated the scientific consensus and highlighted the human relevance. Finding a form of words for this task was surprisingly challenging.
Eventually (with help from Emma Lindley and Ian Christie) I managed to squeeze it in to 135 words, and came up with the following:
The earth's climate is complex and has always changed over long periods, but there is now a scientific consensus that the climate system is being disrupted rapidly, as a result of human actions.
According to a significant majority of scientific experts in the field of climatology, disruptive climate change is being caused principally by those human activities that currently depend upon energy derived from the burning of fossil fuels like coal, gas and oil.
These activities have resulted in a growing concentration of greenhouse gases in our atmosphere, which over time is likely to make weather patterns increasingly irregular and unpredictable.
The human impact of this change will vary from place to place but might include an increased prevalence of storms, droughts and flooding, and could undermine the security of water, food and energy supplies.
How does that sound?
There is a meta-question on what basis one should judge the quality of a definition, and clearly it's not just about a show of hands, but for what it's worth the representative national survey indicated that 59% of the UK population found this definition fairly convincing or very convincing.
So two questions arise:
1. What kind of score would we expect the 'optimal' definition to achieve? (keeping in mind the purpose of accessibility/agreement)
2. How might this particular definition be improved without adding significantly to the word count?
"The main curriculum of your life. No sooner had I read that phrase than I kept repeating it, mulling it over. I saw at once that, far more than the time itself, the hour count, what was at stake here was a major principle. Instead of taking my work with me to hospital waiting rooms, dealing with my troubles as if I was getting the car fixed, my eye on my watch and my hand on my wallet, I would have to accept a radical shift of priorities. The pain must be allowed to come on board and take equal status beside my writing, beside my family, as part of the core curriculum." - Tim Parks, Teach us to Sit Still, p160
Climate change is about much more than words, but words matter. In this respect, leaving aside the important victory to keep climate change on the national curriculum, there is a much deeper sense in which climate change needs to become part of 'the main curriculum' of everybody's lives.
This declaration is ultimately just a form of words, but these particular words may help to reframe the necessary gestalt shift, so that we start to go way beyond 'raising awareness' or 'engagement' on the issue, which hasn't really helped sufficiently to shift inertia. Here is where this idea of 'main curriculum' comes from, and why it might matter:
Almost three years ago I read Tim Parks's wonderful non-fiction book: Teach us to Sit Still, in preparation for him speaking at an RSA event on mindfulness. The book is a darkly humorous and profound examination of a particularly embarrassing medical condition, and an improbable journey back to health, eventually through meditation. The turning point in his recovery is when he stops trying to wish the problem away as an extraneous irritant ('an inconvenient truth') and really faces up to it as an enduring challenge that needed his steadfast time and attention. What was striking for me is that a particular form of words helped to make this shift.
In the following section Parks is at one of the many clinics he attended, looking for something to take the persistent pain away, and he recounts listening to a Dr Wise, author of A Headache in the Pelvis as follows:
#
Tim Parks, Teach us to Sit Still, p 159:
"'Many of our patients are simply too busy to dedicate themselves to our treatment', Wise and Anderson observed. 'These people, men and women, were not yet suffering enough. They still saw their pains as an irritating waste of time, a distraction to put behind them as quickly as possible. Hence they were drawn to accounts of their illness that saw a rapid solutions in drugs, or in surgical operation. No personal energies need be expended. It could be paid for. Hopefully by the State.'
This described my thinking, at least until very recently, with ominous accuracy.
"We strongly advise sufferers," wise went on, "to accept these pains as part of the main curriculum of their lives."
The main curriculum!
Would I have to stop referring to my pains as stupid?
Wise's position, a little pious-sounding to my ear, was that this chronic and worsening condition was trying to tell me something about myself, about the way I had been living, and I was supposed to listen. I would have to give my pains the time of day."
#
This perspective is powerful because one of the main aspects of the climate change challenge is how to bring more attention to the urgency of the issue, and what prevents that is precisely the kind of "hoping it will go away" attitude that many take to irritating health issues that are not yet causing enough suffering to be heeded.
The climate challenge calls for unprecedented political, social, economic and technological innovation and we probably need to consume less, but the speed and effectiveness of such solutions ultimately depend upon what the population thinks and cares about on a regular basis. That point is not self-evidently true, but one tangible way to think about it is that investment decisions and political will on climate change are currently shaped by vested interests that civil society needs to be mobilised to challenge.
A big part of this challenge is to find ways to make climate change 'run through' people's lives. (The literal meaning of curriculum is to run the course, as in curriculum vitae- the course of my life). We need to link concerns about climate change more closely to the experiences and values that 'run through' people's lives, including their work, their families, their health and their homes. How do we do that? It's not easy, but The Social Brain Centre has precise figures on the nature of the challenge and plans to pilot solutions that we'll share in a forthcoming report).
Given the scale and urgency of the climate change challenge we need new forms of language as much as we need new technologies and new policies. With this in mind, I humbly submit that we need to start thinking of how we can make climate change part of 'the main curriculum' of our lives.
Dr Jonathan Rowson can be followed on Twitter at @jonathan_rowson
Just wanted to spread the word about #iceclimb which takes a bit of getting your head around. In essence, six trained female climbers are going up London's tallest Skyscraper to draw attention to Shell's drilling for oil in the Arctic.
The Guardian summarise the story nicely here and the main website with a live video is here.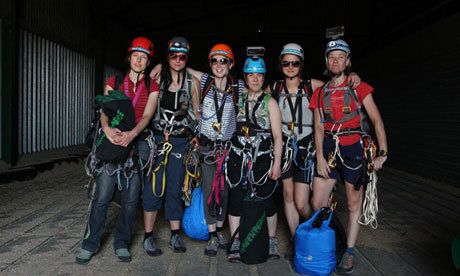 Greenpeace activists before their attempt to climb the Shard (left to right): Sabine Huyghe, Sandra Lamborn, Victoria Henry, Ali Garrigan, Wiola Smul and Liesbeth Debbens. Photograph: Greenpeace/Twitter
And why exactly are they doing this? From Greenpeace:
"This building – modeled on a shard of ice – sits slap bang in the middle of Shell's three London headquarters. They don't want us talking about their plan to drill in the Arctic. We're here to shout about it from the rooftops. Join in by sharing this far and wide."
It sounds pretty insane to climb up the shard, but in light of the dire climate change situation highlighted here yesterday, particularly the need to keep fossil fuels in the ground and the role of ice in reflecting sunlight back into space, is it not even more insane to drill for oil in the Arctic?
I guess that's their point. At the time of writing they just passed the half way mark….
When Anthony Giddens spoke at the RSA about the Politics of Climate Change, he opened with a reference to a celebrated scene in the film, The Matrix where Morpheus gives Neo a choice, highlighting perhaps the most fundamental human dilemma, either to grow in awareness, even if that means a radical change in how we will have to live our lives, or go back to living as if we knew what was going on, in more or less blissful ignorance:
"You take the blue pill, the story ends, you wake up in your bed and believe whatever you want to believe. You take the red pill, you stay in Wonderland, and I show you how deep the rabbit hole goes."
Morpheus poses the fundamental question: Do you really want to know?
I thought of this choice today when reading an interview with Kevin Anderson (@Kevinclimate) who is Professor of Energy and Climate Change at the University of Manchester.
Professor Kevin Anderson: A red pill kind of guy.
Professor Anderson is very much a red pill kind of guy, and a persistent and extremely important challenge to those who would take the blue pill, including many if not most people actually working on climate change mitigation or adaptation.
In essence, he argues that the situation is significantly worse than we have been lead to believe, mostly because the climate change models include figures that have been massaged in various ways, and are built on questionable assumptions(e.g. that India and China's growth will be largely based on renewable energy) made in order to make the science appear politically and economically acceptable and the targets achievable. In his own words: "Orthodox economics and political cowardice are unduly influencing science."
There are various major points in his argument, and the best way to quickly grasp them is to read the interview or look at the slides he used in a public lecture on the subject.
He argues that Government emissions targets for 2050 or beyond completely miss the nature and the urgency of the challenge, which relates to the need to rapidly reduce energy consumption to stay within a rapidly diminishing carbon budget. The point is that total and cumulative emissions are what matter for the atmosphere, not how much we may be emitting annually at a fairly arbitrary future date.
He also has discomforting but essential things to say about the near impossibility of staying within the politically constructed 2 degree target, the likely and imminent devastation caused by staying on our current course towards a rise in 4 degrees.
"Today, in 2013, we face an unavoidably radical future. We either continue with rising emissions and reap the radical repercussions of severe climate change, or we acknowledge that we have a choice and pursue radical emission reductions: No longer is there a non-radical option (emphasis added). Moreover, low-carbon supply technologies cannot deliver the necessary rate of emission reductions – they need to be complemented with rapid, deep and early reductions in energy consumption."
The point is that either you change radically to reduce consumption and stay below the 2 degree target, or you deny or ignore radically in the sense that you become complicit with incremental changes that seem to lead us inexorably towards a future of 4 degrees or beyond. To be clear, while predictions on such matters are difficult, our best guesses suggest this is not likely to mean a planet that's just a bit warmer. Rather its likely to be a planet with 40% less maize and rice as the population heads towards 9 billion, and it means it will be about 10 degrees hotter on our hottest days in central Europe(so if it feels warm today, just imagine…). 4 degrees is likely to be devastating to the majority of our ecosystems, and beyond our capacity to adapt. And that kind of world is now very likely to transpire within the lifetime of anyone currently below 40.
The point is that walking in to that kind of world knowingly is a radical step, arguably much more radical than, for instance, attempts to create a viable global economy that is not dependent on economic growth.
"What does 2°C (target) imply for the wealthy parts of the world, the OECD countries? It means a 10% reduction in emissions every single year: a 40% reduction in the next few years and a 70% reduction within the decade….So what do we do? We have to develop a different mind-set – and quickly. The impossibility we face on mitigation may open us to conceiving of different futures – moving beyond the reductionist thinking of the twentieth century, and towards new ways of framing issues in the twenty-first century."
To get there, more of us need to start taking 'the red pill' and we are doing what we can to move in that direction, as indicated here.
By Dr Jonathan Rowson, Director, RSA Social Brain Centre. @Jonathan_Rowson
Image via thecelestialconvergenceblogspot.co.uk 

"If we discovered tomorrow that there was an asteroid on a collision course with Earth and – because physics is a fairly simple science – we were able to calculate that it was going to hit Earth on 3 June 2072, and we knew that its impact was going to wipe out 70% of all life on Earth, governments worldwide would marshal the entire planet into unprecedented action. Every scientist, engineer, university and business would be enlisted: half to find a way of stopping it, the other half to find a way for our species to survive and rebuild if the first option proved unsuccessful. We are in almost precisely that situation now, except that there isn't a specific date and there isn't an asteroid."
- Professor Stephen Emmott writing about human impact on the planet in The Guardian.
It was a great speech, with all the evocative imagery, rousing sentiment and rhetorical flair one has come to expect from Obama.
Speeches made by major political leaders are political events in themselves, not merely plans of action, or infotainment. In this sense the 6000 words delivered yesterday at George Washington University in the sweltering heat represented a huge step forward in terms of American leadership on the pressing global issue – an issue that Obama referred to in shorthand as "the destructive power of a warming planet" in his second inaugural address.
Of course, it didn't go far enough, but everybody knows that, even the President himself. Yet it really went pretty far, with lots of tangible action points that don't depend on congressional approval. In light of  political and economic constraints, perhaps we couldn't really have asked for more at this point.
Obama removes jacket at the start of his speech.
A few highlights:
Obama used the first images of the earth from space in 1968 to open and close the speech:
"While the sight of our planet from space might seem routine today, imagine what it looked like to those of us seeing our home, our planet, for the first time. Imagine what it looked like to children like me. Even the astronauts were amazed. "It makes you realize," Lovell would say, "just what you have back there on Earth."
He gave a lucid scientific description of the problem, and was unequivocal about rejecting climate change denial: 
"Nobody has a monopoly on what is a very hard problem, but I don't have much patience for anyone who denies that this challenge is real. (Applause.) We don't have time for a meeting of the Flat Earth Society. (Applause.) Sticking your head in the sand might make you feel safer, but it's not going to protect you from the coming storm."
His speech dealt with plans both for three forms of climate change mitigation (limiting the effects/potential damage by reducing emissions) and various kinds of adaptation(acknowledging that some degree of damaging climate change is now inevitable and/or already underway and preparing for its effects). He captured this distinction quite nicely with a simple car metaphor:
"Using less dirty energy, transitioning to cleaner sources of energy, wasting less energy through our economy is where we need to go. And this plan will get us there faster. But I want to be honest – this will not get us there overnight. The hard truth is carbon pollution has built up in our atmosphere for decades now. And even if we Americans do our part, the planet will slowly keep warming for some time to come. The seas will slowly keep rising and storms will get more severe, based on the science. It's like tapping the brakes of a car before you come to a complete stop and then can shift into reverse. It's going to take time for carbon emissions to stabilize."
On balance the speech has been well received by Obama's liberal base and most environmentalists. However, relative to the scale of the challenge it falls some way short and many have expressed reservations about the implicit and explicit commitments in his plan.
Nafeez Ahmed calls the plan 'fracked up' in the Guardian, in sense that it is premised on using shale gas and nuclear power as transitional energies alongside carbon capture and storage, without facing up to the scientific evidence on these technologies. For instance, Shale Gas might emit less carbon than other forms of gas or oil when measured in the short term, but over a 20 year measure, they are probably much worse for the climate.
My own concern with the speech is that it still hinges on the premise that we don't have to choose between addressing climate change and economic growth. As Obama puts it:
"Remind folks there's no contradiction between a sound environment and strong economic growth."
Almost everybody would want that to be true, but is it right? Where is the argument that there is no contradiction? As I try to argue in detail, here and here, I haven't yet seen a credible macroeconomic model that indicates how you can keep emissions to acceptable levels and increase GDP, even when you give Obama massive benefits of the doubt on our capacity to innovate on energy production and consumption around the globe. More recently Ian Christie advances the case on why understanding this link between the perceived growth imperative and climate risk is so central and so difficult.
Yesterday was a political breakthrough, but the ecological breakthrough we need may only come from a breakthrough in economic thinking about the feasibility of a post-growth economy. It's hard to imagine an American President giving such a speech, but then again, it was hard to imagine Obama.
I received a lucid and helpful email in response to yesterday's post on reaching the centre-right on climate change, from Ian Christie FRSA who is a research fellow at the sustainable lifestyles research group at the University of Surrey.
I am posting it below with very minor edits and Ian's permission because Ian's response helped to pinpoint the slight feeling of unease I had in response to COIN's report. In essence, while the first round of the challenge of engaging the right on climate change may indeed come down to the framing the message, the real battle feels like it's in the framing not so much of the message, but of the issue itself.
As context and further reading to make sense of the issue, the two key questions (with indicative quotes) are:
1) Is Climate Change best approached as an environmental issue?
"Simply stated, as long as we think of climate change as an environmental issue we allow it to be something outside of our lives. When we realise it is not an environmental issue, it is harder to carry on as we have been before"
2) Is the continued pursuit of economic growth on a physically finite planet possible?
"A no-growth economy is a curious creature to think about, but as Sherlock Holmes once put it: once you have eliminated the impossible, whatever remains, however improbable, must be the truth."
Guest Post by Ian Christie FRSA
The point you make about growth is important. I think there are broadly three positions on global ecological risks and the economy, and they don't fall that neatly into the existing political spectrum, as you note:
1) Business as usual growth – is desirable and achievable, and we can either disregard climate change etc or adapt to it.
2) A new model capitalism – Business as Usual can't be restored but we can have a new model capitalism (cf the B Team, Plan A, Unilever etc) that generates economic growth while respecting planetary boundaries.
3) An economic model that eschews growth: 1) is suicidal, 2) is well-meaning but delusional; we need to rethink economic systems entirely and pursue wellbeing and go beyond growth, which cannot continue indefinitely and is in any case not generating the benefits we tell ourselves it is.
1) has incumbent power on its side, makes immediate 'common sense' (we don't feel at risk from the environment) but has pretty well every climate scientist and ecologist against it;
2) has at least a chance of winning more adherents in business and politics, but is still very marginal;
3) has ecological and thermodynamic logic on its side, but almost no adherents in business and government.
Each view is pretty accurate about the others' weaknesses. The problem for 3) is that there is no political and economic narrative of transition that makes sense (so far). Approach 2) is attractive as a transitional model but still falls foul of the objections from 3).
The centre-right was left out of the climate change script in the USA when Al Gore became the face of climate concern, and things have never recovered from that and from the subsequent integration of climate into the culture wars, in which evidence is assessed on the basis of ideology and motives.
I suspect the situation will only change when there is a critical mass of 'defectors' breaking ranks in the authoritative core groups of centre-right thinking and practice – from concerned CEOs, influential media commentators to elected members of the Republican Party and Conservatives. And that seems likely to happen only if they can frame climate action as an economic opportunity and national security issue.
Which raises your key point: is climate change an environmental issue? No – it's a major risk to economic and social order as well as to ecosystem integrity. There are people from the centre-right who get this, and who in consequence are embracing 2) above – growing numbers of food industry leaders, for example, whose businesses are in direct jeopardy from climate disruption. But they have not got a political constituency yet with Republicans and Conservatives.