Food cuts through society on so many levels that perhaps focusing on how we feed ourselves is the best chance we have to achieve progressive social change. If an army marches on its stomach, perhaps social action starts at our kitchen table.
Our focus on climate change has been temporarily displaced by other work, but from mid November, in partnership with COIN we'll be intensifying preparation for 5 RSA public events from January-May 2015 as part of our project The Seven Dimensions of Climate Change.(Democracy,Economy,Law,Technology,Science,Culture,Behaviour) As things stand, the planned events look wonderfully risky (not just talking heads…) so watch this space in about a month. To keep those climate embers bright (rather than burning…) in the meantime, here are ten things(with some of the 7 dimensions captured more than once) that have caught my attention during the last few months:
1. Democracy: The global climate marches were an inspiring sight. I recently argued, slightly too strongly I suspect, that it would have been even better if the generic call for 'action' was clarified, but that was a quibble really- demonstrations of that scale can be hugely galvanising. A friend in New York said the best part of the march was the moment of shared silence beforehand as the assembled masses contemplated what they were about to do and why. The marches also gave rise to an evocative expression that may be the key to climate solutions: "If you want to change EVERYTHING, you need EVERYONE." Nobody quite knows its provenance though you can find Bill McKibben(a huge climate star in the US, barely known in the UK) reflect on it here at 32.40  (HTs @Mariegasha, Adam Corner and Jonathan Rose)
2. Law: While major Oil companies are now on record as saying they don't believe Governments will act in a manner that is consistent with the totemic 2 degrees target, Mark Carney, The Governor of the Bank of England just made an announcement that acknowledged the reality of the carbon bubble at the heart of the global economy. Simply stated, the world's projected economic health is based on a false premise i.e. that we can access valuable fossil fuel reserves for the foreseeable future. This is no small matter, and potentially much worse for the global economy than the housing bubble that caused devastation in 2008.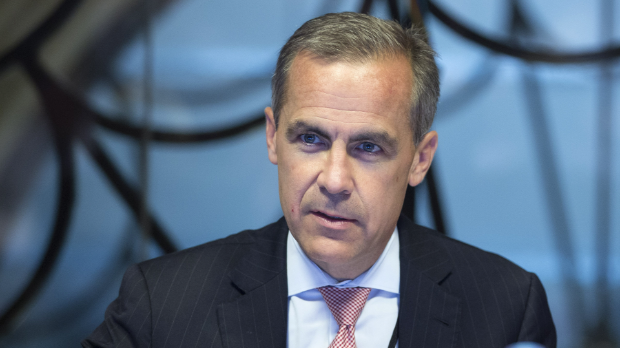 3. Democracy: The Naomi Klein show has recently graced the UK. I am slowly reading her book 'This Changes Everything: Capitalism against the Climate" and enjoyed her Guardian event chaired by Owen Jones. Her emphasis on the 'bad timing' of climate change; arriving in public consciousness just as the public realm is in retreat is a crucial point – and axiomatic for her claim that solutions to climate change involve mass social mobilisation and fundamentally rethinking capitalism. I need to reserve judgement until I have finished the book, but I suspect I will end up agreeing with Adam Corner. Adam wrote an excellent summary and critique on COIN's website here. The depth, scale and complexity of the problem suggests to me that any meaningful climate victory will not be a victory for the left, but more like a growth in human consciousness and cooperation that transcends left and right.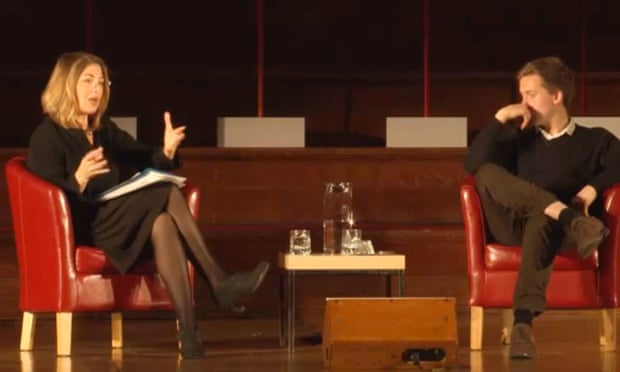 4. Economy: I am not sure how directly Klein engages with the question of economic growth, but it's a fundamental fault line on climate questions, as I wrote here. I was delighted to see a more advanced version of this argument by David Roberts (a climate writer recently back from a year's sabbatical!) in an outstanding piece responding to some lazy articles by people who should know better- Paul Krugman (and Chris Huhne) among them- who suggest that technology means we can decouple growth from emissions in absolute terms in a timely enough way (maybe we can, but David Roberts explains what they need to explain to make sense of how.)
5. Technology: On the other hand, a few months ago I was really impressed by a piece that had somehow escaped me about the failures of environmentalism. It's from 2004, but there have been updated versions since in book form, and the authors now run 'The Breakthrough Institute'. In essence these ex NGO activists who used to think very differently now argue that the only hope for climate change is a commitment to certain kinds of growth that aim to transform the material basis of the economy. For instance, two of the main proponents of this world, Nordhaus and Shellenbenger argue: "Environmentalists like to emphasize the ways in which the economy depends on ecology, but they often miss the ways in which thinking ecologically depends on prospering economically." (p6 Breakthrough, 2007)
6. Culture: I don't know what I think about that yet, but I suspect David Roberts is right that timing is the key question, and that is not particularly intuitive for human thinking or for our cultural discourse more generally. We are prone to deciding between what are effectively ideological visions on the basis of coherence, facts, and values, but with climate change the question becomes even more complex because it's not so much a matter of what should we do in principle, but rather what should we do given that we have so little time to do it. As Bill McKibben puts it in the video mentioned above: "The physics of global warming are such that if we don't get it right quickly, we don't get it right."
7. Technology: My inclination is to view climate change more as an adaptive challenge(about people, cultures, feelings, psychologies) than a technical problem (clear policy levers, technological change, simple interventions) but that's a personal bias based on background, and clearly it is both. In this respect this report on 'Deep Decarbonisation' led by Jeffrey Sachs is noteworthy – he believes global negotiations on emissions are much less likely to succeed than government commitments to the technological infrastructure. Put that way, he might be right, but he seems to overlook or underestimate potential solutions at the level of behaviour or culture that impact indirectly on such international talks – as the global marches said loud and clear: the political mandate ultimately comes from us.
8. Economy: And political pressure and economic change happen in tandem. Lots of really influential bodies have begun divesting in fossil fuels and in some cases reinvesting in renewable energy. For instance, recognising the threat to public health, The British Medical Association did it, recognising the moral case, lots of Churches and Quakers have done it, and following the intellectual and moral lead of many US Universities, Glasgow University became the first European University to divest- good on them! That's quite a bit of momentum on divestment now; slowly but surely fossil fuels are becoming socially stigmatised – the key point of this process, as argued by this influential Oxford University report.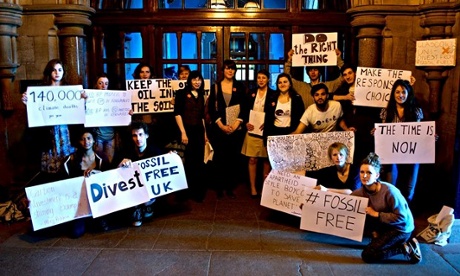 9. Science: All of this is of course premised on Science, and there was an exceptional report released earlier this year by UCL about how Climate Scientists need to form a new social contract with society, both improving their communication based on the kinds of understanding that underpin our work in Social Brain; and, just as important, getting more directly engaged with the policy implications of their work – an excellent and very important read.
10. Behaviour: Finally (for now), it has never occurred to me to write an open letter to Nigel Farage! (The very idea…) But I came upon one well worth reading. Farage's love of alleged common sense, pints and, crucially- being seen to be drinking pints is well known, but his sceptical if not downright dismissive thoughts on climate change are less salient. I was therefore impressed by Geographer Joe Smith's charming pitch to help him see sense on climate change which can be summarised thus: 'let's have a pint and talk about the weather.'
Jonathan Rowson is author of "A New Agenda on Climate Change: Facing up to Stealth Denial and Winding Down on Fossil Fuels."
You can follow him @Jonathan_Rowson
There is nothing democratic about the sacred, but there is definitely something sacred about democracy.
I felt that sense of the sacred intensely when I witnessed 84% of my country's electorate turn out to vote in Scotland on Thursday, and I felt it again on Sunday as I witnessed about 40,000 people in London march in solidarity with over 300,000 in New York, and a total of around 600,000 people around the globe, all calling for action on climate change.
You'll have heard the chant that tends to accompany any major political march of this nature: "Tell me what democracy looks like! – This is what democracy looks like!" Who could fail to be impressed, moved even, by people in unison, embodied, alive, emboldened, speaking truth to power.  It was a staggeringly impressive organisational feat, and a much needed shot in the arm for an issue that suffers from lack of public concern and media oxygen.
Look at the image below. Sunday 21st September 2014 might even be marked as the day the world finally 'woke up' to climate change.
But it might not.
In fact it almost certainly won't.
I apologise for the intemperate language of the title, and I had to check today wasn't April 1st before posting, but I wanted to share an idea I came across today in The Economist which involves using our pee to create renewable energy. The article features a new insight on an old idea rather than something completely original, but the upshot is that taking the piss might help to save the world.
Look, we all do it, several times a day, so if it's good for something other than moderately entertaining sound effects then let's put it to the best possible use. Contrary to the occassional wacky health fad, it's probably not very good for you to drink your main liquid waste product, but it turns out that when it comes to creating electricity, urine has a p-value that would be the envy of any good statistician.
I wanted to share three excellent pieces I read this morning which are all calls to action in different ways; why the charge of hypocrisy is typically facile and obtuse, what it might take to overcome despair at global politics, and what stops us realising that climate change really has very little to do with 'the scientific consensus':
Well that's a relief. The most recent IPCC report indicates that it needn't cost the earth to save the planet (Ottmar Edenhofer's line). It's bizarre that the test of whether we should avert ecological catastrophe is whether we can afford to, but lamenting that absurdity is for another day.
In response to this latest report I was tempted to repeat a surprisingly popular post in response to another IPCC report a fortnight ago, but at a certain point the pattern of report publishing/report responding feels like complicity in climate inertia. We need to look at alternatives more closely. Read more
A few weeks ago I popped into our Folkestone Room  to do a short interview for the good people at Swarm about our recent report A New Agenda on Climate Change: Facing Up to Stealth Denial and Winding Down on Fossil Fuels.
This video was shown at the event #whitepencilswarm supported by D&AD, The Global Association for Creative Advertising & Design Awards, which this year created a #NewBloodAwards brief in partnership with Al Gore around Climate Change. 
The event included a presentation by the intensely honest Kevin Anderson, and focused on helping professionals within the worlds of Advertising, Marketing & Design to come to grips with climate change in particular, rather than just 'sustainability' in general, which they tend to find much easier to navigate. (For more on that distinction, this recent Guardian piece on The Seven Dimensions of Climate Change is a good place to start).
I gave a similar pitch when I spoke at The Hospital Club about Climate Change as part of their sustainability week, alongside Adam Elman, Global Head of Marks & Spencers celebrated 'Plan A', Jez Frampton Global CEO of InterBrand, and Jon Alexander, Director of The New Citizenship Project.
In each case I had the felt sense that the challenge for those working in the creative industries is that many of the implicit associations relating to 'climate change' (emissions, floods, existential threat) are quite different from the buzz surrounding sustainability(chic, desirable, caring).
The essence of the climate change challenge is the wrong kind of energy(fossil fuels) in the wrong kind of economy(fixated with GDP) pursuing the wrong kind of objective(consumption without end). That's quite a different vibe for those professionals sometimes termed 'creatives' to work with, compared to the challenges relating to waste and broader ecological constraints, which are more tangible and tractable for companies and consumers alike.
Anyway, the video is 16 minutes long, features a yellow jumper, and, in case you're wondering, there is a cup of coffee at the end of my right arm that you can't see.
Dr Jonathan Rowson is Director of RSA's Social Brain Centre. You can follow him on Twitter here.
Everybody is speaking about the link between flooding and climate change, and many are saying it is time to 'act' on this understanding. The trouble is, as I've written before, this injunction to act on climate change is often simplistic and painfully generic, which serves to dissipate political will.
With this in mind, the Guardian's behavioural insight blog features my latest thoughts on how to improve the quality of our thinking on climate change, following up on our report at the end of last year: A New Agenda on Climate Change: Facing up to Stealth Denial and Winding Down on Fossil Fuels.
The point of this particular piece was to begin to flesh out what it might mean to think of climate change as being distinct from more general 'environmental' concerns, and to explain why that reframing matters. The following is an abbreviated version, so if you feel you have another click in you, please go here for the fuller version and leave comments or tweets there, but if you're happy with 'the gist', read on:
"We need a form of simplicity that rejects the lazy conflation of climate change with environmentalism by presenting a more energising set of associations. … Second, the right kind of simple would offer a vision of human behaviour informed by political consciousness, so that calls for "behaviour change" connect with the deep roots of the problem in fossil fuel production, rather than a misplaced emphasis on energy efficiency…Third, the right kind of simple would promote systems thinking, such that the climate problem is not viewed as having discrete independent elements, but rather multiple inter-connected dimensions that co-exist in the same space…
1. Science matters because it is the closest thing we have to an objective reference point for debates that might otherwise lack grounding.
2. Law matters, because it acts as a powerful constraint at scale…
3. Money matters, because capitalism is the planet's operating system, and given the time constraints, we will need to respond to the climate change problem from within the system that created it…
4. Technology matters because we need innovative forms of creating, storing and transporting energy urgently…
5. Democracy matters because it is a mechanism for making collective decisions, and climate change is the biggest collective action problem of all time…
6. Culture matters because our response to climate change is informed by everything from its place in formal education to implicit consumerist values in advertising to how the media frames judgments on systemic risk as scientific "uncertainty".
7. Behaviour matters because while our choices are shaped by the facts (science), the rules (law), the resources (money), the tools (technology), the institutions (democracy) and the ideas (culture) around us, it is ultimately what we individually and collectively choose to do (behaviour) that matters."
I hope you can read the fuller version in the Guardian, but based on the gist here, what do you think?
Too simple? Not simple enough?
Dr Jonathan Rowson is Director of RSA's Social Brain Centre. You can follow him on Twitter here.
One evening over the Christmas break, I found myself at the home of a friend and her partner, both of whom happen to be psychoanalysts. Over dinner, whilst attempting to steer the conversation away from work, we began discussing the role of storytelling in our lives; the social narratives we believe in, the stories we pass on to others and the ones that resonate at a personal level.
The conversation led us to conclude that whilst a good story will always have readers, a really powerful story, will inspire people to act. In the Fellowship department, we often discuss how to make this shift. When there is so much great material available, it can be difficult to know how to piece it all together and the power in a story can easily be lost.
At first glance, social change appears to lend itself well to narrative. For a start, there is natural beginning; if we are trying to solve a problem, first we have to understand it. The starting point has to be-
What exactly is happening here?
This is especially poignant when encountering subjects that people might be uncomfortable talking about. Rachel Clare FRSA is Assistant Director at the Campaign Against Living Miserably (CALM) which deals with the issue of male suicide. According to recent government statistics on mortality rates, suicide is a bigger cause of death in young men than HIV, traffic accidents and assault combined, with 77% of all cases of suicide in the UK every year being male. CALM was born from a simple need to generate greater awareness of the problem.
Once a problem is defined, we have to figure out the best way to solve it – how do we improve the world around us?
Monday night's Fellows event RSA Engage demonstrated that within the Fellowship there is a wealth of ideas about how we can transition from the beginning to the middle; problem to potential solution. Amongst the seven Fellows who pitched their project at the event, was Richard Blissett FRSA. Richard was recommended for Fellowship by a previous Catalyst winner and in turn decided to apply for funding for his own project. Through RSA Catalyst, his digital tool Edukit is well on the way to helping teachers find the appropriate resources to support disadvantaged students, quickly and easily. For Richard, the how lies in getting the right tools to the right people.
However, for a modest enterprise like Edukit to earn a place in the grander narrative of social change, it must also create a story around itself. Tools will not reach people if it's not clear why they're relevant, so creating a strong, individual narrative is critical – it is not enough to be heard, you have to be understood.
New RSA Fellow Emily Farnworth founded her social business Counter Culture on precisely the understanding that powerful stories are the key to changing indiviual behaviour, yet when tackling complex issues such as poverty or climate change, a simple beginning, middle and end doesn't always cut it.
Emily believes that 'the only way to solve the world's biggest problems in a meaningful way is to see all sides of an argument.' Counter Culture was established to help businesses and charities reach their audiences through a more agile form of storytelling that incorporates multiple and differing perspectives.
This can be achieved in many different ways. Even if you don't recognise it immediately, brands, charities and individuals are communicating with us all the time without ever needing to put pen to paper. New Fellow David Pope, filmmaker, consultant and member of the British Council's Creative Economy Pool of Experts, is interested in the storytelling possibilities offered by new technologies because this evolution is creating opportunities for a more diverse range of voices and stories to reach wider audiences.
New mediums can transform the way an issue is presented and the type of people who can tell the story. An example -
In December, Mark Leruste FRSA joined the Fellowship. As well as being an ICF Certified Professional Co-Active Coach (CPCC), he is a Country Manager for Movember, the infamous worldwide men's health charity that invites men around the world to grow a moustache for 30 days in November to raise awareness and funds for men's health. This in itself proves that a serious message can be communicated through the power of a moustache.
A story can still carry weight even if the chronology is disjointed or the medium unconventional.
Movember shows that a life-threatening disease affecting a particular demographic can gather mass support using humour and facial hair. If that isn't re-writing the story, I don't know what is.
If you would like to find out more about any of the projects or Fellows mentioned above, or would like to know more about joining the Fellowship  please contact fellowship@rsa.org.uk
Alexandra Barker is a Fellowship Development Coordinator at the RSA
When it comes to climate change, creativity is not optional. To retain a resilient and livable planet, we need to do things differently, better, and quickly. In light of our competing commitments to energy security and fuel prices, that means rethinking our ends, our means, and our conception of ourselves.
Despite my reservations about Adam's attack on the political class and my concern about creativity being hollow, I have enjoyed thinking about what it might mean to link our new agenda on climate change with our emerging worldview.
A broader conceptual discussion about creativity is needed, but for now, with creativity understood as self-directed, pro-active and innovative activity, here are some thoughts on what 'the power to create' might mean for attempts to tackle climate change.
Writ large, our current approach to climate change is passive rather than creative. Most of us follow the routines of our lives, point the finger at politicians, do a few tokenistic things like recycle or use our own shopping bags, demand cheap and secure energy without realising that's a climate position, hope for the best at big international climate summits and wait for another IPCC report or devastating storm before saying: isn't it terrible that nothing is happening? We can do better, and here are six ideas on how an emphasis on creativity might help:
1) Frame the power to create as a solution to stealth denial
If passivity is a large part of the problem of 'stealth denial' creativity may be part of the solution.
(Our report unpacks the claim that about two thirds of the population are in stealth denial on climate change, i.e. they accept the significance of human-caused climate change, but don't live as though they do.)
Creativity is about more than DIY, but I was struck by the importance of passivity as a contrast with creativity while reading George Monbiot's piece in today's Guardian:
"Almost universally we now seem content to lead a proxy life, a counter-life, of vicarious, illusory relationships, of secondhand pleasures, of atomisation without individuation…Perhaps freedom from want has paradoxically deprived us of other freedoms. The freedom which makes so many new pleasures available vitiates the desire to enjoy them… Freedom of all kinds is something we must use or lose. But we seem to have forgotten what it means."
Perhaps that's too rhetorical, but the idea seems sound: large chunks of the population have become so busy focusing on work, family, bill-paying, domestic chores, and entertainment, that we lack the requisite will, time and energy to think about – never mind act upon –  'bigger-than-self problems' like climate change.
Given that climate change is not exclusively 'an environmental issue' one role for creativity is to highlight the scope for people to act in ways that they might not have previously imagined to be relevant. This includes wasting less food, flying less, eating less beef, and a myriad of other micro behaviour changes. However, the point of our recent report is that we clearly need to connect such acts to a credible narrative about the big picture of continued fossil fuel production and steadily rising global emissions.
In that respect, you should find our who your MP is (most don't know) and tell them that climate change matters to you, but you might have more impact by finding a few hours of gumption to change your energy supplier and then use social media and email your friends and colleagues to explain why.
As far as possible (not always very far if you are in poverty, a full-time carer, unskilled etc) we need to seek to solve the problems of our lives rather than waiting for them to be solved for us.
What might that mean more tangibly? Others might disagree, but to me it points squarely to Shorter working weeks which means a revaluation of the core economy. Without that shift, most people simple don't have the time and support required to be more creative.
2) Get creative about our ends as well as our means.
If we are stuck with indefinite economic growth that is parasitic on undervalued and scarce natural capital as our chief measure of societal success, then the power to create is unworthy of the name. The 'power' in 'power to create' should be about contesting the rules of the game as well as playing it better.
In this respect, is it not just sane to think we need a conception of economic maturity that connects to an idea of human rights and respects planetary boundaries? Can't we have a political discourse where people speak about economic decisions as if they are also social and ecological decisions, which they are? Getting seriously creative about how we conceptualise 'change' means breaking down the distinctions that falsely keep these dimensions of our world apart.
3) Place our hope in cities as well as States
Some say governments are now too small for the big problems (e.g. climate change) and too big for the small problems (e.g. anti-social behaviour), and the time of cities has come.
An uncreative approach to climate change is to wait for international agreements between states. Given the divergent economic needs, different energy reserves, vulnerability to climactic changes and range of national political systems, we are never likely to get a global agreement (that satisfies, say, USA, China, India, small island states, Norway, Russia) that goes beyond a firmer resolve to reduce emissions in principle(which is not to say we shouldn't try).
In the meantime we can act at levels where the impact is more tangible – cities. As Benjamin Barber put it in the RSA Journal:
"It turns out that about 80 percent of all energy is used in cities and 80 percent of global carbon emissions come from cities with more than 50,000 people. Therefore, if cities take strong measures – as well as Amsterdam, Los Angeles cleaned up its port and reduced carbon emissions by 30 percent to 40 percent – they will have a profound effect. Even if the US and China do nothing, cities can have a big role to play in fixing the problem. It's not just a theoretical thing."
The connection between cities and creativity is well established, and our hope for creative action on climate change may lie at this level of the Polis.
4) Trust creative artists to help communicate climate solutions
As this recent piece indicates (HT Jonathan Schifferes), climate communication has not so far been very successful, and there is a place for artists not just to change the message but also the medium: "People respond to authentic artistic expression, not scripted messaging. Artists need free rein. Businesses should take the plunge and give it to them."
This might sound a little worthy, but as indicated in 'Divided Brain, Divided World: Why the best part of us struggles to be heard', we are in danger of being over-literal and half-blind in our attention to the world, and we need artists of various kinds to help us retain a sense of balance and perspective: This cartoon helps put this point in perspective: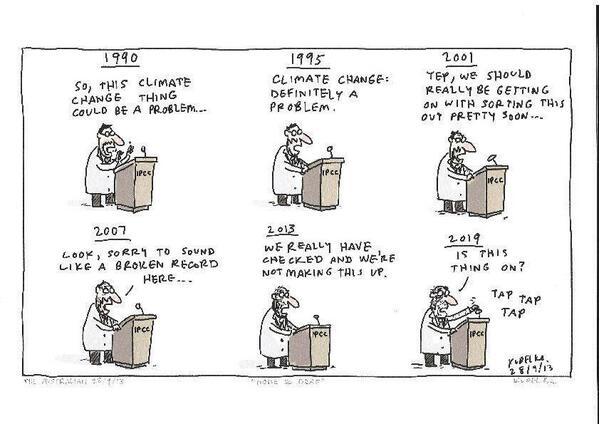 5) Trust in a radical decentralisation of energy provision. 
This point is covered in more detail as one of our eight suggestions for how to overcome climate stealth denial in the report (see pages 56-58):
Not only do we need a transition to renewables, but we need to design the energy
infrastructure in a much less centralised, vulnerable and remote way, as suggested by Rebecca Willis and Nick Eyre of Green Alliance:
'Only 50 years ago, most households were directly aware of the amount of energy they used from the weight of coal carried into the house. Today it flows in unseen through pipes and wires, and embedded in the multitude of products purchased, most of which are manufactured out of sight from consumers. The pervasive attitude that new energy infrastructure should not be seen may well be one of the reasons behind opposition to
renewable energy installations. But a sustainable energy system will not be an invisible system. Reconnection of people with the energy system is a precondition for the low carbon transition.'
The power to create could be about that reconnection, with more homes being power plants, and more communities collectively managing their localised and renewable energy. Perhaps 'the power to create' is precisely what we need for the third industrial revolution.
6) Divest in centralised dirty energy and reinvest in decentralised renewable energy, thereby supporting the forms of innovation we need (see page 53-54). 
If the power to create means challenging vested interests, the best way to do that is to move your money accordingly. The test of the RSA's resolve to challenge vested interest will be questions like this one.
These six ideas are a way of showing how 'the power to create' might help to flesh out what the call the action on climate change might mean. In essence the point is this: it's not hope that leads to action, but action that leads to hope.
Dr Jonathan Rowson is Director of the Social Brain Centre at the RSA and author of the recent report: A New Agenda on Climate Change: Facing up to Stealth Denial and Winding Down on Fossil Fuels. He Tweets @Jonathan_Rowson